Product News
In Stock Original GE Druck PTX1830 100M Submersible Pressure Transmitter
November 10, 2022
GE Druck PTX1830 100M Submersible Pressure Transmitter
1830 Series Druck High Performance Level Pressure Sensors
The PDCR 1830 transducer (mV output) and PTX 1830 transmitter (4 to 20 mA output) are the
latest generation of fully submersible titanium high performance sensors for measurement of hydrostatic liquid levels.
Features
•Ranges from 1 psi to 900 psi
•Accuracy ±0.06% full scale (FS) best straight line (BSL)
•Fully welded 0.69 in titanium construction
•Integral lightning surge arrestor
•Polyurethane cable
•Full range of installation accessories
•5-year anticorrosion warranty
Applications
The PDCR/PTX 1830 Series incorporates many enhanced features gained from experience in supplying
thousands of sensors for small and large scale installations worldwide. Example applications include:
• Potable water
From ground water borehole to surface water level
measurements in rivers, canals and reservoirs.
• Waste water and remediation
Monitoring of secondary and outflow sewage levels
within certified hazardous areas and contaminated
ground water levels in land fill sites.
• Tank Level
From land based liquid storage vessels to on-board ship
ballast tank monitoring within safe and certified
hazardous areas.
• Sea Water
Marine environmental applications, including tide gauging, coastal flood protection and wave profiling, amongst others.
1830 Specifications
Pressure Measurement
Operating Pressure Ranges
PDCR 1830 (mV)
• 1, 2.5 psi gauge
• 5, 10, 15, 20, 30, 50, 75, 100, 150, 200, 300, 500, 900
psi gauge or absolute
Nominal values
PTX 1830 (mA)
Any zero based FS from 1 to 900 psi gauge, 5 to 900
psi absolute.
Overpressure
The operating FS pressure range may be exceeded by the following multiples with negligible effect on calibration:
• 8 x for ranges 1, 2.5 psi
• 6 x for range 2.5 to 5 psi
• 4 x for ranges above 5 psi (2000 psi maximum).
Pressure Containment
• 10 x for ranges up to 5 psi gauge
• 6 x for ranges above 5 psi gauge (2000 psi maximum)
• 2900 psi for absolute ranges.
Pulse Power Excitation
Recommended power-on time before output sample
PDCR 1830: 10 ms
PTX 1830: 30 ms
For pulse power operation refer to technical note. The minimum supply voltage (VMIN) which must
appear across the pressure transmitter terminals is 9 V and is given by the following equation:
VMIN = VSUP - (0.02 x RLOOP) Where VSUP is supply voltage in Volts, RLOOP is total loop resistance in Ohms
Intrinsic Safety
PDCR 1830
CSA/FM: Class I, II, III, Division 1,
Groups A, B, C, D, E, F, G.
T4 (Ta <=80°C)
PTX 1830 (Not available for PTX 1835)
CSA/FM: Class I, II, III, Division 1,
Groups A, B, C, D, E, F, G.
T4 (Ta <=80°C)
Cable Lengths
To be specified as required in 1 ft increments up to
1600 ft. For longer lengths refer to GE Measurement & Control.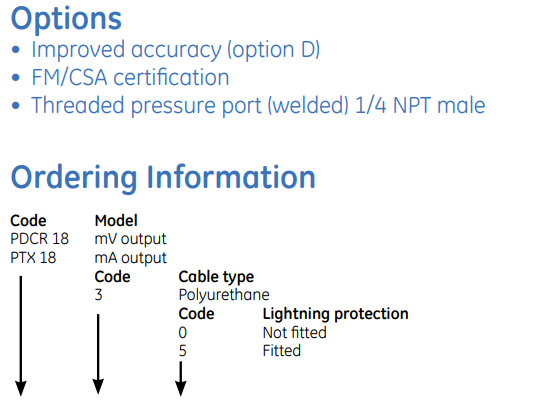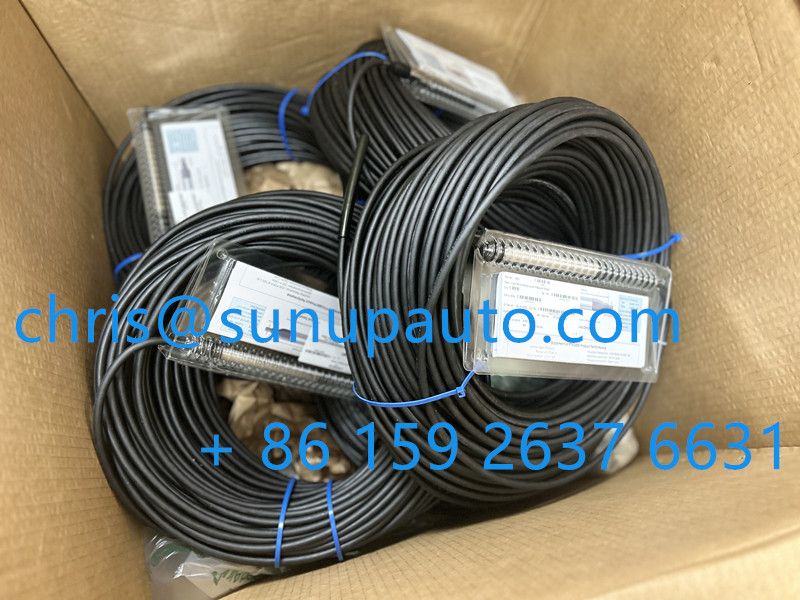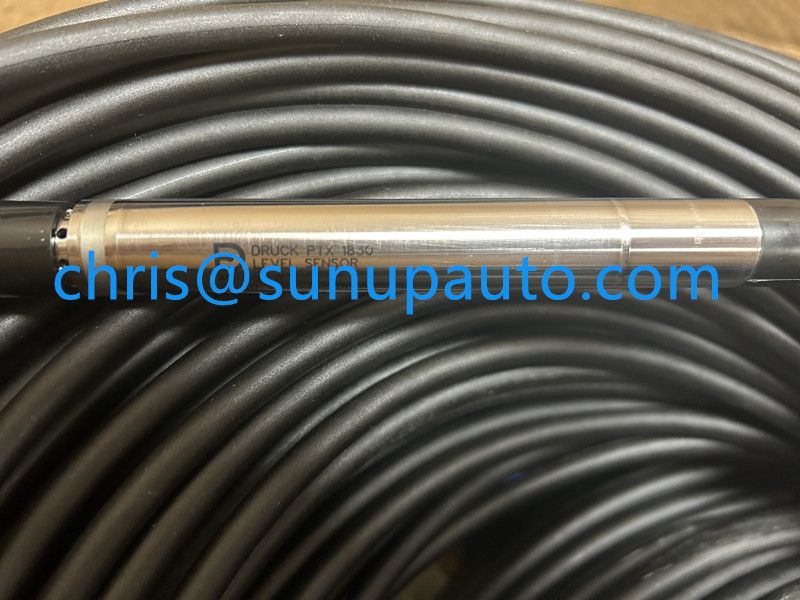 Example other Model Number
PTX5072-TC-A1-CA-H0-PA
PTX5072-TA-A2-CB-H0-PA
PTX5072-TB-A2-CA-H1-PA
PTX5072-TB-A1-CA-H0-PB
PMP5023-TD-A1-CA-H0-PA
PTX5062-TA-A3-CA-H0-PF
PTX5022-TD-A1-CA-H0-PA
PTX5022-TD-A1-CB-H0-PR
PTX5022-TD-A1-CB-H0-PR
PTX5012-TC-A3-CA-H0-PF
PTX5072-TB-A3-CA-H0-PE
PTX5002-TD-A1-CB-H0-PR
PTX5672-TA-A2-CA-H0-PF
PMP5077-TC-A1-CA-H0-PU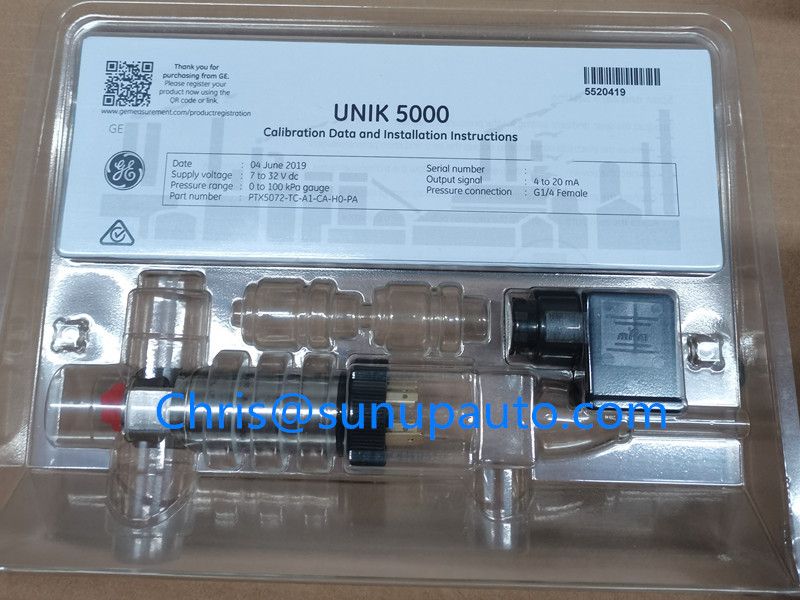 There have More items , all for 100% New & Original with very good discount , pls kindly contact with Chris directly to know more details information .
Chris Fang
Sales Engineer
Sunup (Wuhan) Import and Export Co., Ltd.
Add:7-A16,Caishen Commercial Plaza,Hankou Railway Station,Wuhan, China

Postal code:430015
M: + 86-15926376631(WhatsApp & Wechat)
Skype: live:chris_61491
Email: chris@sunupauto.com
Web: https://www.sunup-automation.com