PEPPERL+FUCHS HOT SELL Switch Amplifier KCD2-SR-Ex2 Intrinsic Safety Barriers Isolated Barriers K-System Brand New
New & Original
KCD2-SR-Ex2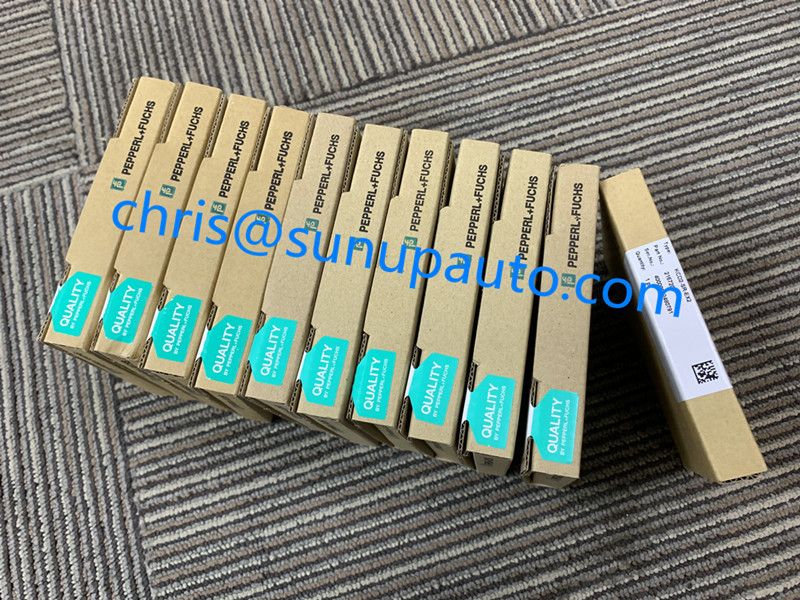 PEPPERL+FUCHS HOT SELL Switch Amplifier KCD2-SR-Ex2
Intrinsic Safety Barriers Isolated Barriers K-System Brand New
2-channel isolated barrier
24 V DC supply (Power Rail)
Dry contact or NAMUR inputs
Relay contact output
Line fault detection (LFD)
Housing width 12.5 mm
Up to SIL 2 acc. to IEC 61508
Function :
This isolated barrier is used for intrinsic safety applications. It transfers digital signals (NAMUR sensors/mechanical contacts) from
a hazardous area to a safe area. The proximity sensor or switch controls a form A normally open relay contact for the safe area load.
The normal output state can be reversed using switches S1 and S2. Switch S3 is used to enable or disable line fault detection of the field circuit.
During an error condition, relays revert to their de-energized state and LEDs indicate the fault according to NAMUR NE44.
A unique collective error messaging feature is available when used with the Power Rail system. Due to its compact housing design and low
heat dissipation, this device is useful for detecting positions, end stops, and switching states in space-critical applications.
Selection models:
KCD2-SR-Ex1.LB KCD2-SR-Ex2 KFA6-DU-Ex1.D
KFA6-ER-Ex1.W.LB KFA6-SOT2-Ex2 KFA6-SR2-Ex1.W
KFA6-SR2-Ex1.W.LB KFA6-SR2-Ex2.W KFA6-SR2-Ex2.W.IR
KFD2-DU-Ex1.D
KFD2-ELD-Ex16 KFD2-ER-Ex1.W.LB KFD2-SH-Ex1
KFD2-SH-Ex1.T.OP KFD2-SOT3-Ex1.LB KFD2-SOT3-Ex1.LB.IO
KFD2-SOT3-Ex2 KFD2-SOT3-Ex2.IO KFD2-SR2-Ex1.W
KFD2-SR2-Ex1.W.LB
KFD2-SR2-Ex2.W KFD2-SR3-Ex2.2S KFD2-SRA-Ex4
KFD2-ST3-Ex1.LB KFD2-ST3-Ex2 KHA6-SH-Ex1
KCD2-SON-Ex1 KCD2-SOT-Ex1.LB KCD2-SOT-Ex2
KCD2-SOT-Ex2.SP
KCD2-SR-Ex1.LB.SP KCD2-SR-Ex2.SP KCD2-ST-Ex1.LB
KCD2-ST-Ex2 KFA5-SOT2-Ex2 KFA5-SR2-Ex1.W
KFA5-SR2-Ex1.W.LB KFA5-SR2-Ex2.W KFA5-SR2-Ex2.W.IR
KFD2-SH-Ex1.T
KFD2-SOT3-Ex2.IO-Y1 KCD2-SON-Ex1.R1 KCD2-SON-Ex1.SP
KCD2-SON-Ex2 KCD2-SON-Ex2.R1 KCD2-SON-Ex2.SP
KCD2-SOT-Ex1.LB.SP KCD2-ST-Ex1.LB.SP KCD2-ST-Ex2.SP
KFA4-SR2-Ex2.W