PEPPERL+FUCHS HOT OFFER ! Switch Amplifier KCD2-SON-Ex1 Intrinsic Safety Barriers Isolated Barriers K-System Competitive Price
New & Original
KCD2-SON-Ex1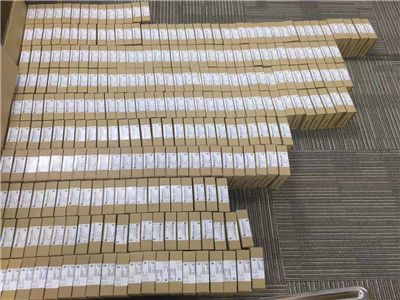 PEPPERL+FUCHS HOT OFFER ! Switch Amplifier KCD2-SON-Ex1
Intrinsic Safety Barriers Isolated Barriers K-System Competitive Price
Switch Amplifier KCD2-SON-Ex1
· 1-channel isolated barrier
· 24 V DC supply (Power Rail)
· Dry contact or NAMUR input
· 2 passive transistor outputs (resistive acc. to EN 60947-5-6)
· Line fault transparency (LFT)
· Housing width 12.5 mm
· Up to SIL 2 acc. to IEC 61508
Function :
This isolated barrier is used for intrinsic safety applications. The device transfers digital signals
(NAMUR sensors or dry contacts) from a hazardous area to a safe area.
The input controls two passive transistor outputs with a resistive output characteristic (acc. to EN60947-5-6).
The outputs have three defined states: 1-Signal = 1.8 Kilohm , 0- Signal = 14 Kilohm and fault > 100 Kilohm.
This output characteristic offers line fault transparency on the signal lines. Via switches the mode of operation can be reversed and the
line fault detection can be switched off. A fault is signalized by LEDs acc. to NAMUR NE44 and a separate collective error message output.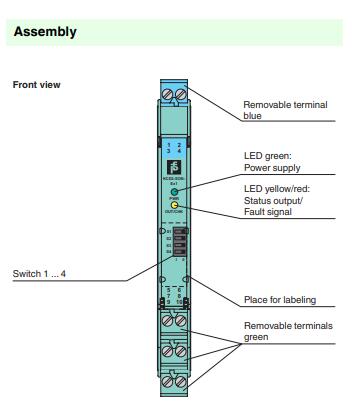 Selection models:
KCD2-SR-Ex1.LB KCD2-SR-Ex2 KFA6-DU-Ex1.D
KFA6-ER-Ex1.W.LB KFA6-SOT2-Ex2 KFA6-SR2-Ex1.W
KFA6-SR2-Ex1.W.LB KFA6-SR2-Ex2.W KFA6-SR2-Ex2.W.IR
KFD2-DU-Ex1.D
KFD2-ELD-Ex16 KFD2-ER-Ex1.W.LB KFD2-SH-Ex1
KFD2-SH-Ex1.T.OP KFD2-SOT3-Ex1.LB KFD2-SOT3-Ex1.LB.IO
KFD2-SOT3-Ex2 KFD2-SOT3-Ex2.IO KFD2-SR2-Ex1.W
KFD2-SR2-Ex1.W.LB
KFD2-SR2-Ex2.W KFD2-SR3-Ex2.2S KFD2-SRA-Ex4
KFD2-ST3-Ex1.LB KFD2-ST3-Ex2 KHA6-SH-Ex1
KCD2-SON-Ex1 KCD2-SOT-Ex1.LB KCD2-SOT-Ex2
KCD2-SOT-Ex2.SP
KCD2-SR-Ex1.LB.SP KCD2-SR-Ex2.SP KCD2-ST-Ex1.LB
KCD2-ST-Ex2 KFA5-SOT2-Ex2 KFA5-SR2-Ex1.W
KFA5-SR2-Ex1.W.LB KFA5-SR2-Ex2.W KFA5-SR2-Ex2.W.IR
KFD2-SH-Ex1.T
KFD2-SOT3-Ex2.IO-Y1 KCD2-SON-Ex1.R1 KCD2-SON-Ex1.SP
KCD2-SON-Ex2 KCD2-SON-Ex2.R1 KCD2-SON-Ex2.SP
KCD2-SOT-Ex1.LB.SP KCD2-ST-Ex1.LB.SP KCD2-ST-Ex2.SP
KFA4-SR2-Ex2.W