PEPPERL+FUCHS Recently HOT SELL ! Switch Amplifier, Timer Relay KFA5-DU-Ex1.D Intrinsic Safety Barriers Isolated Barriers K-System
New & Original
KFA5-DU-Ex1.D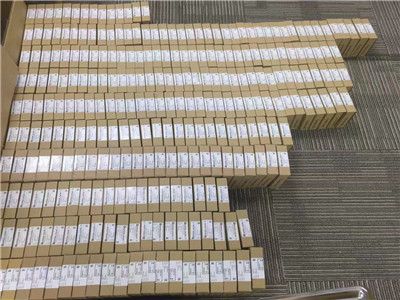 PEPPERL+FUCHS Switch Amplifier, Timer Relay KFA5-DU-Ex1.D Intrinsic Safety Barriers Isolated Barriers K-System
Switch Amplifier, Timer Relay KFA5-DU-Ex1.D
· 1-channel isolated barrier
· 115 V AC supply
· Dry contact or NAMUR inputs
· Relay contact and transistor output
· Adjustable output timer functions from 10 ms ... 60 min
· Input frequency up to 80 Hz; pulse divider up to 1 kHz
· Reset function
· Configurable by keypad
· Line fault detection (LFD)
Function :
This isolated barrier is used for intrinsic safety applications. It is a highly configurable timer that accepts a digital signal
(NAMUR sensor/mechanical contact) from a hazardous area and is commonly used in applications requiring on-delay, offdelay,
one-shot, or pulse lengthening.
The output relay switch duration is easily adjusted, and a pulse divider function allows step-down ratios from 1:1 to 9999:1.
A reset can be activated via dry contact switch and used to terminate a particular time function.
The unit is easily programmed by the use of a keypad located on the front of the unit. Line fault detection of the field circuit is indicated by a red LED.
For additional information, refer to the manual and www.pepperl-fuchs.com.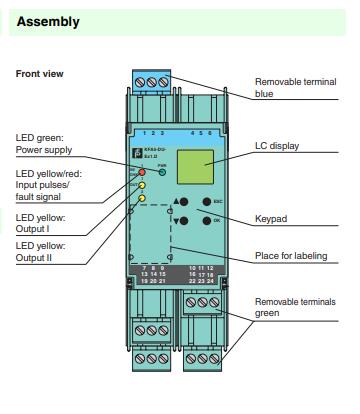 Selection models:
KCD2-SR-Ex1.LB KCD2-SR-Ex2 KFA6-DU-Ex1.D
KFA6-ER-Ex1.W.LB KFA6-SOT2-Ex2 KFA6-SR2-Ex1.W
KFA6-SR2-Ex1.W.LB KFA6-SR2-Ex2.W KFA6-SR2-Ex2.W.IR
KFD2-DU-Ex1.D
KFD2-ELD-Ex16 KFD2-ER-Ex1.W.LB KFD2-SH-Ex1
KFD2-SH-Ex1.T.OP KFD2-SOT3-Ex1.LB KFD2-SOT3-Ex1.LB.IO
KFD2-SOT3-Ex2 KFD2-SOT3-Ex2.IO KFD2-SR2-Ex1.W
KFD2-SR2-Ex1.W.LB
KFD2-SR2-Ex2.W KFD2-SR3-Ex2.2S KFD2-SRA-Ex4
KFD2-ST3-Ex1.LB KFD2-ST3-Ex2 KHA6-SH-Ex1
KCD2-SON-Ex1 KCD2-SOT-Ex1.LB KCD2-SOT-Ex2
KCD2-SOT-Ex2.SP
KCD2-SR-Ex1.LB.SP KCD2-SR-Ex2.SP KCD2-ST-Ex1.LB
KCD2-ST-Ex2 KFA5-SOT2-Ex2 KFA5-SR2-Ex1.W
KFA5-SR2-Ex1.W.LB KFA5-SR2-Ex2.W KFA5-SR2-Ex2.W.IR
KFD2-SH-Ex1.T
KFD2-SOT3-Ex2.IO-Y1 KCD2-SON-Ex1.R1 KCD2-SON-Ex1.SP
KCD2-SON-Ex2 KCD2-SON-Ex2.R1 KCD2-SON-Ex2.SP
KCD2-SOT-Ex1.LB.SP KCD2-ST-Ex1.LB.SP KCD2-ST-Ex2.SP
KFA4-SR2-Ex2.W