PEPPERL+FUCHS Switch Amplifier KFD2-SH-Ex1 Intrinsic Safety Barriers Isolated Barriers K-System Brand New
New & Original
KFD2-SH-Ex1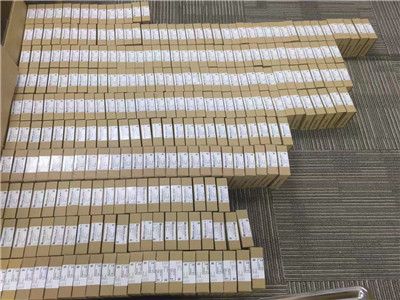 PEPPERL+FUCHS Switch Amplifier KFD2-SH-Ex1
1-channel isolated barrier
24 V DC supply (Power Rail)
Input for approved dry contacts or SN/S1N sensors
Relay contact output
Fault indication output
Line fault detection (LFD)
Up to SIL 3 acc. to IEC 61508
Up to PL d acc. to EN/ISO 13849
Function :
This isolated barrier is used for intrinsic safety applications. The device transfers digital signals (SN/S1N proximity sensors or approved dry contacts)
from a hazardous area to a safe area. The input controls one relay contact output with 3 NO contacts
(one output is in series to the both output relays for the safety function), one relay contact output with one NO contact, and one passive transistor output.
Unlike an SN/S1N series proximity sensor, a mechanical contact, requires a 10 resistor to be placed across the contact in addition to a 1.5 k resistor in series.
Lead breakage (LB) and short circuit (SC) conditions of the control circuit are continuously monitored.
During an fault condition, the fault indication output energizes and outputs I and II de-energize. For safety applications up to SIL3, output I must be used.
For safety applications up to SIL2, output I and output II can be used.
Selection models:
KCD2-SR-Ex1.LB KCD2-SR-Ex2 KFA6-DU-Ex1.D
KFA6-ER-Ex1.W.LB KFA6-SOT2-Ex2 KFA6-SR2-Ex1.W
KFA6-SR2-Ex1.W.LB KFA6-SR2-Ex2.W KFA6-SR2-Ex2.W.IR
KFD2-DU-Ex1.D
KFD2-ELD-Ex16 KFD2-ER-Ex1.W.LB KFD2-SH-Ex1
KFD2-SH-Ex1.T.OP KFD2-SOT3-Ex1.LB KFD2-SOT3-Ex1.LB.IO
KFD2-SOT3-Ex2 KFD2-SOT3-Ex2.IO KFD2-SR2-Ex1.W
KFD2-SR2-Ex1.W.LB
KFD2-SR2-Ex2.W KFD2-SR3-Ex2.2S KFD2-SRA-Ex4
KFD2-ST3-Ex1.LB KFD2-ST3-Ex2 KHA6-SH-Ex1
KCD2-SON-Ex1 KCD2-SOT-Ex1.LB KCD2-SOT-Ex2
KCD2-SOT-Ex2.SP
KCD2-SR-Ex1.LB.SP KCD2-SR-Ex2.SP KCD2-ST-Ex1.LB
KCD2-ST-Ex2 KFA5-SOT2-Ex2 KFA5-SR2-Ex1.W
KFA5-SR2-Ex1.W.LB KFA5-SR2-Ex2.W KFA5-SR2-Ex2.W.IR
KFD2-SH-Ex1.T
KFD2-SOT3-Ex2.IO-Y1 KCD2-SON-Ex1.R1 KCD2-SON-Ex1.SP
KCD2-SON-Ex2 KCD2-SON-Ex2.R1 KCD2-SON-Ex2.SP
KCD2-SOT-Ex1.LB.SP KCD2-ST-Ex1.LB.SP KCD2-ST-Ex2.SP
KFA4-SR2-Ex2.W