PEPPERL+FUCHS Special offer Switch Amplifier KFD2-SRA-Ex4 Intrinsic Safety Barriers Isolated Barriers K-System
New & Original
KFD2-SRA-Ex4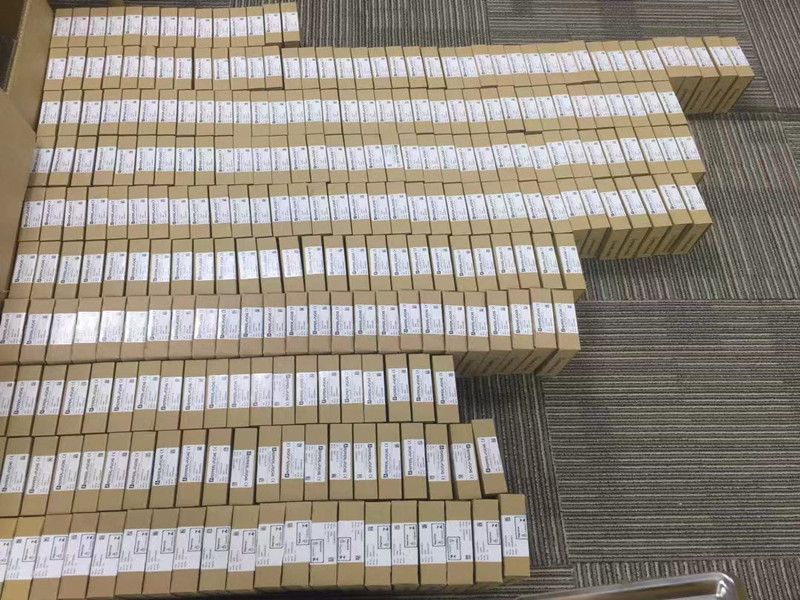 PEPPERL+FUCHS Switch Amplifier KFD2-SRA-Ex4 Intrinsic Safety Barriers Isolated Barriers K-System
Switch Amplifier KFD2-SRA-Ex4
· 4-channel isolated barrier
· 24 V DC supply (Power Rail)
· Dry contact or NAMUR inputs
· 50 % less wiring, 2:1 technology
· Relay contact output
· Line fault detection (LFD)
· Reversible mode of operation
Function :
This isolated barrier is used for intrinsic safety applications. It transfers digital signals
(NAMUR sensors/mechanical contacts) from a hazardous area to a safe area.
Each sensor or switch controls one form A normally open relay contact for the safe area load. A special 2:1 wiresaving technology is
available on this isolator, reducing field wiring by 50 %. Switch S1 is used to enable or disable line fault detection of the field circuit.
The 2:1 mode is selected with switch S2 while the remaining switches, S3 ... S6, are used for reversing the normal output state of the relays.
A unique collective error messaging feature is available when used with the Power Rail system.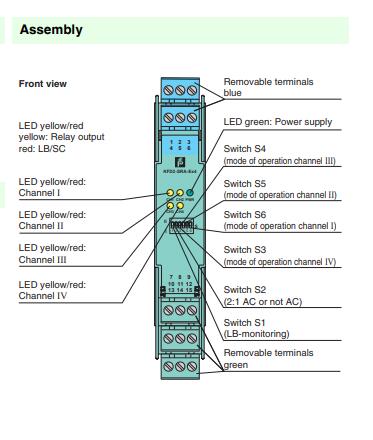 Selection models:
KCD2-SR-Ex1.LB KCD2-SR-Ex2 KFA6-DU-Ex1.D
KFA6-ER-Ex1.W.LB KFA6-SOT2-Ex2 KFA6-SR2-Ex1.W
KFA6-SR2-Ex1.W.LB KFA6-SR2-Ex2.W KFA6-SR2-Ex2.W.IR
KFD2-DU-Ex1.D
KFD2-ELD-Ex16 KFD2-ER-Ex1.W.LB KFD2-SH-Ex1
KFD2-SH-Ex1.T.OP KFD2-SOT3-Ex1.LB KFD2-SOT3-Ex1.LB.IO
KFD2-SOT3-Ex2 KFD2-SOT3-Ex2.IO KFD2-SR2-Ex1.W
KFD2-SR2-Ex1.W.LB
KFD2-SR2-Ex2.W KFD2-SR3-Ex2.2S KFD2-SRA-Ex4
KFD2-ST3-Ex1.LB KFD2-ST3-Ex2 KHA6-SH-Ex1
KCD2-SON-Ex1 KCD2-SOT-Ex1.LB KCD2-SOT-Ex2
KCD2-SOT-Ex2.SP
KCD2-SR-Ex1.LB.SP KCD2-SR-Ex2.SP KCD2-ST-Ex1.LB
KCD2-ST-Ex2 KFA5-SOT2-Ex2 KFA5-SR2-Ex1.W
KFA5-SR2-Ex1.W.LB KFA5-SR2-Ex2.W KFA5-SR2-Ex2.W.IR
KFD2-SH-Ex1.T
KFD2-SOT3-Ex2.IO-Y1 KCD2-SON-Ex1.R1 KCD2-SON-Ex1.SP
KCD2-SON-Ex2 KCD2-SON-Ex2.R1 KCD2-SON-Ex2.SP
KCD2-SOT-Ex1.LB.SP KCD2-ST-Ex1.LB.SP KCD2-ST-Ex2.SP
KFA4-SR2-Ex2.W