PEPPERL+FUCHS Recently HOT SELLRotation Speed Monitor KFD2-DWB-Ex1.D Intrinsic Safety Barriers Isolated Barriers K-System Frequency Converters
New & Original
KFD2-DWB-Ex1.D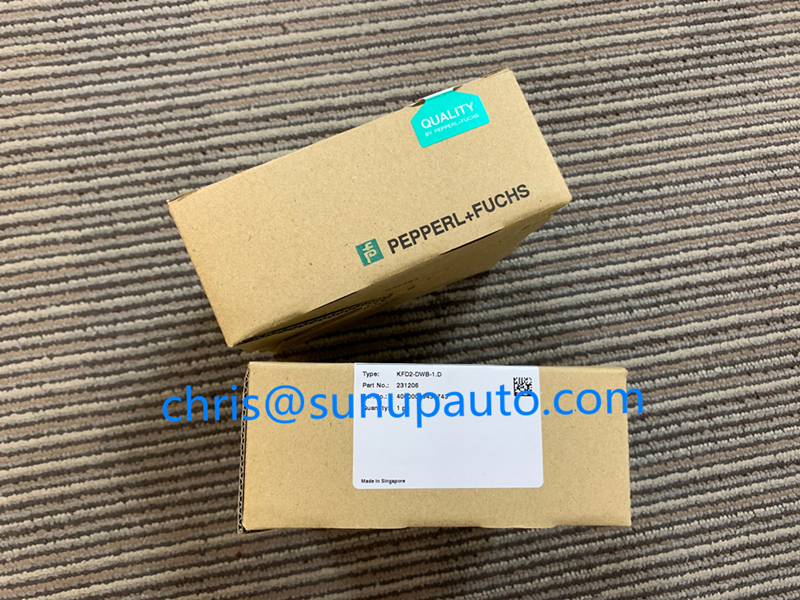 PEPPERL+FUCHS Rotation Speed Monitor KFD2-DWB-Ex1.D
Intrinsic Safety Barriers Isolated Barriers K-System Frequency Converters
Rotation Speed Monitor KFD2-DWB-Ex1.D
· 1-channel isolated barrier
· 24 V DC supply (Power Rail)
· Dry contact or NAMUR inputs
· Input frequency 1 mHz ... 5 kHz
· 2 relay contact outputs
· Start-up override
· Configurable by keypad
· Line fault detection (LFD)
· Up to SIL 2 acc. to IEC 61508/IEC 61511
Function :
This isolated barrier is used for intrinsic safety applications. It monitors for an overspeed or underspeed condition of a digital signal
(NAMUR sensor/mechanical contact) from a hazardous area by comparing the input frequency to the user programmed reference frequency.
An overspeed or underspeed condition is signaled via the relay outputs. Line fault detection of the field circuit is indicated by a red LED, Power Rail and relay.
The start-up override feature sets relay outputs to default conditions programmed by the user for up to 1,000 seconds.
The unit is easily programmed by the use of a keypad located on the front of the unit. A unique collective error
messaging feature is available when used with the Power Rail system. For additional information, refer to the manual and www.pepperl-fuchs.com.