PEPPERL+FUCHS Frequency Converter with Trip Values KFD2-UFC-Ex1.D Intrinsic Safety Barriers Isolated Barriers K-System Frequency Converters
New & Original
KFD2-UFC-Ex1.D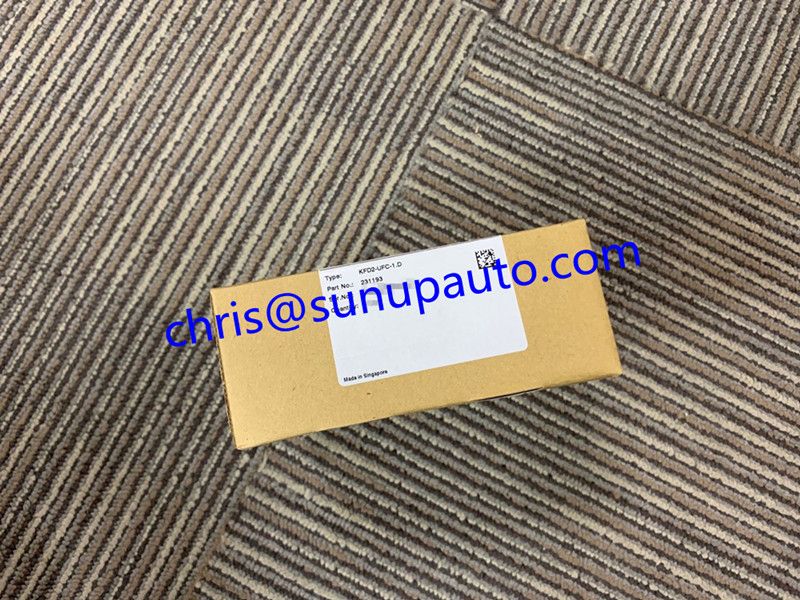 PEPPERL+FUCHS Frequency Converter with Trip Values KFD2-UFC-Ex1.D
Intrinsic Safety Barriers Isolated Barriers K-System Frequency Converters
Frequency Converter with Trip Values KFD2-UFC-Ex1.D
1-channel isolated barrier
24 V DC supply (Power Rail)
Input for NAMUR sensors or dry contacts
Input frequency 1 mHz ... 5 kHz
Current output 0/4 mA ... 20 mA
Relay contact and transistor output
Start-up override
Line fault detection (LFD)
Up to SIL 2 acc. to IEC 61508/IEC 61511
Function :
This isolated barrier is used for intrinsic safety applications. The device is a universal frequency converter that changes a
digital input signal into a proportional free adjustable 0/4 mA ... 20 mA analog output signal and functions as a
switch amplifier and a trip alarm. The functions of the switch outputs (2 relay outputs and 1 potential free transistor output)
are easily adjustable [trip value display (min/max alarm),
serially switched output, pulse divider output, error signal output]. The device is easily configured by the use of keypad
or with the PACTware configuration software.
A fault is signalized by LEDs acc. to NAMUR NE44 and a separate collective error message output.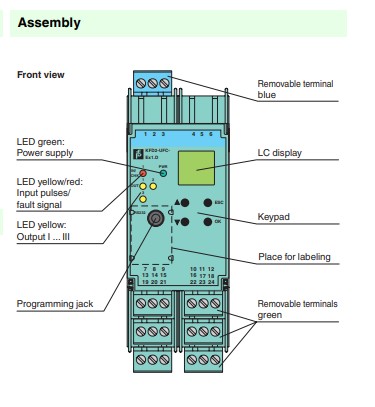 Selection models:
KFD2-UFC-Ex1.D KFU8-UFC-Ex1.D
KFA5-DWB-Ex1.D KFA6-DWB-Ex1.D
KFD2-DWB-Ex1.D KFD2-SR2-Ex2.W.SM
KFD2-UFT-Ex2.D KFU8-UFT-Ex2.D