ABB HOT SALE Thermal mass flowmeter SensyMaster FMT400 Brand New with Very Competitive Price
New & Original
FMT400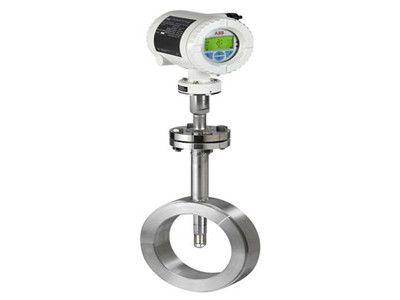 ABB HOT SALE Thermal mass flowmeter SensyMaster FMT400 Brand New with Very Competitive Price
Thermal mass flowmeter SensyMaster FMT400
The SensyMaster FMT430 offers a high quality and cost effective solution for precise and dynamic direct mass flow measurements of gases in low and medium pressure conditions to meet the needs of all industrial standard applications.
The FMT450 adds high accuracy and extended functionality for advanced industrial applications.
SensyMaster's concept comprises high grade thermal sensor elements with superior long-term stability, the common ABB look and feel with ABB specific
menu structures and through-the-glass-operation and the ABB platform based electronics with comprehensive signal evaluation capabilities for a high degree of performance and reliability.
The software offers the ApplicationSelector that allows to change application parameters and create new applications on site and VeriMass the fingerprint based thermal sensor element verification function.
Both integral and remote mount design is available with or without local display and HART communication supporting the modular I/O and the SmartSensor concept.
Both models offer easy to understand diagnostic messages for improved operator efficiency.
The SensyMaster FMT430 is ideally suited for all industrial standard applications, the FMT450 for advanced industrial application.
Selection Models :
FCB400 / CoriolisMaster FCB430 and FCB450
FCH400 / CoriolisMaster FCH430 and FCH450
FCB100 / CoriolisMaster FCB130 and FCB150
FCH100 / CoriolisMaster FCH130 and FCH150
ProcessMaster FEP630
ProcessMaster FEP610
HygienicMaster FEH630
HygienicMaster FEH610
ProcessMaster FEP300
ProcessMaster FEP500
HygienicMaster FEH300
HygienicMaster FEH500
FSM4000
AquaMaster FEW400
Electromagnetic flowmeter WaterMaster
FPD801
FPD150
FPD160
FPD190
FPD350
1330L
Orifice meter run OMR
FPD175
FPD201
FPD212
FPD220
FPD470C
FPD470F
FPD470P
FPD580
FPD500
FPD510
FPD550
FPD570
FMT200
FMT400
FMT200-ECO2
FMT700-P
FAM3200
FAM540
FAM541
FAM544
FAM545
FAM546
FGM1190
FGM6100
FSV430
FSV450
FSS430
FSS450