Fluke 1630-2 FC Earth Ground Clamp New & Original with very competitive price and One year Warranty
New & Original
1630-2 FC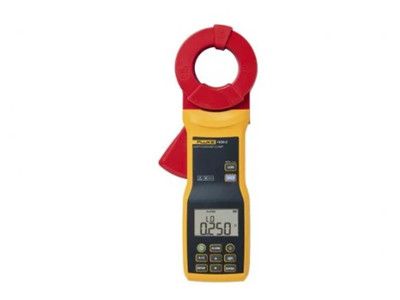 Fluke 1630-2 FC Earth Ground Clamp New & Original with very competitive price and One year Warranty
Key features
"The Fluke 1630 is a MUST HAVE for those who are intent on improving the reliability of their systems and making it impervious to impulse damage.
The Fluke 1630 is easy to use, highly accurate and an industry standard"- verified purchaser
* Test the grounding components of equipment in hard-to-reach spaces, including areas that are indoors or fully paved and do not permit driving auxiliary test stakes.
* AC Leakage Current Measurement: Identify AC leakage without disconnecting your earth ground stake from the grounding system
* Rugged: Heavy-duty clamp jaw stays in alignment and calibration on tough jobsites
* Logging measurement: Saves up to 32,760 measurements in memory
The 1630-2 FC clamp measures earth ground loop resistances for multi-grounded systems using the dual-clamp jaw.

This test technique eliminates the dangerous and time-consuming activity of disconnecting parallel grounds, as well as the process of finding suitable locations for auxiliary test stakes.
You can also perform ground tests in places that were previously difficult: inside buildings, on power pylons or anywhere you don't have access to soil to place auxiliary test stakes.
Specifications: Fluke 1630-2 FC Earth Ground Clamp
Electrical Specifications

Maximum voltage to earth ground

1000 V

Battery type

AA alkaline IEC/EN LR6 (x4)

Battery life

More than 15 hours*

* In Ground Resistance measurement mode, with backlight turned off, and RF mode turned off

Frequency range

40 Hz to 1 kHz

Ingress protection

IEC/EN 60529: IP30 with jaw closed

LCD

Digital reading

9999 counts

Refresh rate

4 per second

Operating temperature

-10 °C to + 50 °C




Storage temperature

-20 °C to + 60 °C

Operating humidity

Non condensing (<10 °C) (< 50 °F)

≤90% RH (at 10 °C to 30 °C [50 °F to 86 °F])

≤75% RH (at 30 °C to 40 °C [86 °F to 104 °F])

≤45% RH (at 40 °C to 50 °C [104 °F to 122 °F])

(Non condensing)

Operating altitude

2000 m (6561 feet)

Storage altitude

12 000 m (39,370 feet)

Reference temperature

23 °C ±5 °C (73 °F ±9 °F)

Temperature coefficient

0.15% x (specified accuracy)/ °C (<18 °C or >28 °C [<64.4 °F or >82.4 °F])

Overload indication

OL

Data logging capacity

Minimum of 32,760 measurements

Data logging interval

1 second to 59 minutes and 59 seconds

Display reading specification with standard loop resistance

Input (Ω)

Minimum

Maximum

0.474

0.417

0.531

0.5

0.443

0.558

10

9.55

10.45

100

96

104

Safety

General

IEC/EN 61010-1: Pollution Degree 2 IEC/EN 61557-1

Measurement

IEC/EN 61010-2-032: CAT IV 600 V / CAT III 1000 V

Current clamp for leakage current measurements

IEC/EN 61557-13: Class 2, ≤30 A/m

Resistance to earth

IEC/EN 61557-5

Effectiveness of thepProtective measures

IEC/EN 61557-16

Electromagnetic compatibility (EMC)

International

IEC/EN 61326-1: Portable Electromagnetic Environment

CISPR 11: Group 1, Class B, IEC/EN 61326-2-2

Korea (KCC)

Class A equipment (Industrial Broadcast & Communications Equipment)

USA (FCC)

47 CFR 15 subpart B. This product is considered an exempt device per clause 15.103

Wireless Radio

Frequency range

2412 MHz to 2462 MHz

Output power

<10 mW

Radio frequency certification

FCC ID:T68-FBLE IC:6627A-FBLE

General Specifications

Conductor size

40 mm (1.57 in) approximately

Dimensions (L x W x H)

283 x 105 x 48 mm (11.1 x 4.1 x 1.9 in)

Weight

880g (31 oz)

Warranty

One year

Earth Ground Loop Resistance

Range

Accuracy1 ± (% of reading + Ω)

0.025 Ω to 0.249 Ω

1.5% + 0.02 Ω

0.250 Ω to 0.999 Ω

1.5% + 0.05 Ω

1.000 Ω to 9.999 Ω

1.5% + 0.10 Ω

10.00 Ω to 49.99 Ω

1.5% + 0.30 Ω

50.00 Ω to 99.99 Ω

1.5% + 0.50 Ω

100.0 Ω to 199.9 Ω

3.0% + 1.0 Ω

200.0 Ω to 399.9 Ω

5.0% + 5.0 Ω

400 Ω to 599 Ω

10.0% + 10 Ω

600 Ω to 1500 Ω

20.00%

1 Loop resistance with no inductance, conductor centered and perpendicular to jaw

Earth ground leakage current mA

Autorange 50/60 Hz, True rms, crest factor CF ≤3

Range

Resolution

Accuracy1 ± (% of reading + mA)

0.200 mA to 3.999 mA

1 μA

2.0% + 0.05 mA

4.00 mA to 39.99 mA

10 μA

2.0% + 0.03 mA

40.0 mA to 399.9 mA

100 μA

2.0% + 0.3 mA

0.400 A to 3.999 A

1 mA

2.0% + 3 mA

4.00 A to 39.99 A

10 mA

2.0% + 30 mA

1 Applies to signal frequency

40 Hz to 1 kHz with filter set to OFF

40 Hz to 70 Hz with filter se to ON