In Stock Fluke 805 805CN Vibration Meter 100% New & Original with very competitive price and One year Warranty
New & Original
805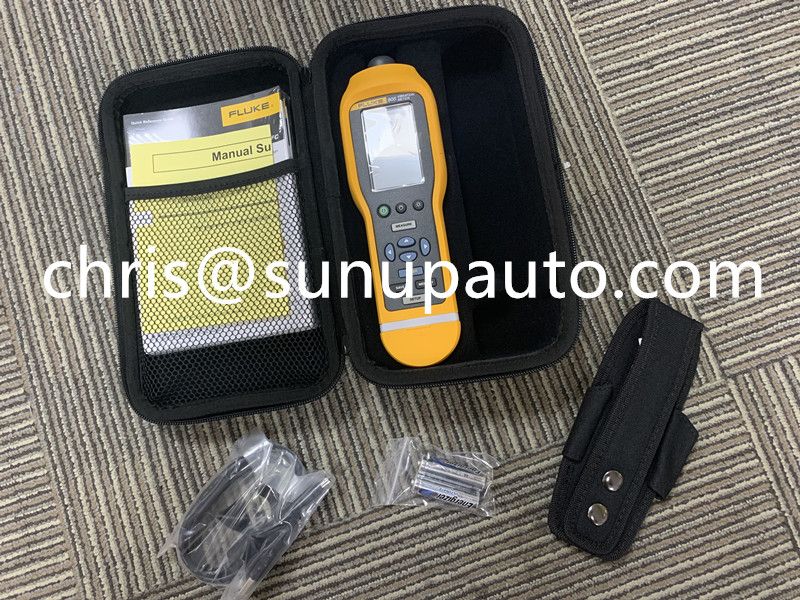 Fluke 805 Vibration Meter 100% New & Original with very competitive price and One year Warranty
Key features
* Reliable, repeatable, accurate device for checking bearings and overall vibration
* Features innovative sensor design that minimizes measurement variations caused by device angle or contact pressure
* Provides consistent data quality at both low and high frequency ranges
* Offers four-level severity scale to assess urgency of problems and bearing condition
Product overview: Fluke 805 Vibration Meter

The Reliable, Repeatable, Accurate Way to Check Bearings and Overall Vibration
Make go or no-go maintenance decisions with confidence.
The Fluke 805 Vibration Meter is the most reliable vibration screening device available for frontline mechanical troubleshooting
teams that need repeatable, severity-scaled readings of overall vibration and bearing condition.
What Makes the 805 the Best Choice?
* A meter – not a pen – that measures overall vibration as well as specific variables like bearing condition and temperature, to provide a more complete picture
* A combination vibration and force sensor tip that compensates for user variance (force or angle) yielding accurate, repeatable readings
* A four-level severity scale and onboard processor calculate bearing condition and overall vibration using easy-to-understand textual alerts (Good, Satisfactory, Unsatisfactory, Unacceptable)
* Sensor sensitivity can read a wide range of frequencies (10 to 1,000 Hz and 4,000 to 20,000 Hz) covering most machine and component types
* Straight-forward user interface that minimizes the user inputs to RPM range and equipment type
Other useful features:
* Measures overall vibration (10 Hz to 1,000 Hz) for acceleration, velocity, and displacement units of measurement for a wide variety of machines
* Provides Crest Factor+ technology for reliable bearing assessment using direct sensor tip measurements between 4,000 Hz and 20,000 Hz
* Compares vibration levels with ISO-10816 severity scales
* Allows you to view trending in Microsoft® Excel using pre-built templates
* Features colored lighting system (green, red) and on-screen comments to indicate how much pressure needs to be applied to take measurements
* Measures temperature with Spot IR Sensor to increase diagnostic capabilities
* Holds and saves up to 3,500 measurements in on-board memory
* Provides external accelerometer support for hard to reach locations
* Allows you to export data via USB
* Provides audio output for listening to bearing tones directly
* Features built-in flashlight for viewing measurement locations in dark areas
* Provides large high-resolution display for easy navigation and viewing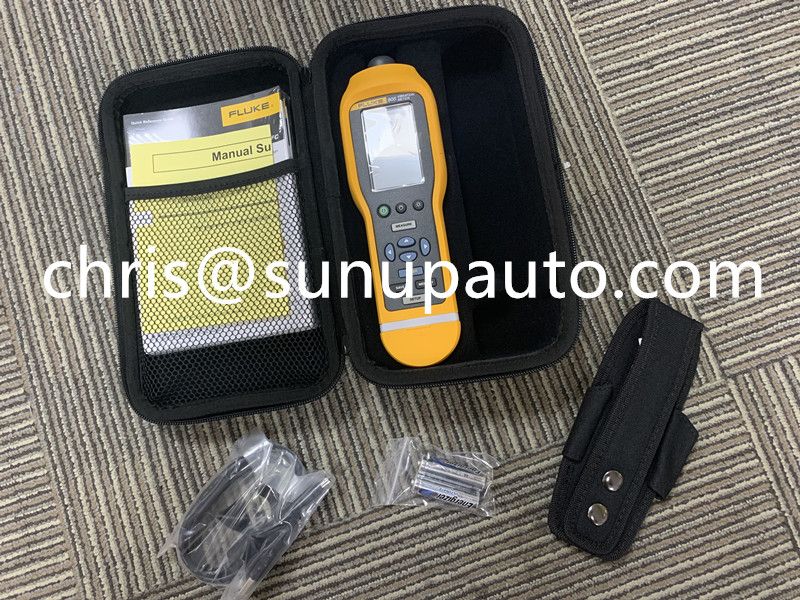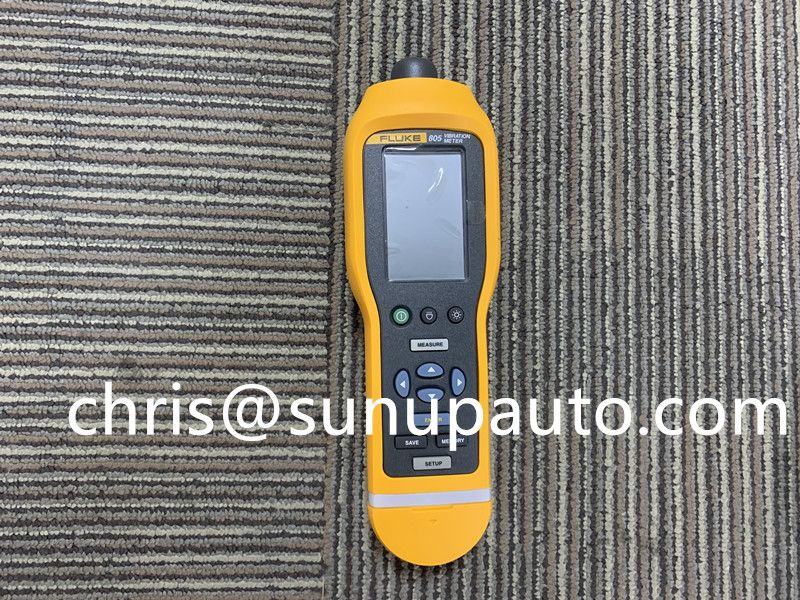 Specifications: Fluke 805 Vibration Meter
Vibration Meter

Low frequency range (overall measurement)

10 Hz to 1,000 Hz

High frequency range (CF+ measurement)

4,000 Hz to 20,000 Hz

Severity levels

Good, satisfactory, unsatisfactory, unacceptable

Vibration limit

50 g peak (100 g peak-peak)

A/D converter

16-bit

Signal to noise ratio

80 dB

Sampling rate

Low frequency

20,000 Hz

High frequency

80,000 Hz

Real time clock backup

Coin battery

Sensor

Sensitivity

100 mV g ±10%

Measurement range

0.01 g to 50 g

Low frequency range (overall measurement)

10 Hz to 1,000 Hz

High frequency range

4,000 Hz to 20,000 Hz

Resolution

0.01 g

Accuracy

At 100 Hz ±5% of measured value

Amplitude Units

Acceleration

g, m/sec²

Velocity

in/sec, mm/sec

Displacement

mils, mm

Infrared Thermometer (Temperature Measurement)

Range

-20°C to 200°C (-4°F to 392°F)

Accuracy

±2°C (4°F)

Focal length

Fixed, at ~3.8 cm (1.5 in)

External sensor

Fluke supports but does not provide external sensors

Frequency range

10 Hz to 1,000 Hz

Bias voltage (to supply power)

20 VDC to 22 VDC

Bias current (to supply power)

Maximum 5 mA

Firmware

External interfaces

USB 2.0 (full speed) communication

Data capacity

Database on internal flash memory

Upgrade

Through USB

Memory

Up to 3,500 measurements

Radiated Emission

Electrostatic discharge: burst

Standard EN 61000-4-2

Electromagnetic interference

Standard EN 61000-4-3

RE

Standard CISPR 11, Class A

Environmental

Operating temperature

-20°C to 50°C (-4°F to 122°F)

Storage temperature

-30°C to 80°C (-22°F to 176°F)

Operating humidity

10% to 95% RH (non-condensing)

Operating/storage altitude

Sea level to 3,048 meters (10,000 feet)

IP rating

IP54

Vibration limit

500 g peak

Drop test

1 meter

General Specifications

Battery type

AA (2) Lithium Iron Disulfide

Battery life

250 measurements

Size (L x W x H)

24.1 x 7.1 x 5.8 cm (9.5 x 2.8 x 2.3 in)

Weight

0.40 kg (0.89 lb)

Connectors

USB mini-B 7-pin, stereo audio output jack (3.5 mm Audio Plug), external sensor jack (SMB connector)
There have More other details options , pls kindly contact with Chris directly to know more details information .
Chris Fang
Sales Engineer
Sunup (Wuhan) Import and Export Co., Ltd.
Add:7-A16,Caishen Commercial Plaza,Hankou Railway Station,Wuhan, China

Postal code:430015
M: + 86-15926376631(WhatsApp & Wechat)
Skype: live:chris_61491
Email: chris@sunupauto.com