Endress + Hauser Multichannel multiparameter software Memobase Plus CYZ71D New & Original With very Competitive price On sale
New & Original
CYZ71D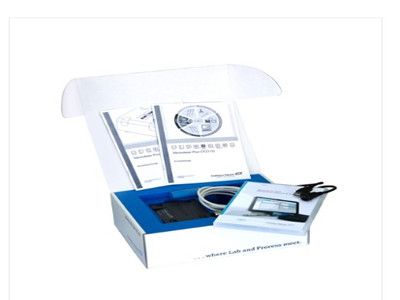 Endress + Hauser Multichannel multiparameter software Memobase Plus CYZ71D
Measure, calibrate, and document with one single tool for Memosens sensors
Memobase Plus is the perfect software to improve your process safety and reliability. It documents the complete lifetime
of Memosens sensors offering full traceability with a minimum of paperwork. Memobase Plus turns your
computer into a high-performance, space-saving measuring
device for up to 4 parallel sensors. You can save and export measurement data and use identical sensors in the
laboratory as in the process to achieve truly comparable measurements.
Benefits
Higher efficiency with easy sensor maintenance:
Plug and play with Memosens sensors means: Just swapping the sensors in the process with lab pre-calibrated sensors.
Advanced diagnostics with 'Ready for next batch' indication:
Memobase Plus evaluates the sensor performance and clearly visualizes the sensor status.
You avoid bringing out-of-spec sensors back into the process and ensure your process reliability.
Better process safety with sensor traceability:
Complete lifetime history of all Memosens sensors is beneficial for GLP, GMP, user management,
and audit trail in compliance with FDA 21 CFR Part 11.
Full flexibility with multichannel, multiparameter:
Memobase Plus turns your computer, laptop or tablet into a space-saving, high-performance device for up to 4 parallel Memosens sensors.
100% measuring consistency between lab and process measurements:
Memobase Plus as a measuring work station minimizes the risk of discrepancies between laboratory results of grab samples and process values.
Highest accuracy for your measurement values:
Memobase Plus is the very first tool that enables you to do real multipoint sensor adjustments and calibrations.
Benefit from enhanced calculations and statistics for the most accurate measurements.
Easy buffer management:
With a scanner you import the LOT number, the expiry date, etc. of our buffers into Memobase Plus - it's convenient, fast and error-free.
This allows you to easily trace which sensor has been calibrated with which buffer.
Field of application
Memobase Plus manages the complete life cycle of pH, ORP, conductivity, dissolved oxygen and chlorine
sensors with the robust Memosens technology.
It is available for all industries and fulfills the highest demands of the pharmaceutical industry.
User management and audit trail enable working in compliance with FDA 21 CFR Part 11.
4-channel transmitter Liquiline CM444
Digital pH sensor Orbisint CPS11D
Ammonium analyzer Liquiline System CA80AM
COD analyzer Liquiline System CA80COD
Digital chlorine dioxide sensor Memosens CCS50D
Digital free chlorine sensor Memosens CCS51D
Cleaning and calibration system Liquiline Control CDC90
Digital 4-electrode conductivity sensor Memosens CLS82D
Digital oxygen sensor Memosens COS81D
Digital pH sensor Memosens CPS171D
Turbidity sensor Turbimax CUS52D
Digital nitrate or SAC sensor Viomax CAS51D
Digital disinfection sensor Chloromax CCS142D
Compact conductivity device Smartec CLD18
Digital conductivity sensor Condumax CLS16D
1-/2-channel transmitter Liquiline CM442
1-/2-channel transmitter Liquiline CM442R
1-channel transmitter Liquiline Compact CM72
1-channel transmitter Liquiline Compact CM82
Digital oxygen sensor Oxymax COS61D
Manual or automatic retractable assembly Cleanfit CPA871
Manual or automatic retractable assembly Cleanfit CPA875
Automatic water sampler Liquistation CSF48
Ultrasonic interface sensor Turbimax CUS71D
Multiparameter handheld Liquiline To Go CYM290
Ex-certified multiparameter handheld Liquiline To Go CYM291
Multichannel multiparameter software Memobase Plus CYZ71D