Endress + Hauser Capacitance Level measurement Liquicap FMI52 New & Original With very Competitive price and One year Warranty
New & Original
FMI52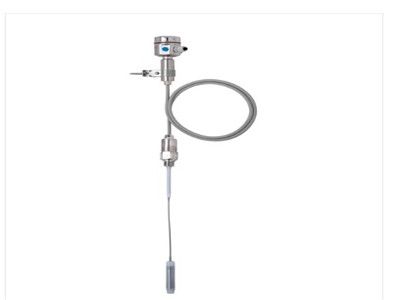 Endress + Hauser Capacitance Level measurement Liquicap FMI52
For continuous level and interface measurement in liquids - for large measuring ranges
Liquicap FMI52 is a reliable fully insulated rope probe for continuous level monitoring in liquids, particularly in small tanks,
build-up forming media and extremely high temperatures - especially for large measuring ranges. The measurement is independent of the
dielectric constant (dc). Used in conjunction with Fieldgate FXA320 (remote measured value interrogation using
Internet technology), Liquicap is an ideal solution for Inventory Management Solutions.
Benefits
Use also in safety systems requiring functional safety to SIL2 in accordance with IEC 61508
Reliable and universal application thanks to wide range of certificates and approvals
No calibration necessary (factory preconfiguration). No calibration necessary for media with a conductivity of 100μS/cm and higher
Material in contact with the process made of corrosion-resistant material
Menu-guided local configuration via plain text display (optional)
Two-stage overvoltage protection
Field of application
Device is independent of the dielectric constant (dc) as of a liquid conductivity of 100μS/cm and allows measurement
of various liquids without the need for recalibration.
Process connections: Flanges and threads
Process pressure: Vacuum to +100bar (vacuum to 1,450psi)
Measuring range: 0.42 to 10.0m (1.38 to 33ft)
Temperature: -80 to +200°C (-112 to +392°F)
International explosion protection certificates, overfill prevention WHG, SIL, hygienic certificates, marine approvals
Radar measurement Time-of-Flight Micropilot FMR20
Radar measurement Micropilot FMR60
Capacitance Point level detection Liquipoint FTW23
Ultrasonic measurement Time-of-Flight Prosonic FDU90
Ultrasonic measurement Time-of-Flight Prosonic FDU91
Ultrasonic measurement Time-of-Flight Prosonic FDU91F
Ultrasonic measurement Time-of-Flight Prosonic FDU92
Ultrasonic measurement Time-of-Flight Prosonic FDU93
Ultrasonic measurement Time-of-Flight Prosonic FDU95
Electronic differential pressure Deltabar FMD71
Electronic differential pressure Deltabar FMD72
Guided radar measurement Time-of-Flight Levelflex FMP50
Guided radar measurement Time-of-Flight Levelflex FMP51
Guided radar measurement Time-of-Flight Levelflex FMP52
Guided radar measurement Time-of-Flight Levelflex FMP53
Guided radar measurement Time-of-Flight Levelflex FMP54
Guided radar measurement Time-of-Flight Levelflex FMP55
Guided radar measurement Time-of-Flight Levelflex FMP56
Guided radar measurement Time-of-Flight Levelflex FMP57
Radar measurement Time-of-Flight Micropilot FMR10
Radar measurement Time-of-Flight Micropilot FMR50
Radar measurement Time-of-Flight Micropilot FMR51
Radar measurement Time-of-Flight Micropilot FMR52
Radar measurement Time-of-Flight Micropilot FMR53
Radar measurement Micropilot FMR532
Radar measurement Micropilot FMR540
Radar measurement Time-of-Flight Micropilot FMR56
Radar measurement Time-of-Flight Micropilot FMR57
Radar measurement Micropilot FMR62
Radar measurement Micropilot FMR67
Ultrasonic measurement Time-of-Flight Prosonic FMU30
Ultrasonic measurement Time-of-Flight Prosonic FMU40
Ultrasonic measurement Time-of-Flight Prosonic FMU41
Ultrasonic measurement Time-of-Flight Prosonic FMU42
Ultrasonic measurement Time-of-Flight Prosonic FMU43
Ultrasonic measurement Time-of-Flight Prosonic FMU44
Vibronic Point level detection Liquiphant FTL31
Vibronic Point level detection Liquiphant FTL33
Vibronic Point level detection Liquiphant FTL50
Vibronic Point level detection Liquiphant FTL50H
Vibronic Point level detection Liquiphant FTL51
The new Liquiphant FTL51 - digital simple and safe
Vibronic Point level detection Liquiphant FTL51C
Vibronic Point level detection Liquiphant FTL51H
Vibronic Point level detection Liquiphant FTL70
Vibronic Point level switch Liquiphant FTL71
Vibronic Point level detection Liquiphant FTL80
Vibronic Point level detection Liquiphant FTL81
Vibronic Point level detection Liquiphant FTL85
Vibronic Point level detection Soliphant FTM50
Vibronic Point level detection Soliphant FTM51
Vibronic Point level detection Soliphant FTM52
Conductive Point level detection Liquipoint FTW33
Radar measurement Micropilot NMR81
Radar measurement Micropilot NMR84
Absolute and gauge pressure Cerabar PMC51
Absolute and gauge pressure Cerabar PMC71
Differential pressure Deltabar PMD55
Differential pressure Deltabar PMD75
Absolute and gauge pressure Cerabar PMP51
Absolute and gauge pressure Cerabar PMP55
Absolute and gauge pressure Cerabar PMP71
Absolute and gauge pressure Cerabar PMP75
Hydrostatic Level measurement Deltapilot FMB50
Hydrostatic Level measurement Deltapilot FMB51
Hydrostatic Level measurement Deltapilot FMB52
Hydrostatic Level measurement Deltapilot FMB53
Hydrostatic Level measurement Deltapilot FMB70
Differential pressure Deltabar FMD77
Differential pressure Deltabar FMD78
Radiometric Level and density measurement Gammapilot FMG60
Capacitance Level measurement Liquicap FMI51
Vibronic measurement Density Computer FML621
Radar measurement Micropilot FMR530
Radar measurement Micropilot FMR533
Radar measurement Time-of-Flight Micropilot FMR54
Ultrasonic measurement Time-of-Flight Prosonic FMU90
Ultrasonic measurement Time-of-Flight Prosonic FMU95
Radiometric Level/density measurement Source Container FQG60
Radiometric Level/density measurement Source Container FQG61
Radiometric Level/density measurement Source Container FQG62
Radiometric Interface measurement Source Container FQG63
Point level switch Soliswitch FTE20 Rotary paddle switch
Radiometric Point level detection Gammapilot FTG20
Capacitance Point level detection Liquicap FTI51
Capacitance Point level detection Liquicap FTI52
Capacitance Point level detectio Solicap FTI55
Capacitance Point level detection Solicap FTI56
Capacitance Point level detection Solicap FTI77
Vibronic Point level detection Soliphant FTM20
Vibronic Point level detection Soliphant FTM21
Conductive Point level detection Liquipoint FTW31
Conductive Point level detection Liquipoint FTW32
Conductive Point level detection Pump Protection FTW360
Servo tank gauging instrument Proservo NMS80
Servo tank gauging instrument Proservo NMS81
Microwave barrier receiver Soliwave FDR50
Microwave barrier receiver Soliwave FDR56
Microwave barrier receiver Soliwave FDR57
Radiometric measurement Gamma Modulator FHG65
Capacitance Level measurement Liquicap FMI21
Capacitance Level measurement Liquicap FMI52
Electromechanical Level measurement Silopilot FMM20
Electromechanical Level measurement Silopilot FMM50
Hydrostatic Level measurement Waterpilot FMX21
Radiometric Level and density Source Container FQG66
Microwave barrier emitter Soliwave FQR50
Microwave barrier emitter Soliwave FQR56
Microwave barrier emitter Soliwave FQR57
Capacitance Point level detection Minicap FTC260
Capacitance Point level detection Minicap FTC262
Capacitance Point level detection Nivector FTC968
Point level switch Soliswitch FTE30 rotary paddle switch
Point level switch Soliswitch FTE31 Rotary paddle switch
Capacitance Point level detection Nivector FTI26
Vibronic Point level detection Nivotester FailSafe FTL825
Microwave flow indicator Solimotion FTR20
Float switch Liquifloat FTS20
Servo tank gauging instrument Proservo NMS83
Conductive Point level detection Double rod probe 11362Z
Conductive Point level detection Triple rod probe 11363Z
Conductive Point level detection One rod probe 11371
Conductive Point level detection One rod probe 11375Z
Conductive Point level detection One rod probe 11961Z
Radiometric measurement Synchronizer FHG66
Radiometric level and density measurement Gamma Source FSG60
Radiometric level and density measurement Gamma Source FSG61
Capacitance Point level switch Nivotester FTC325
Vibronic Point level detection Nivotester FTL325N
Vibronic Point level detection Nivotester FTL325P
Vibronic Point level detection Nivotester FTL375P