Endress + Hauser Flowphant T DTT35 Flow switch 100% New & Original With very Competitive price and One year Warranty
New & Original
T DTT35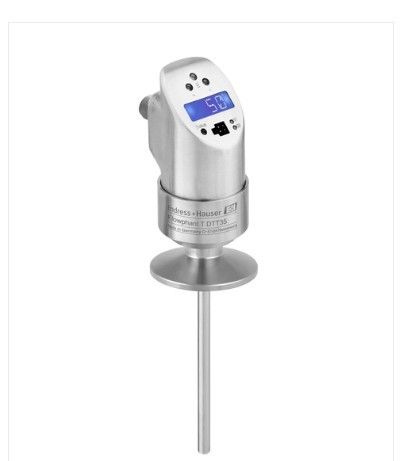 Endress + Hauser Flowphant T DTT35 Flow switch
Safe monitoring of flow rates and temperature in hygienic processes. Compact and cost-saving.
The switch is designed for the safe monitoring and display of relative mass flow rates of liquid media in hygienic applications,
for example the monitoring of cooling water circulation systems and filter monitoring in the beverage industry.
It can be selected between one or two switch outputs as well as one switch output and one standardized analog
output for flow rates or temperature values. A variety of hygienic process connections leads to a flexible use.
Benefits
Practically no pressure loss
Configuration software FieldCare for quick configuration and reliable storage of device settings
Optional: 4 to 20 mA analog output to read out the flow rate as percentage value
Optional: second switch output or 4 to 20 mA analog output for temperature monitoring
Function check and process information onsite thanks to digital display at device
Top housing section which can be rotated 310° and rotatable display make it possible to read the measured values in all orientations
3-A approval
Field of application
Flow switch for monitoring and displaying relative mass flow rates of liquid media in the range from 0.03 to 3 m/s (0.1 to 9.84 ft/s). Flowphant T DTT35 − with process connections for hygienic applications.
Application examples:
Monitoring cooling water circulation systems of pumps, turbines, compressors and heat exchangers
Leak monitoring in process lines
Monitoring pump functionality
Monitoring lubrication systems
Filter monitoring in the beverage industry