Endress + Hauser Proline Promag 50P Electromagnetic flowmeter New & Original With very Competitive price and One year Warranty
New & Original
50P Series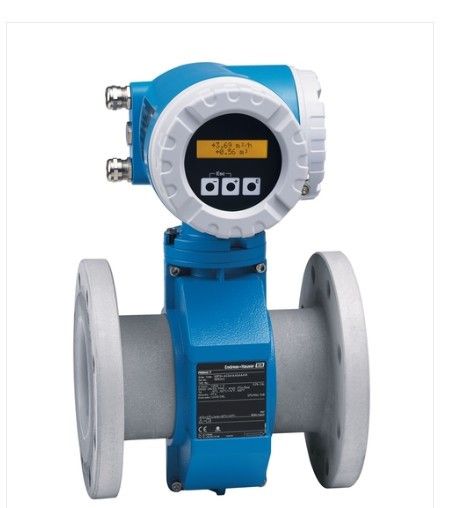 Endress + Hauser Proline Promag 50P Electromagnetic flowmeter
The flowmeter for highest medium temperatures with a modular electronic concept
Promag P is the preferred sensor for applications with highest requirements in a multitude of industries.

Combined with the proven Promag 50 transmitter with push buttons, Promag 50P offers highly accurate measurement
of liquids for a wide range of applications. Promag 50P is dedicated to chemical and process
applications with corrosive liquids and high medium temperatures. Promag 50P is available as compact or remote version.
Benefits
Versatile applications – wide variety of wetted materials
Energy-saving flow measurement – no pressure loss due to cross-section constriction
Maintenance-free – no moving parts
Fast commissioning – application-specific Quick Setups
Safe operation – display provides easily readable process information
Fully industry compliant – IEC/EN/NAMUR
Field of application
The bidirectional measuring principle is virtually independent of pressure, density, temperature and viscosity
Dedicated to chemical and process applications with corrosive liquids and high medium temperatures
Device properties
Nominal diameter: max. DN 600 (24")
All common Ex approvals
Liner made of PTFE or PFA
2-line display with push buttons
Device as compact or remote version
HART, PROFIBUS PA/DP
Proline Promag P 300 Electromagnetic flowmeter
Proline Promass F300 Coriolis flowmeter
Proline Promag H100 Electromagnetic flowmeter
Proline Promag W300 Electromagnetic flowmeter
Proline Promag W 400 Electromagnetic flowmeter
Proline Prowirl F200 Vortex flowmeter
Proline Promass P100 Coriolis flowmeter
Proline Promass X 300 Coriolis flowmeter
Proline Prosonic Flow B 200 Ultrasonic flowmeter
Differential pressure Deltabar PMD55
Differential pressure Deltabar PMD75
Proline Promag D 400 Electromagnetic flowmeter
Proline Promag E 100 Electromagnetic flowmeter
Proline Promag H 200 Electromagnetic flowmeter
Proline Promag H 300 Electromagnetic flowmeter
Proline Promag H 500 Electromagnetic flowmeter
Proline Promag L 400 Electromagnetic flowmeter
Proline Promag P 100 Electromagnetic flowmeter
Proline Promag P 200 Electromagnetic flowmeter
Proline Promag P 500 Electromagnetic flowmeter
Proline Promag W 500 Electromagnetic flowmeter
Proline Promag W 800 Electromagnetic flowmeter
Proline t-mass A 150 Thermal mass flowmeter
Proline t-mass B 150 Thermal mass flowmeter
Proline t-mass T 150 Thermal mass flowmeter
Proline Prowirl C 200 Vortex flowmeter
Proline Prowirl D 200 Vortex flowmeter
Proline Prowirl O 200 Vortex flowmeter
Proline Prowirl R 200 Vortex flowmeter
Proline Promass A 100 Coriolis flowmeter
Proline Promass A 200 Coriolis flowmeter
Proline Promass A 300 Coriolis flowmeter
Proline Promass A 500 Coriolis flowmeter
Proline Cubemass C 100 Coriolis flowmeter
Proline Cubemass C 300 Coriolis flowmeter
Proline Cubemass C 500 Coriolis flowmeter
Proline Promass E 100 Coriolis flowmeter
Proline Promass E 200 Coriolis flowmeter
Proline Promass E 300 Coriolis flowmeter
Proline Promass E 500 Coriolis flowmeter
Proline Promass F 100 Coriolis flowmeter
Proline Promass F 200 Coriolis flowmeter
Proline Promass F 500 Coriolis flowmeter
Proline Promass G 100 Coriolis flowmeter
Proline Promass H 100 Coriolis flowmeter
Proline Promass H 300 Coriolis flowmeter
Proline Promass H 500 Coriolis flowmeter
Proline Promass I 100 Coriolis flowmete
Proline Promass I 300 Coriolis flowmeter
Proline Promass I 500 Coriolis flowmeter
Proline Promass O 100 Coriolis flowmeter
Proline Promass O 300 Coriolis flowmeter
Proline Promass O 500 Coriolis flowmeter
Proline Promass P 300 Coriolis flowmeter
Proline Promass P 500 Coriolis flowmeter
Proline Promass Q 300 Coriolis flowmeter
Proline Promass Q 500 Coriolis flowmeter
Proline Promass S 100 Coriolis flowmeter
Proline Promass S 300 Coriolis flowmeter
Proline Promass S 500 Coriolis flowmeter
Proline Promass X 500 Coriolis flowmeter
Proline Prosonic Flow E 100 Ultrasonic flowmeter
Prosonic Flow E Heat Ultrasonic flowmeter
Teqwave F – Device with surface acoustic wave technology
Teqwave I – Device with surface acoustic wave technology
Teqwave T – Device with surface acoustic wave technology
Picomag Electromagnetic flowmeter
Proline Promag 10D Electromagnetic flowmeter
Proline Promag 10E Electromagnetic flowmeter
Proline Promag 10H Electromagnetic flowmeter
Proline Promag 10L Electromagnetic flowmeter
Proline Promag 10P Electromagnetic flowmeter
Proline Promag 10W Electromagnetic flowmeter
Proline Promass 40E Coriolis flowmeter
Proline Promag 50E Electromagnetic flowmeter
Proline Promag 50H Electromagnetic flowmeter
Proline Promag 50P Electromagnetic flowmeter
Proline Promag 50W Electromagnetic flowmeter
Proline Promag 51P Electromagnetic flowmeter
Proline Promag 51W Electromagnetic flowmeter
Proline Promag 53E Electromagnetic flowmeter
Proline Promag 53H Electromagnetic flowmeter
Proline Promag 53P Electromagnetic flowmeter
Proline Promag 53W Electromagnetic flowmeter
Proline Promag 55H Electromagnetic flowmeter
Proline Promag 55S Electromagnetic flowmeter
Dosimag Electromagnetic flowmeter
Proline t-mass 65F Thermal mass flowmeter
Proline t-mass 65I Thermal mass flowmeter
Proline Promass 80A Coriolis flowmeter
Proline Promass 80E Coriolis flowmeter
Proline Promass 80F Coriolis flowmeter
Proline Promass 80H Coriolis flowmeter
Proline Promass 80I Coriolis flowmeter
Proline Promass 80P Coriolis flowmeter
Proline Promass 80S Coriolis flowmeter
Proline Promass 83A Coriolis flowmeter
Proline Promass 83E Coriolis flowmeter
Proline Promass 83F Coriolis flowmeter
Proline Promass 83H Coriolis flowmeter
Proline Promass 83I Coriolis flowmeter
Proline Promass 83O Coriolis flowmeter
Proline Promass 83P Coriolis flowmeter
Proline Promass 83S Coriolis flowmeter
Proline Promass 83X Coriolis flowmeter
Proline Promass 84A Coriolis flowmeter
Proline Promass 84F Coriolis flowmeter
Proline Promass 84O Coriolis flowmeter
Proline Promass 84X Coriolis flowmeter
Dosimass Coriolis flowmeter
Cubemass Coriolis flowmeter
Cubemass DCI Coriolis flowmeter
CNGmass DCI Coriolis flowmeter
LPGmass Coriolis flowmeter
CNGmass Coriolis flowmeter
Proline Prosonic Flow 91W Ultrasonic flowmeter
Proline Prosonic Flow 92F Ultrasonic flowmeter
Proline Prosonic Flow 93C Ultrasonic flowmeter
Proline Prosonic Flow 93P Ultrasonic flowmeter
Proline Prosonic Flow 93T Ultrasonic flowmeter
Proline Prosonic Flow 93W Ultrasonic flowmeter
CNGmass D8CB Coriolis flowmeter
LPGmass D8EB Coriolis flowmeter
LNGmass Coriolis flowmeter
Magphant Electromagnetic flowmeter
Flowphant T DTT31 Flow switch
Flowphant T DTT35 Flow switch