Endress + Hauser Picomag Electromagnetic flowmeter New & Original With very Competitive price and One year Warranty
New & Original
Picomag Electromagnetic flowmeter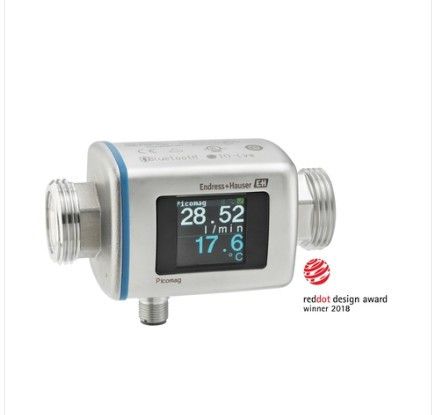 Endress + Hauser Picomag Electromagnetic flowmeter
Smart magmeter for utilities – intuitive · convenient · multivariable
Picomag is the economical magmeter for many applications in secondary circuits with conductive liquids in all industries.
End customers, skid builders, equipment manufacturers and system integrators value the space-saving
Picomag for its flexible installation capabilities. Additionally, its future-oriented, intuitive operation via SmartBlue app
on every Bluetooth-enabled smartphone or tablet ensures fast, secure and simple commissioning.
Benefits
Quick offline configuration check – unique, comfortable knock functionality
Time-saving, easy configuration even in places difficult to reach – secure Bluetooth connection
Simple device access through its whole lifecycle – no manual needed due to intuitive SmartBlue App
Instant local process monitoring – large, user-friendly display of all measurement activities
Flexible integration into all fieldbus systems – plug-and-play device with IO-Link
Fewer measuring points necessary – simultaneous flow and temperature measurement
Cost-efficient specialist for use in tight spaces e.g. skids – sensor and transmitter in one housing
Field of application
The bidirectional measuring principle is virtually independent of pressure, density, temperature and viscosity
Ideal for measurement of conductive liquids in many utility applications across all industries.
Device properties
Wireless remote access via Bluetooth SmartBlue App
IO-Link and various I/Os for all line-sizes
1.4" TFT color display with backlight
High shock and vibration resistance
Degree of protection: IP65/67
Empty pipe detection
Proline Promag P 300 Electromagnetic flowmeter
Proline Promass F300 Coriolis flowmeter
Proline Promag H100 Electromagnetic flowmeter
Proline Promag W300 Electromagnetic flowmeter
Proline Promag W 400 Electromagnetic flowmeter
Proline Prowirl F200 Vortex flowmeter
Proline Promass P100 Coriolis flowmeter
Proline Promass X 300 Coriolis flowmeter
Proline Prosonic Flow B 200 Ultrasonic flowmeter
Differential pressure Deltabar PMD55
Differential pressure Deltabar PMD75
Proline Promag D 400 Electromagnetic flowmeter
Proline Promag E 100 Electromagnetic flowmeter
Proline Promag H 200 Electromagnetic flowmeter
Proline Promag H 300 Electromagnetic flowmeter
Proline Promag H 500 Electromagnetic flowmeter
Proline Promag L 400 Electromagnetic flowmeter
Proline Promag P 100 Electromagnetic flowmeter
Proline Promag P 200 Electromagnetic flowmeter
Proline Promag P 500 Electromagnetic flowmeter
Proline Promag W 500 Electromagnetic flowmeter
Proline Promag W 800 Electromagnetic flowmeter
Proline t-mass A 150 Thermal mass flowmeter
Proline t-mass B 150 Thermal mass flowmeter
Proline t-mass T 150 Thermal mass flowmeter
Proline Prowirl C 200 Vortex flowmeter
Proline Prowirl D 200 Vortex flowmeter
Proline Prowirl O 200 Vortex flowmeter
Proline Prowirl R 200 Vortex flowmeter
Proline Promass A 100 Coriolis flowmeter
Proline Promass A 200 Coriolis flowmeter
Proline Promass A 300 Coriolis flowmeter
Proline Promass A 500 Coriolis flowmeter
Proline Cubemass C 100 Coriolis flowmeter
Proline Cubemass C 300 Coriolis flowmeter
Proline Cubemass C 500 Coriolis flowmeter
Proline Promass E 100 Coriolis flowmeter
Proline Promass E 200 Coriolis flowmeter
Proline Promass E 300 Coriolis flowmeter
Proline Promass E 500 Coriolis flowmeter
Proline Promass F 100 Coriolis flowmeter
Proline Promass F 200 Coriolis flowmeter
Proline Promass F 500 Coriolis flowmeter
Proline Promass G 100 Coriolis flowmeter
Proline Promass H 100 Coriolis flowmeter
Proline Promass H 300 Coriolis flowmeter
Proline Promass H 500 Coriolis flowmeter
Proline Promass I 100 Coriolis flowmete
Proline Promass I 300 Coriolis flowmeter
Proline Promass I 500 Coriolis flowmeter
Proline Promass O 100 Coriolis flowmeter
Proline Promass O 300 Coriolis flowmeter
Proline Promass O 500 Coriolis flowmeter
Proline Promass P 300 Coriolis flowmeter
Proline Promass P 500 Coriolis flowmeter
Proline Promass Q 300 Coriolis flowmeter
Proline Promass Q 500 Coriolis flowmeter
Proline Promass S 100 Coriolis flowmeter
Proline Promass S 300 Coriolis flowmeter
Proline Promass S 500 Coriolis flowmeter
Proline Promass X 500 Coriolis flowmeter
Proline Prosonic Flow E 100 Ultrasonic flowmeter
Prosonic Flow E Heat Ultrasonic flowmeter
Teqwave F – Device with surface acoustic wave technology
Teqwave I – Device with surface acoustic wave technology
Teqwave T – Device with surface acoustic wave technology
Picomag Electromagnetic flowmeter
Proline Promag 10D Electromagnetic flowmeter
Proline Promag 10E Electromagnetic flowmeter
Proline Promag 10H Electromagnetic flowmeter
Proline Promag 10L Electromagnetic flowmeter
Proline Promag 10P Electromagnetic flowmeter
Proline Promag 10W Electromagnetic flowmeter
Proline Promass 40E Coriolis flowmeter
Proline Promag 50E Electromagnetic flowmeter
Proline Promag 50H Electromagnetic flowmeter
Proline Promag 50P Electromagnetic flowmeter
Proline Promag 50W Electromagnetic flowmeter
Proline Promag 51P Electromagnetic flowmeter
Proline Promag 51W Electromagnetic flowmeter
Proline Promag 53E Electromagnetic flowmeter
Proline Promag 53H Electromagnetic flowmeter
Proline Promag 53P Electromagnetic flowmeter
Proline Promag 53W Electromagnetic flowmeter
Proline Promag 55H Electromagnetic flowmeter
Proline Promag 55S Electromagnetic flowmeter
Dosimag Electromagnetic flowmeter
Proline t-mass 65F Thermal mass flowmeter
Proline t-mass 65I Thermal mass flowmeter
Proline Promass 80A Coriolis flowmeter
Proline Promass 80E Coriolis flowmeter
Proline Promass 80F Coriolis flowmeter
Proline Promass 80H Coriolis flowmeter
Proline Promass 80I Coriolis flowmeter
Proline Promass 80P Coriolis flowmeter
Proline Promass 80S Coriolis flowmeter
Proline Promass 83A Coriolis flowmeter
Proline Promass 83E Coriolis flowmeter
Proline Promass 83F Coriolis flowmeter
Proline Promass 83H Coriolis flowmeter
Proline Promass 83I Coriolis flowmeter
Proline Promass 83O Coriolis flowmeter
Proline Promass 83P Coriolis flowmeter
Proline Promass 83S Coriolis flowmeter
Proline Promass 83X Coriolis flowmeter
Proline Promass 84A Coriolis flowmeter
Proline Promass 84F Coriolis flowmeter
Proline Promass 84O Coriolis flowmeter
Proline Promass 84X Coriolis flowmeter
Dosimass Coriolis flowmeter
Cubemass Coriolis flowmeter
Cubemass DCI Coriolis flowmeter
CNGmass DCI Coriolis flowmeter
LPGmass Coriolis flowmeter
CNGmass Coriolis flowmeter
Proline Prosonic Flow 91W Ultrasonic flowmeter
Proline Prosonic Flow 92F Ultrasonic flowmeter
Proline Prosonic Flow 93C Ultrasonic flowmeter
Proline Prosonic Flow 93P Ultrasonic flowmeter
Proline Prosonic Flow 93T Ultrasonic flowmeter
Proline Prosonic Flow 93W Ultrasonic flowmeter
CNGmass D8CB Coriolis flowmeter
LPGmass D8EB Coriolis flowmeter
LNGmass Coriolis flowmeter
Magphant Electromagnetic flowmeter
Flowphant T DTT31 Flow switch
Flowphant T DTT35 Flow switch