Endress + Hauser Proline Prosonic Flow E 100 Ultrasonic flowmeter New & Original With very Competitive price
New & Original
E 100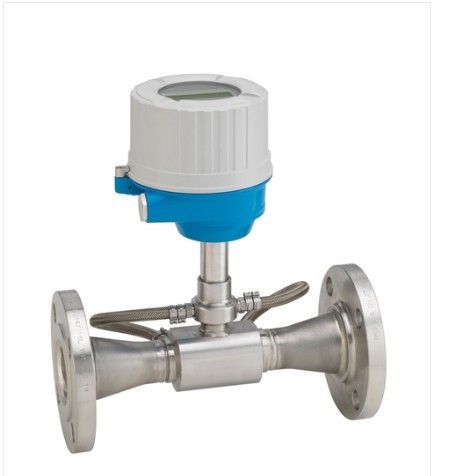 Endress + Hauser Proline Prosonic Flow E 100 Ultrasonic flowmeter
Economical Ultrasonic flowmeter with integrated temperature measurement
Measuring of demineralized water in utilities, for example in boiler condensate return lines, requires reliable devices.

Prosonic Flow E 100 provides economical and accurate bidirectional flow measurement across all industries.
With its integrated temperature measurement, Prosonic Flow E 100 proves to be a multivariable flowmeter for
considerable additional value in your plant. Heartbeat Technology ensures compliance at all times.
Benefits
Long-term stability – reliable, robust sensor
Reducing further measuring point – multivariable device
Dependable flow measurement – high turndown (200:1)
Time-saving local operation without additional software and hardware – integrated web server
Extended calibration intervals – integrated device verification due to Heartbeat Technology
Easy commissioning – brief parameter explanations
Field of application
The measuring principle is independent of pressure, density, temperature and conductivity
Bidirectional measuring of demineralized water applications for utilities, e.g. boiler condensate return lines.
Device properties:
Measuring accuracy up to 0.5% for flow and ±2.0 °C (± 3.6 °F) for temperature
Process temperatures up to 150 °C (302 °F)
Entire sensor housing made of stainless steel
4-20 mA HART, pulse/frequency output
Local display for reading and monitoring available
Robust transmitter housing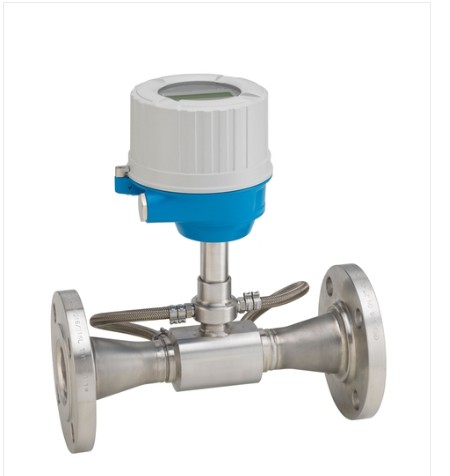 Proline Promag P 300 Electromagnetic flowmeter
Proline Promass F300 Coriolis flowmeter
Proline Promag H100 Electromagnetic flowmeter
Proline Promag W300 Electromagnetic flowmeter
Proline Promag W 400 Electromagnetic flowmeter
Proline Prowirl F200 Vortex flowmeter
Proline Promass P100 Coriolis flowmeter
Proline Promass X 300 Coriolis flowmeter
Proline Prosonic Flow B 200 Ultrasonic flowmeter
Differential pressure Deltabar PMD55
Differential pressure Deltabar PMD75
Proline Promag D 400 Electromagnetic flowmeter
Proline Promag E 100 Electromagnetic flowmeter
Proline Promag H 200 Electromagnetic flowmeter
Proline Promag H 300 Electromagnetic flowmeter
Proline Promag H 500 Electromagnetic flowmeter
Proline Promag L 400 Electromagnetic flowmeter
Proline Promag P 100 Electromagnetic flowmeter
Proline Promag P 200 Electromagnetic flowmeter
Proline Promag P 500 Electromagnetic flowmeter
Proline Promag W 500 Electromagnetic flowmeter
Proline Promag W 800 Electromagnetic flowmeter
Proline t-mass A 150 Thermal mass flowmeter
Proline t-mass B 150 Thermal mass flowmeter
Proline t-mass T 150 Thermal mass flowmeter
Proline Prowirl C 200 Vortex flowmeter
Proline Prowirl D 200 Vortex flowmeter
Proline Prowirl O 200 Vortex flowmeter
Proline Prowirl R 200 Vortex flowmeter
Proline Promass A 100 Coriolis flowmeter
Proline Promass A 200 Coriolis flowmeter
Proline Promass A 300 Coriolis flowmeter
Proline Promass A 500 Coriolis flowmeter
Proline Cubemass C 100 Coriolis flowmeter
Proline Cubemass C 300 Coriolis flowmeter
Proline Cubemass C 500 Coriolis flowmeter
Proline Promass E 100 Coriolis flowmeter
Proline Promass E 200 Coriolis flowmeter
Proline Promass E 300 Coriolis flowmeter
Proline Promass E 500 Coriolis flowmeter
Proline Promass F 100 Coriolis flowmeter
Proline Promass F 200 Coriolis flowmeter
Proline Promass F 500 Coriolis flowmeter
Proline Promass G 100 Coriolis flowmeter
Proline Promass H 100 Coriolis flowmeter
Proline Promass H 300 Coriolis flowmeter
Proline Promass H 500 Coriolis flowmeter
Proline Promass I 100 Coriolis flowmete
Proline Promass I 300 Coriolis flowmeter
Proline Promass I 500 Coriolis flowmeter
Proline Promass O 100 Coriolis flowmeter
Proline Promass O 300 Coriolis flowmeter
Proline Promass O 500 Coriolis flowmeter
Proline Promass P 300 Coriolis flowmeter
Proline Promass P 500 Coriolis flowmeter
Proline Promass Q 300 Coriolis flowmeter
Proline Promass Q 500 Coriolis flowmeter
Proline Promass S 100 Coriolis flowmeter
Proline Promass S 300 Coriolis flowmeter
Proline Promass S 500 Coriolis flowmeter
Proline Promass X 500 Coriolis flowmeter
Proline Prosonic Flow E 100 Ultrasonic flowmeter
Prosonic Flow E Heat Ultrasonic flowmeter
Teqwave F – Device with surface acoustic wave technology
Teqwave I – Device with surface acoustic wave technology
Teqwave T – Device with surface acoustic wave technology
Picomag Electromagnetic flowmeter
Proline Promag 10D Electromagnetic flowmeter
Proline Promag 10E Electromagnetic flowmeter
Proline Promag 10H Electromagnetic flowmeter
Proline Promag 10L Electromagnetic flowmeter
Proline Promag 10P Electromagnetic flowmeter
Proline Promag 10W Electromagnetic flowmeter
Proline Promass 40E Coriolis flowmeter
Proline Promag 50E Electromagnetic flowmeter
Proline Promag 50H Electromagnetic flowmeter
Proline Promag 50P Electromagnetic flowmeter
Proline Promag 50W Electromagnetic flowmeter
Proline Promag 51P Electromagnetic flowmeter
Proline Promag 51W Electromagnetic flowmeter
Proline Promag 53E Electromagnetic flowmeter
Proline Promag 53H Electromagnetic flowmeter
Proline Promag 53P Electromagnetic flowmeter
Proline Promag 53W Electromagnetic flowmeter
Proline Promag 55H Electromagnetic flowmeter
Proline Promag 55S Electromagnetic flowmeter
Dosimag Electromagnetic flowmeter
Proline t-mass 65F Thermal mass flowmeter
Proline t-mass 65I Thermal mass flowmeter
Proline Promass 80A Coriolis flowmeter
Proline Promass 80E Coriolis flowmeter
Proline Promass 80F Coriolis flowmeter
Proline Promass 80H Coriolis flowmeter
Proline Promass 80I Coriolis flowmeter
Proline Promass 80P Coriolis flowmeter
Proline Promass 80S Coriolis flowmeter
Proline Promass 83A Coriolis flowmeter
Proline Promass 83E Coriolis flowmeter
Proline Promass 83F Coriolis flowmeter
Proline Promass 83H Coriolis flowmeter
Proline Promass 83I Coriolis flowmeter
Proline Promass 83O Coriolis flowmeter
Proline Promass 83P Coriolis flowmeter
Proline Promass 83S Coriolis flowmeter
Proline Promass 83X Coriolis flowmeter
Proline Promass 84A Coriolis flowmeter
Proline Promass 84F Coriolis flowmeter
Proline Promass 84O Coriolis flowmeter
Proline Promass 84X Coriolis flowmeter
Dosimass Coriolis flowmeter
Cubemass Coriolis flowmeter
Cubemass DCI Coriolis flowmeter
CNGmass DCI Coriolis flowmeter
LPGmass Coriolis flowmeter
CNGmass Coriolis flowmeter
Proline Prosonic Flow 91W Ultrasonic flowmeter
Proline Prosonic Flow 92F Ultrasonic flowmeter
Proline Prosonic Flow 93C Ultrasonic flowmeter
Proline Prosonic Flow 93P Ultrasonic flowmeter
Proline Prosonic Flow 93T Ultrasonic flowmeter
Proline Prosonic Flow 93W Ultrasonic flowmeter
CNGmass D8CB Coriolis flowmeter
LPGmass D8EB Coriolis flowmeter
LNGmass Coriolis flowmeter
Magphant Electromagnetic flowmeter
Flowphant T DTT31 Flow switch
Flowphant T DTT35 Flow switch