Original EMERSON Rosemount 1066-T-HT-73 1066 Single Channel Transmitter
100% New & Original with very competitive price and One year Warranty
1066-T-HT-73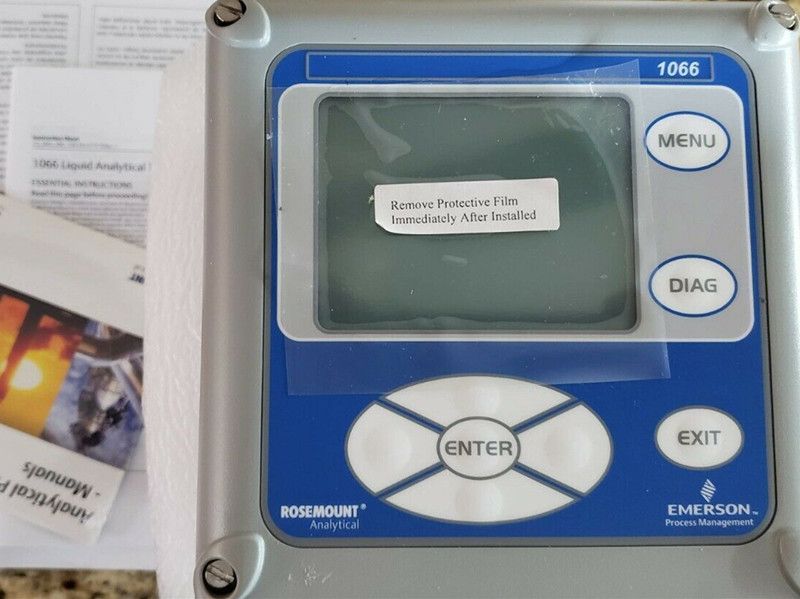 EMERSON 1066-T-HT-73 Rosemount 1066 Single Channel Transmitter
Loop Powered Transmitter for Liquid Analysis
The Rosemount 1066 Single Channel Transmitter can display a liquid analytical measurement, in addition to a temperature
measurement, current output, and diagnostic information. The transmitter has quick start programming for shorter installation times
and an intuitive user interface for easy operation.
Loop Powered Single Channel Transmitter
Transmits analytical measurements: pH/ORP, Conductivity, Free Chlorine, Total Chlorine, Dissolved Oxygen, and Ozone.
Large, easy to read, user customizable screen that displays analytical measurements, temperature, and diagnostics. Reduced Installation and Maintenance Time
Shorter installation times using Quick Start programming at initial install or after factory reset.
Effortlessly connect with PLCs and DCS' by choosing the HART or Profibus DP communication options.
Display measurements, configure alarms, and conduct maintenance with a simple to use local operator interface.
Efficiently manage your devices using intuitive device dashboards on AMS/475 Communicators.
Accurate, Linear and Reliable Measurements of Analytical Sensors
Faster calibration of pH sensors using auto pH Buffer solution detection.
Linear conductivity measurements with on-board concentration curves for common acids and bases.
Built-in features to easily display accurate amperometric measurements.
1066 Single Channel Transmitter
Rosemount 1066 Single Channel Transmitter is a loop powered device that can accept input from pH/ORP, conductivity
(contacting and toroidal), and amperometric (dissolved oxygen, chlorine, and ozone) sensors.
Faster installation using Quick Start programming
Intrinsically Safe FM, CSA, and ATEX/IECEx Hazardous Location Approvals
Visibility of process parameters by utilizing HART or Foundation Fieldbus digital communications
Specifications
General Analyzer
Enclosure
Material: Polycarbonate.
Rating: Type 4X and IP66.
Dimensions: 6.10 in. L x 6.10 in. W x 5.45 in. H
(155 mm x 155 mm x 131 mm)
Conduit openings: 1/2 in. or PG 13.5 conduit fittings.
Display
Features: User customizable, monochromatic graphic liquid
crystal, no backlight
Display Resolution: 128 x 96 pixel display resolution
Dimensions: 3.8 in. (Diagonal)
Ambient Conditions
Temperature: -4 to 131 °F (-20 to 65 °C)
Relative Humidity: 5 to 95% (non-condensing)
Power
Minimum Voltage: 12.7 Vdc
External Load Resistor for HART: 250 Ohms
Terminal Wire Sizes
Power: 26-16 AWG
Sensor Inputs: 26-16 AWG
Weight/Shipping Weight
(rounded to nearest 1 lb. or 0.5 kg)
2 lb./ 3 lb. (1 Kg/ 1.5 kg)
Model No Example
1066-T-HT-60
1066-P-HT-73
1066-C-HT-60
1066-P-HT-60
1066-C-HT-69
1066-P-FF-73
1066-CL-HT-73
1066-C-HT-73
1066-C-HT-67
1066-T-HT-73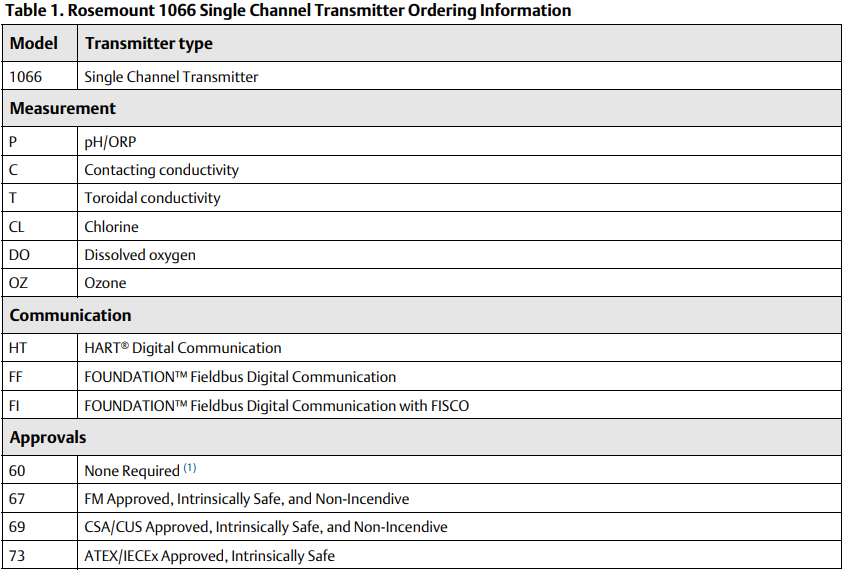 There have More items , all for 100% New & Original with very good discount , pls kindly contact with Chris directly to know more details information .
Chris Fang
Sales Engineer
Sunup (Wuhan) Import and Export Co., Ltd.
Add:7-A16,Caishen Commercial Plaza,Hankou Railway Station,Wuhan, China

Postal code:430015
M: + 86-15926376631(WhatsApp & Wechat) |
Skype: live:chris_61491
Email: chris@sunupauto.com