Endress + Hauser Proline Promass E 100 Coriolis flowmeter 100% New & Original With very Competitive price and One year Warranty
New & Original
E 100 Series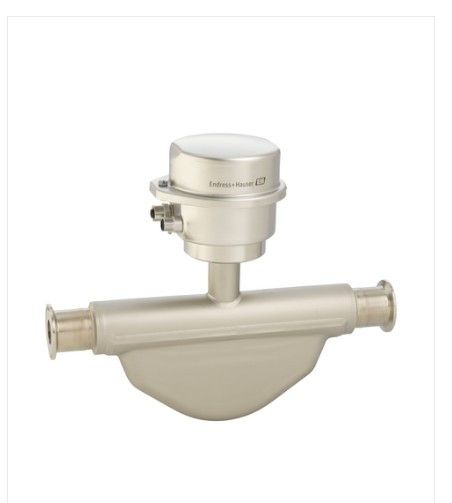 Endress + Hauser Proline Promass E 100 Coriolis flowmeter
The flowmeter with minimized total cost of ownership and an ultra-compact transmitter
The robust Promass E has a long standing reputation as cost-efficient solution accurately measuring liquids and gases
in a wide range of standard applications. Its ultra-compact transmitter delivers full performance on the smallest footprint
and enables seamless system integration, making Promass E 100 the preferred choice for skid builders,
equipment manufacturers and system integrators. Heartbeat Technology ensures compliance and process safety at all times.
Benefits
Cost-effective – multi-purpose device; an alternative to conventional volumetric flowmeters
Fewer process measuring points – multivariable measurement (flow, density, temperature)
Space-saving installation – no in/outlet run needs
Space-saving transmitter – full functionality on the smallest footprint
Time-saving local operation without additional software and hardware – integrated web server
Integrated verification – Heartbeat Technology
Field of application
Measuring principle operates independently of physical fluid properties such as viscosity or density
Accurate measurement of liquids and gases for a wide range of standard applications.
Device properties
Compact dual-tube sensor
Medium temperature up to +150 °C (+302 °F)
Process pressure: up to 100 bar (1450 psi)
Robust, ultra-compact transmitter housing
High ingress protection: IP69
Local display available
Proline Promag P 300 Electromagnetic flowmeter
Proline Promass F300 Coriolis flowmeter
Proline Promag H100 Electromagnetic flowmeter
Proline Promag W300 Electromagnetic flowmeter
Proline Promag W 400 Electromagnetic flowmeter
Proline Prowirl F200 Vortex flowmeter
Proline Promass P100 Coriolis flowmeter
Proline Promass X 300 Coriolis flowmeter
Proline Prosonic Flow B 200 Ultrasonic flowmeter
Differential pressure Deltabar PMD55
Differential pressure Deltabar PMD75
Proline Promag D 400 Electromagnetic flowmeter
Proline Promag E 100 Electromagnetic flowmeter
Proline Promag H 200 Electromagnetic flowmeter
Proline Promag H 300 Electromagnetic flowmeter
Proline Promag H 500 Electromagnetic flowmeter
Proline Promag L 400 Electromagnetic flowmeter
Proline Promag P 100 Electromagnetic flowmeter
Proline Promag P 200 Electromagnetic flowmeter
Proline Promag P 500 Electromagnetic flowmeter
Proline Promag W 500 Electromagnetic flowmeter
Proline Promag W 800 Electromagnetic flowmeter
Proline t-mass A 150 Thermal mass flowmeter
Proline t-mass B 150 Thermal mass flowmeter
Proline t-mass T 150 Thermal mass flowmeter
Proline Prowirl C 200 Vortex flowmeter
Proline Prowirl D 200 Vortex flowmeter
Proline Prowirl O 200 Vortex flowmeter
Proline Prowirl R 200 Vortex flowmeter
Proline Promass A 100 Coriolis flowmeter
Proline Promass A 200 Coriolis flowmeter
Proline Promass A 300 Coriolis flowmeter
Proline Promass A 500 Coriolis flowmeter
Proline Cubemass C 100 Coriolis flowmeter
Proline Cubemass C 300 Coriolis flowmeter
Proline Cubemass C 500 Coriolis flowmeter
Proline Promass E 100 Coriolis flowmeter