PEPPERL+FUCHS Recently Hot Sell ! New Solenoid Driver KFD2-VM-Ex1.35.L Intrinsic Safety Barriers Isolated Barriers K-System Solenoid Driver
New & Original
KFD2-VM-Ex1.35.L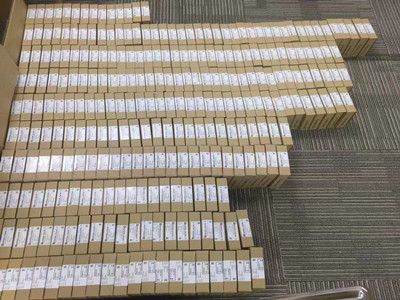 PEPPERL+FUCHS Solenoid Driver KFD2-VM-Ex1.35.L Intrinsic
Safety Barriers Isolated Barriers K-System Solenoid Driver
Solenoid Driver KFD2-VM-Ex1.35.L
* 1-channel isolated barrier
* 24 V DC supply (Power Rail)
* Output 15.3 V DC at 17 mA
* 3 logic inputs with AND/OR logic
* Service port for isolator function test
Function :
This isolated barrier is used for intrinsic safety applications. It supplies power to solenoids and other similar loads.
It is controlled by two "OR" and one "AND" configured logic input. At full load, 15.3 V at 17 mA is available for the hazardous area load.
The output signal has a resistive characteristic. An override/test jack feature is available on the front plate of the device.
By engaging the service plug, the logic inputs are bypassed and the output is energized.
The operation of this test feature is indicated by a red LED.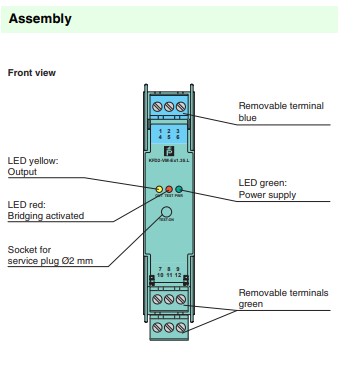 Selection models:
KFD0-SD2-Ex1.10100
KFD0-SD2-Ex1.1180
KFD0-SD2-Ex2.1045
KFD0-SD2-Ex2.1245
KFD2-RCI-Ex1
KFD2-SL2-Ex2
KFD2-SL2-Ex2.B
KFD2-VM-Ex1.35.L
KCD0-SD3-Ex1.1045
KCD0-SD3-Ex1.1245
KCD0-SD3-Ex1.1245.SP
KCD2-SLD-Ex1.1045
KCD2-SLD-Ex1.1065
KCD2-SLD-Ex1.1245
KFD2-SLD-Ex1.13100
KCD0-SD-Ex1.1245
KCD0-SD-Ex1.1245.SP
KCD2-SLD-Ex1.1045
KCD2-SLD-Ex1.1065
KCD2-SLD-Ex1.1245
KFD0-SD2-Ex1.1045
KFD0-SD2-Ex1.1065
KFD2-SL2-Ex1
KFD2-SL2-Ex1.B
KFD2-SL2-Ex1.LK
KFD2-SL2-Ex1.LK.1045
KFD2-SL2-Ex1.LK-Y1
KFD2-SL2-Ex1.LK.1270