Endress + Hauser iTEMP TMT112 DIN rail temperature transmitter 100% New & Original With very Competitive price
New & Original
TMT112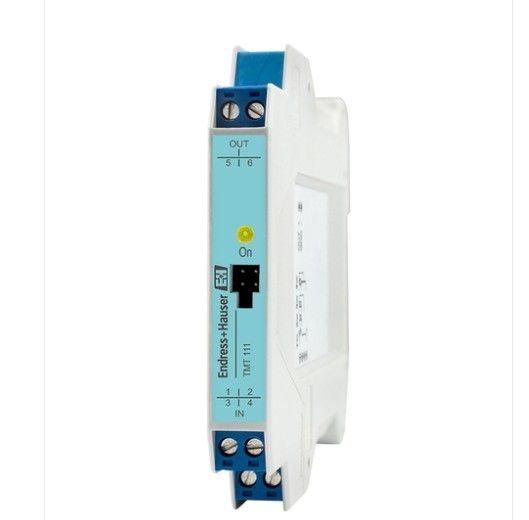 Endress + Hauser iTEMP TMT112 DIN rail temperature transmitter
Transformation of sensor signals into stable and standardized output signals for all industries.
Unsurpassed reliability, accuracy and long-term stability in critical processes over all industries.

The configurable transmitter not only transfers converted signals from resistance thermometers (RTD) and thermocouples (TC),
it also transfers resistance and voltage signals using HART® communication. Swift and easy operation,
visualization and maintenance by PC using operating software. Space-saving DIN rail mounting according to IEC 60715 (housing width: 12.6 mm).
Benefits
Universal settings with HART®-protocol
High accuracy in total ambient temperature range
Fault signal on sensor break or short circuit, NAMUR NE 43 compliant
EMC to NAMUR NE 21, CE
Ex-Certification: ATEX Ex, CSA IS, FM IS
Galvanic isolation
SIL2 compliant
Field of application
Temperature transmitter with HART® -Protocol for converting various input signals into a scalable 4 to 20 mA analog output signal
Input:
Resistance thermometer (RTD)
Thermocouple (TC)
Resistance transmitter
Voltage transmitter (mV)
HART® -Protocol for front end unit or panel unit operation using the hand operating module
(DXR275, DXR375) or a PC (e.g. ReadWin 2000 or FieldCare)
Installation on DIN rail according to IEC 60715
iTHERM TrustSens TM371 Self-calibrating temperature sensor
Omnigrad S TAF16 High temperature TC thermometer
Omnigrad M TC10 Modular TC thermometer
iTHERM TrustSens TM372 Self-calibrating temperature sensor
iTHERM TM411 Innovative advanced, modular RTD thermometer
iTHERM TM412 Imperial Hygienic Thermometer US style
Easytemp TMR31 Compact thermometer
Easytemp TMR35 Hygienic compact thermometer
iTEMP TMT71 Temperature transmitter
iTEMP TMT72 Temperature transmitter
iTEMP TMT82 Temperature transmitter
iTEMP TMT84 Temperature head transmitter
iTEMP TMT85 Temperature head transmitter
Omnigrad M TR10 Modular RTD thermometer
Omnigrad S TR66 Explosion-proof Pt100 Thermometer
Omnigrad T TST310 RTD thermometer temperature cable probe
iTHERM TT411 Protection tube
iTHERM TT412 Imperial Hygienic Thermowell US Style
Thermophant T TTR31 Temperature switch
T13 Explosion proof Pt100 thermometer US style
Omnigrad M TC12 Modular TC thermometer
Omnigrad M TC13 Modular TC thermometer
Omnigrad M TC15 Modular TC thermometer
Omnigrad S TC61 Explosion-proof thermocouple thermometer
Omnigrad S TC62 Explosion-proof thermocouple thermometer
Omnigrad S TC63 Explosion-proof thermocouple thermometer
Omnigrad S TC65 Explosion-proof thermocouple thermometer
Omnigrad S TC66 Explosion-proof TC Thermometer
Omnigrad S TC88 Modular thermometer
TH13 Modular RTD thermometer US style
iTHERM TM401 Modular RTD thermometer - basic technology
iTHERM TM402 Imperial Hygienic Thermometer US style
iTEMP TMT125 DIN rail temperature transmitter
iTEMP TMT142 Temperature field transmitter
Omnigrad S TMT142R RTD thermometer fieldtransmitter display
iTEMP TMT162 Temperature field transmitter
Omnigrad S TMT162R Pt100 Thermometer Field transmitter
iTEMP TMT181 Temperature head transmitter
iTEMP TMT182 Temperature head transmitter
iTEMP TMT80 Temperature head transmitter
Omnigrad M TR11 Modular RTD thermometer
Omnigrad M TR12 Modular RTD thermometer
Omnigrad M TR13 Modular RTD thermometer
Omnigrad M TR15 Modular RTD thermometer
Omnigrad T TR24 Modular RTD thermometer
Omnigrad T TR25 Modular RTD thermometer
Omnigrad S TR61 Explosion-proof Pt100 thermometer
Omnigrad T TSC310 Thermocouple sensor cable probe
Thermophant T TTR35 Temperature switch
T14 Explosion proof Pt100 thermometer US style
T15 Explosion proof RTD thermometer US style
T53 Explosion proof TC thermometer US style
T54 Explosion proof TC thermometer US style
T55 Explosion proof TC thermometer US style
Omnigrad TA414 Protection tube for temperature sensors
Omnigrad TA535 Thermowell for temperature sensors
Omnigrad TA540 Protection tube for temperature sensors
Omnigrad TA541 Protection tube for temperature sensors
Omnigrad TA550 Barstock thermowell
Omnigrad TA555 Barstock thermowell
Omnigrad TA556 Barstock thermowell
Omnigrad TA557 Barstock thermowell
Omnigrad TA560 Barstock thermowell
Omnigrad TA562 Barstock thermowell
Omnigrad TA565 Barstock thermowell
Omnigrad TA566 Barstock thermowell
Omnigrad TA571 Barstock thermowell
Omnigrad TA572 Barstock thermowell
Omnigrad S TAF11 High temperature TC thermometer
Omnigrad S TAF12D High temperature TC thermometer
Omnigrad S TAF12S High temperature TC thermometer
Omnigrad S TAF12T High temperature TC thermometer
Omnigrad T TEC420 Thermocouple thermometer
TH11 Modular RTD thermometer US style
TH12 US style RTD sensor cable probe
TH14 Modular RTD thermometer US style
TH15 Modular RTD thermometer US style
TH51 Modular TC thermometer US style
TH52 US style thermocouple sensor cable probe
TH53 Modular TC thermometer US style
TH54 Modular TC thermometer US style
TH55 Modular TC thermometer US style
TH56 US style thermocouple sensor with plug connection
TLSC1 South African style temperature assembly
TLSC5 South African style temperature assembly
TLSR1 South African style temperature assembly
TLSR5 South African style temperature assembly
TLSW1 Thermowell South African style
iTEMP TMT111 DIN rail temperature transmitter
iTEMP TMT112 DIN rail temperature transmitter