Endress + Hauser Thermophant T TTR31 Temperature switch 100% New & Original with very Competitive Price & One Year Warranty
New & Original
T TTR31
Endress + Hauser Thermophant T TTR31 Temperature switch
Compact and cost-saving for safe monitoring of process temperatures
Cost efficiency, optimal use of space, reliable operation, easy installation and commissioning indicate modern
process measuring technology. The temperature switch completely fulfills these requirements.
Designed for the safe measurement and monitoring of process temperatures it can be selected between one
or two switch outputs as well as one switch output and one standardized analog output.
Vibration-proof integrated thin-film sensors guarantee highest operational safety.
Benefits
Integrated switching electronics for decentral and economic process monitoring and control
High reproducibility and long-term stability
Function control and information on-site thanks to LEDs and digital display
Long-term stable temperature sensor made of platinum (Pt100 class A as per IEC 60751)
High accuracy across the entire ambient temperature range and short response time
Operation and visualisation also with PC and FieldCare or ReadWin 2000 configuration software
DESINA-compliant
Field of application
Temperature switch for the monitoring, display and control of process temperatures in a range from -50 to 150 °C (-58 to 302 °F).
Thermophant T TTR 31- with thread connections or coupling.
Electronic versions:
One PNP switch output
Two PNP switch outputs
2 x PNP switch outputs or one PNP switch output and 4 to 20 mA output (active)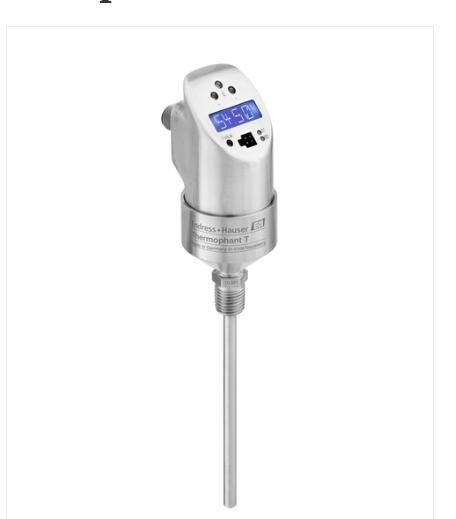 iTHERM TrustSens TM371 Self-calibrating temperature sensor
Omnigrad S TAF16 High temperature TC thermometer
Omnigrad M TC10 Modular TC thermometer
iTHERM TrustSens TM372 Self-calibrating temperature sensor
iTHERM TM411 Innovative advanced, modular RTD thermometer
iTHERM TM412 Imperial Hygienic Thermometer US style
Easytemp TMR31 Compact thermometer
Easytemp TMR35 Hygienic compact thermometer
iTEMP TMT71 Temperature transmitter
iTEMP TMT72 Temperature transmitter
iTEMP TMT82 Temperature transmitter
iTEMP TMT84 Temperature head transmitter
iTEMP TMT85 Temperature head transmitter
Omnigrad M TR10 Modular RTD thermometer
Omnigrad S TR66 Explosion-proof Pt100 Thermometer
Omnigrad T TST310 RTD thermometer temperature cable probe
iTHERM TT411 Protection tube
iTHERM TT412 Imperial Hygienic Thermowell US Style
Thermophant T TTR31 Temperature switch