Endress + Hauser Absolute and gauge pressure Cerabar PMP71 PMP71- AAC1XB1RHAAA Brand New with very Competitive price & One year Warranty
New & Original
PMP71- AAC1XB1RHAAA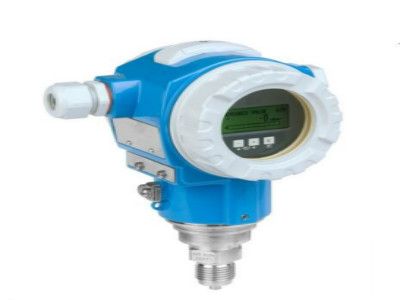 Endress + Hauser Absolute and gauge pressure Cerabar PMP71- AAC1XB1RHAAA
Digital pressure transmitter with welded metal sensor for measurement in gases, steam or liquids

The Cerabar PMP71 digital pressure transmitter with metallic membrane is typically used in process applications for pressure,
level, volume or mass measurement in liquids or gases. PMP71 is designed for high pressure applications up to 700bar. Quick
Setup with freely adjustable measuring range without pressure specification. Designed according to IEC 61508 for use in SIL2/3
safety systems and available with MID Parts Certificate suitable for custody transfer applications.
Benefits
Best accuracy, reproducibility and long-term stability
Highest safety due to gas tight feedthrough with capabilities up to SIL2/3, certified to IEC 61508
Easy menu-guided commissioning via local display, 4 to 20mA with HART, PROFIBUS PA, FOUNDATION Fieldbus
HistoROM data management concept for fast and easy commissioning, maintenance and diagnostics
Overload-resistant and function-monitored from the measuring cell to the electronics
Available with mounted manifolds: always fit, always tested for leaks
Seamless and independent system integration (HART/PA/FF)
Field of application
Two chamber aluminum or stainless steel (316L) housing.
Process connections: Threads and flange connections
Process temperature: -40 to +125°C (-40 to +257°F)
Measuring ranges: -1/0 up to 700bar (-15/0 up to +10,500psi)
Accuracy: ±0.05%, "Platinum" ±0.025%
International explosion protection certificates, overfill prevention WHG, hygienic approvals, marine approvals, SIL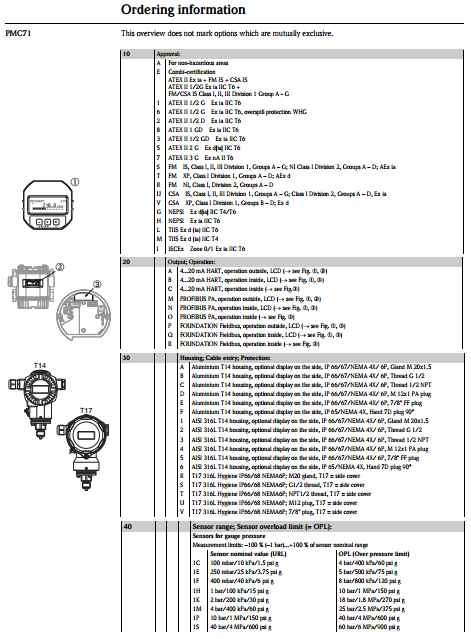 RH33-AA1A+AAB1D2F1R1
RH33-AA1A+AAB1D2F1R1
FTM51-AAF2M7A32AA
FTM51-AAF2M7A32AA
FTL325P-F3E3*

93PA1-FB1B00ACAABCZ1
50P40-AR1A4RC2BAAA
FMU230E-AA32 FMU231E-AA32 FMU40-ARB2A2
CPS11D-7BA21 COM253-DX0005 COM223-DX0005
COS41-2F FTW325-A2B1A FTL51-AGR2DB4G5A
FTM260-G2B FTM260-G4D DB50-AC21BA33GG20
FTM30-A4AA1 FTM30-A4BA1 DB50-AC32BD12KG30
FTM30-A4CA1 FTM30-A4DA1 DB50L-AC00BA14EG30
FTM30-A4FA1 FTM30-A4GA1 DB50L-GC44BB13EG30

50088281 50W2H-H50A1A10A7AW DN=200
50004201 50W3H-H50A1A10A7AW DN=300
PMC430Z
PMC531
PMC534[Z]
PMC535[Z]
PMC536[Z]
P41-P230A33
P41-P230A26
P41-P200A40
PMD235
PMC1330
PMC534
PMC531
PMP41-RK13P2A11M1
PMP41
PMP731
PMC731
P30
P31
P40
PMC534-11FA2P6GFT
PMC133 0-0.4MPA G1/2
PMP733 0-0.4MPA G1/2 
PMP733 0-0.4MPA G1/2 
DB103-G11FA26
PMP41-RE13H2H11T1
PMP41-RE13P2H11T1
PMP41-RE13U2H11T1
PMD235-KH4A2EB1C
PMC534-11EA2F6T
PMC534-11EA2F6P
PMD235-KH4F2EB1C
PMC 133-1R1F2P6G1F
PMC531-D50A2P6G1G
PMC133-1B1F2P6G1G
P41-P230A33
P41-P230A26
P41-P200A40
PMD235 PMC1330
PMC534 PMC531
PMP41-RK13P2A11M1
PMP41 PMP731
PMC534-11FA2P6GFT
PMP733 0-0.4MPA G1/2
PMP733 0-0.4MPA G1/2
DB103-G11FA26
PMC531-D40A2P6G2FT
PMC731-R41P2H1R1GT
PMC534-11FG2P6F14
PMD235-KH4D2EB1C(GOL3T)
PMP41-RE13H2H11T1
PMP41-RE13P2H11T1
PMP41-RE13U2H11T1
PMD235-KH4A2EB1C
PMC534-11EA2F6T
PMC534-11EA2F6P
PMD235-KH4F2EB1C
PMC133-1R1F2P6G1F
PMC531-D50A2P6G1G
PMC731-R31P2H1T1
PMC133-1REF2F6T

P41-P230A33
P41-P230A26
P41-P200A40
PMD235
PMC133
PMC534
PMC531
PMP41-RK13P2A11M1
PMD235-KH4F2EB1C
PMP41
PMP731
PMC731
P30
P31
P40
PMC534-11FA2P6GFT
PMC133 0-0.4MPA G1/2
PMP733 0-0.4MPA G1/2
DB103-G11FA26
PMC731-R41P2H1R1GT
P41-P200A40 0-1MPA
PMC534-11EA2F6G1FT 0-0.6MPA
PMC534-11EA2F6P
PMC534-11EA2F6T
PMC531-D40A2P6G2FT
PMC531-D50A2P6G1G
PMC133-1R1F2P6G1F
PMC133-1R1F2F6T
PMC133-1REF2P6T
PMC133-1REF2F6T
PMC133-1ROM2P6G706T0
PMC731-R31P2H1T1
PMC731-I41F2H1T1[T2]
PMP46-RE13P2A1ALA
DB101 G1TE205Z
DB101-G1EE205Z D=1M H=6M I=6.2
PMD235-KH4D2EB1C(GOL3T)
PMD235ZH4D2DB1CG07
PMD235-KH4F2EB1C
PMP41-RE23P2H11M1
PMP41-RE13P2J11F1 0-1MPA
PMP41-RE13P2J11P1
PMC41-RE21M2H11T1
PMP731-R33P2H1T1[T]
PMC133-1B1F2P6F1T(T)
PMC133-1B1F2P6F1T(T)
PMC133-1B1F2P6F14(T)
PMP41 D24V 0-1MPA
PMC133 1B1F 0-1MPA
PMC531 4-20MA 0-60KPA
PMC534 4-20MA 0-100KPA
PMC534-11FA2P6GFT
PMC133 0-0.4MPA G1/2
PMP733 0-0.4MPA G1/2 
PMP733 0-0.4MPA G1/2
DB103-G11FA26
PMC731-R41P2H1R1GT
P41-P200A40 0-1MPA
P41-P200A42 0-1.6MPA
PMC534-11EA2F6G1FT 0-0.6MPA
PMC534-11FG2P6F14 ,0-400KPA
PMC534-11FA2P6[T]0-100KPA
PMC534-11FG2P6F14[T]0-400kpa
PMC534-11EA2F6P
PMC534-11FA2P6F1ZT
PMC534-11FA2P6F14T 0-400KPA
PMC534-11FA2P6F11T 0-0.16MPA
PMC534-11FA2P6F14 0-400KPA
PMC534-11EA2F6T
PMC531-D40A2P6G2FT
PMC531-D50A2P6G1G
PMC133-1R1F2P6G1F
53H1H-UF0B1AA0AGAA 50096745
53H1H-UF0B1AA0AGAA 50098301
53H1H-UFOB1AA0AGAA 50108133
83A04-ASVWAAAAAAAJ
CCY14-F
CCY14-WP
CLM223-CD0005
CPM223-PR0005
CPS11-2BA2ESA
CUS31-W2A
CYK10-A051
DB103 G11FA26
FMD630-KS4F2EB1CQ1
FMD630-KS4F2EB1CQ1
FMX167-A2ABA1A3 L=10M
FMX167-A2ABD1B7 0-6M 4-20MA
FMX167-A2ABE1B7 0-10M output 4-20MA
FTL20-0020
FTL20-0025 G1/2