Coriolis Flow Meters YOKOGAWA Original ROTAMASS Total Insight with good price HOT IN STOCK
New & Original
ROTAMASS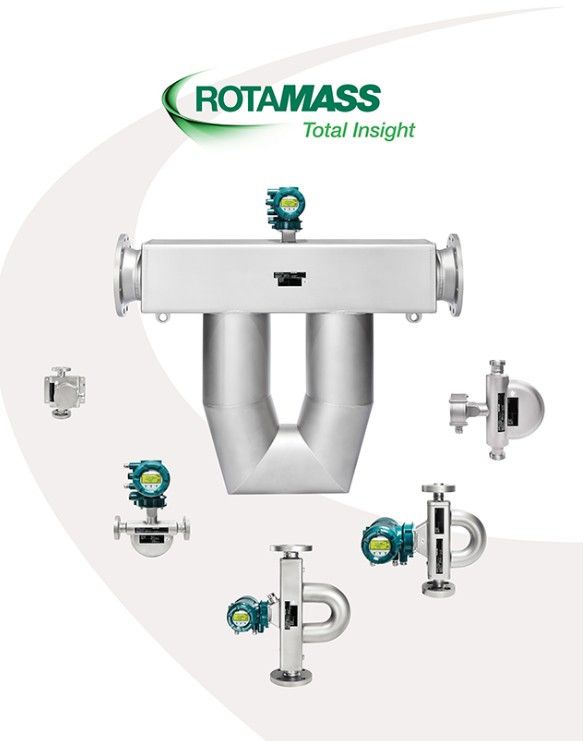 YOKOGAWA Coriolis Flow Meters YOKOGAWA ROTAMASS Total Insight
In the last decade, the use of Coriolis flow meters has been changing from general purpose to supporting your needs in specific applications.
While the technological complexity increased, the demand for simple operation and handling is also a rising requirement.
Yokogawa answers these needs by offering six dedicated product lines with two specialized transmitters
allowing the highest flexibility - the ROTAMASS Total Insight.
Total Insight
The ROTAMASS philosophy gives Total Insight throughout the whole lifecycle.
To facilitate optimal processes and increase the efficiency of personnel, Yokogawa has placed a strong focus
on simplifying fundamental operating concepts with Total Insight. The Total Insight concept is built in to the
latest generation of Rotamass transmitters and provide enhanced settings for customized setups,
pre-defined trend views, or multiple configuration sets for fast changeover in batch production are supported.
ROTAMASS Total Insight Coriolis Mass Flow and Density Meter Nano
Scope of application
Precise flow rate measurement of fluids and gases, multi-phase fluids and fluids with specific gas content using the Coriolis principle.
Direct measurement of mass flow and density independent of the fluid's physical properties, such as density, viscosity and homogeneity
Fluid temperatures of -50 – 260 C (-58 – 500 F)
Process pressures up to 285 bar - EN, ASME, JPI or JIS standard flange process connections up to three nominal diameters per meter size, thread
Connection to common process control systems, such as via HART, Modbus or PROFIBUS PA
Hazardous area approvals: IECEx, ATEX, FM (USA/Canada), NEPSI, INMETRO, PESO, EAC, Taiwan Safety Label, Korea Ex, Japan Ex
Safety-related applications: PED per AD 2000 Code, SIL 2, secondary containment up to 65 bar
Marine type approval: DNV GL Advantages and benefits
Inline measurement of several process variables, such as mass, density and temperature ,Advanced functions like Net Oil Computing,
Batching function and Viscosity function to avoid external dedicated flow computer. Adapterless installation due to multi-size flange concept
No straight pipe runs at inlet or outlet required
Fast and uncomplicated commissioning and operation of the flow meter ,Maintenance-free operation
Functions that can be activated subsequently (Features on Demand)
Total Health Check (diagnostic function): Selfmonitoring of the entire flow meter, including accuracy
Maximum accuracy due to calibration facility accredited according to ISO/IEC 17025 (for option K5) Self-draining installation
Ordering Examples:
rcct39/xr
rcct34-39/ir
rccf31+rccs34-39/ir
rccs30lr-33
rccs30lr
rccs30
rccs31
rccs32
rccs33
rccs34
rcct34
rccs36
rcct36
rccs38
rcct38
rccs39
rcct39
rccs39/ir
rcct39/ir
rccs39/xr
rcct39/xr
rccr31
rccf31
rccy031
rccy032
rccy033
rccy034