YOKOGAWA Rotameter - Variable Area Flowmeter RAMC Variable Area Flow Meter 100% Original made in Japan hot sell ~
New & Original
RAMC Series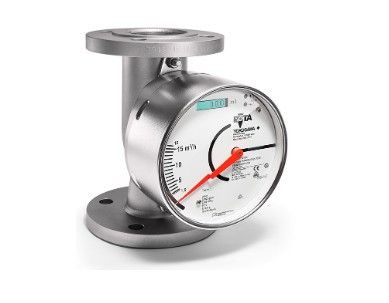 Rotameter - Variable Area Flowmeter RAMC Variable Area Flow Meter
At first glance, the instrument looks impressive with its all stainless steel design. A closer look reveals a "float blockage" detection system.
Operational safety is of the utmost importance in any flowmeter, and the RAMC is no exception – wetted
parts are available in a variety of materials, and intrinsically safe outputs are available as an option.
If you value flexibility in a flowmeter – from the measurement of air to highly aggressive liquids – in situ
replacement of the indicator without loss of performance – and the interchangeability of floats – then the RAMC is the right choice for you.
The RAMC combines all the advantages of the variable area principle with robust design, reliable measurement,
with or without power, HART, culminating in a truly universal flowmeter for gases, liquids and steam applications.
Model RAMC Metal Short-stroke ROTAMETER
The short-tube Rotameter is used for measurement of flow rates of liquids and gases. Its special application is in turbulent, opaque or aggressive fluids.
The instrument is mounted in a vertical pipeline with flow direction upwards. Inside the special shaped conical metal tube, a float is guided concentrically.
The position of this float is magnetically transmitted to the indicator. The indicators are exchangeable without influencing the accuracy.
Yokogawa RAMC Variable Area Flow Meter Model RAMC Metal Short-stroke ROTAMETER Specification
For Pipe Sizes

DN 15 to DN 25 (1/4" – 1")

Process Connections

Flange, threaded

Measuring Range

Water 20 °C: 2,5 l/h to 130 m³/h
Air 20 °C 1 bar abs.: 75 l/h to 1400 m³/h

Wetted Parts Material

1.4404 (AISI 316L), PTFE-lining Hastelloy,
Monel and Titanium on request

Process Temperature

-200 °C to + 370 °C

Process Pressure

100 bar, higher pressures on request

Ambient Temperature

-40 °C to 100 °C

Accuracy acc. VDE/VDI 3513-2(qG =50%)

1,6 %

Ex-approvals

ATEX, FM(US,C), NEPSI

Signal Outputs

Analog 0-20mA / 4-20mA, pulse output

Communication

HART, Profibus PA

Power Supply

24 V DC 2-wire, 24 V DC 3-wire, 115 V AC 4-wire, 230 V AC 4-wire

Degree of Protection

IP66/IP67

Suitable for Applications acc. IEC 61508 and Machinery Directive ISO 13849

Yes

Additional Features

Patented float blockage detection system
Limit switches for low/high alarms
Float damping for gas applications
Flame proof/dust proof housing
Heat tracing and temperature spacer