SIEMENS Hot Sale SIPART PS2 with remote position detection 100% New & Original with very competitive price and One year Warranty
New & Original
SIPART PS2 Series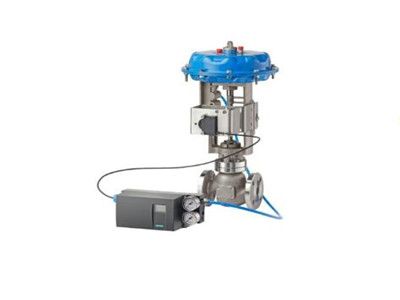 SIEMENS SIPART PS2 with remote position detection
In addition to the properties of the compact design, the SIPART PS2 provides the option for separate, remote position detection.
In this version, the SIPART PS2 can be used for valves at difficult accessible locations or for particularly
critical process conditions, such as extreme vibrations or temperatures, dust or water influences.
All remote versions can be used for both linear and part-turn actuators, whereby the following external position
detection systems can be distinguished, depending on the application and field of application.
Compact sensor design and wear-free NCS (non-contacting sensor)

As standard with IP68 or NEMA 4x degree of protection
Benefits
SIPART PS2 positioners offer decisive advantages:
Simple installation and automatic commissioning (self-adjustment of zero and span)

Simple operation with:

Local operation (manual operation) and configuration of the device using three buttons and a user-friendly two-line display

Parameterization via SIMATIC PDM

Very high-quality control thanks to an online adaptation procedure

Negligible air consumption in stationary operation

"Tight closing" function (ensures maximum positioning pressure on the valve seat)

"Fail in place" function: Current position is retained on failure of auxiliary electrical power and/or pneumatic failure (does not apply in conjunction with SIL).
Example: For an actuator with a volume of 8 liters, the typical position stability of a SIPART PS2 with "Fail in place" is 0.3% per hour.

Numerous functions can be activated by simple configuring (e.g. characteristic curves and limits)

Extensive diagnostic functions for valve and actuator

Only one device version for linear and part-turn actuators

Few moving parts, hence insensitive to vibrations

External non-contacting sensor as option for extreme ambient conditions

"Intelligent solenoid valve": Partial Stroke Test and solenoid valve function in a single device

Partial Stroke Test e.g. for safety valves

Full Stroke Test, Multi Step Response Test, Valve Performance Test for performance and maintenance evaluation of the valve

Can also be operated with purified natural gas, carbon dioxide, nitrogen or noble gases

SIL (Safety Integrity Level) 2
Function
Comprehensive monitoring functions
The SIPART PS2 has various monitoring functions with which changes on the actuator and valve can be
detected and signaled if applicable when a selectable limit has been exceeded. This information may
be important for diagnosis of the actuator or valve. The measuring data to be determined and monitored, some of whose limits can be adjusted, include:
Travel integral

Number of changes in direction

Alarm counter

Self-adjusting deadband

Valve end limit position (e.g. for detection of valve seat wear or deposits)

Operating hours (also according to temperature and travel ranges) as well as min./max. temperature

Operating cycles of piezoelectric valves

Valve positioning time

Actuator leakages
At a glance with the Diagnostics Cockpit
With the Diagnostics Cockpit, the HART variants of the SIPART PS2 provide a straightforward way of getting
started with the world of diagnostic capabilities. All relevant information (setpoint, actual value, control deviation, status of the diagnostic system, etc.)
of the valve is available at a glance. Additional facts and details are just a few mouse clicks away from the Diagnostics Cockpit.
Status monitoring with 3-stage alarm concept
The intelligent electropneumatic SIPART PS2 positioner is equipped with additional monitoring functions.
The status alarms derived from these monitoring functions signal active faults of the valve.
The severity of these faults is graded using "traffic light signaling", symbolized by a wrench in the colors green, yellow and red (in SIMATIC PDM and Maintenance Station):
Need for maintenance (green wrench)

Urgent need for maintenance (yellow wrench)

Imminent danger of valve failure or general failure (red wrench)
This allows users to put early measures into action before a serious valve or actuator fault occurs which could result in a system shutdown.
The fact that a fault indication is signaled, such as the onset of a diaphragm break in the actuator or
the progressive sluggishness of a valve, enables the user to ensure system reliability at any time by means of suitable maintenance strategies.
This three-stage alarm hierarchy also allows early detection and signaling of static friction of a packing box, wear of a valve plug/seat, or deposits or coatings on the fittings.
These fault indications can be output either line-conducted over the alarm outputs (see above) of the
positioner (max. 3), or via communication over the HART or fieldbus interfaces. In this case, the HART,
PROFIBUS and FF versions of SIPART PS2 allow for differentiation of the various fault indications, as well
as a trend representation and histogram function of all key process variables with regard to the valve.
The device display also displays the graded maintenance requirements, complete with identification of the source of the fault.