SIEMENS Hot Sale SIPART PS2 in compact design One that masters everything New & Original with very competitive price and Warranty
New & Original
SIPART PS2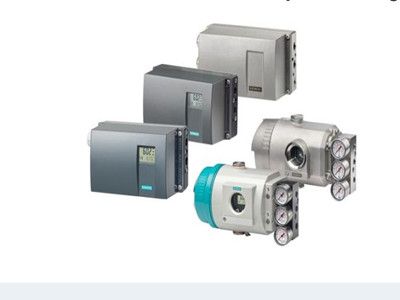 SIEMENS SIPART PS2 in compact design One that masters everything New & Original with very competitive price
The SIPART PS2 has grown to become the most widely used positioner for linear and rotary actuators.
Optionally available with Makrolon, aluminum, stainless or flameproof steel enclosure,
the positioner is well-equipped for all ambient conditions. It has proved reliable in many valve control applications
thanks to its diagnostics capability and extensive range of functions.
SIPART PS2 in stainless steel enclosure with pressure gauge
The SIPART PS2 electropneumatic positioner is used to control the final control element of pneumatic linear or part-turn actuators.
The electropneumatic positioner moves the actuator to a valve position corresponding to the setpoint.
Additional function inputs can be used to block the valve or to set a safety position. A binary input is present as standard in the basic device for this purpose.
Benefits
SIPART PS2 positioners offer decisive advantages:
Simple installation and automatic commissioning (self-adjustment of zero and span)

Simple operation with:

Local operation (manual operation) and configuration of the device using three buttons and a user-friendly two-line display

Parameterization via SIMATIC PDM

Very high-quality control thanks to an online adaptation procedure

Negligible air consumption in stationary operation

"Tight closing" function (ensures maximum positioning pressure on the valve seat)

"Fail in place" function: Current position is retained on failure of auxiliary electrical power and/or pneumatic failure (does not apply in conjunction with SIL).
Example: For an actuator with a volume of 8 liters, the typical position stability of a SIPART PS2 with "Fail in place" is 0.3% per hour.

Numerous functions can be activated by simple configuring (e.g. characteristic curves and limits)

Extensive diagnostic functions for valve and actuator

Only one device version for linear and part-turn actuators

Few moving parts, hence insensitive to vibrations

External non-contacting sensor as option for extreme ambient conditions

"Intelligent solenoid valve": Partial Stroke Test and solenoid valve function in a single device

Partial Stroke Test e.g. for safety valves

Full Stroke Test, Multi Step Response Test, Valve Performance Test for performance and maintenance evaluation of the valve

Can also be operated with purified natural gas, carbon dioxide, nitrogen or noble gases

SIL (Safety Integrity Level) 2
Application
The SIPART PS2 positioner is used, for example, in the following industries:
Chemical/petrochemical

Power stations

Paper and glass

Water, waste water

Food and pharmaceuticals

Offshore plants
The SIPART PS2 positioner can be used with all pneumatic actuators and is available for delivery:
In various enclosure designs and various materials (polycarbonate, aluminum, and stainless steel)

For non-hazardous applications

For hazardous applications in the versions

Intrinsic safety type of protection

Flameproof enclosure type of protection

Non-sparking type of protection

Type of protection dust explosion protection by enclosure
and in the versions:
With 0/4 ... 20 mA control with/without communication through HART signal

With PROFIBUS PA communication interface

With FOUNDATION Fieldbus (FF) communication interface
Explosion-proof versions
Device with "intrinsic safety" type of protection for use in Zone 1, 2, 21, 22 or Class I, II, III/Division 1/Groups A-G

Device with "dust explosion protection by enclosure" type of protection for use in Zone 21, 22 or Class II, III/Division 1/Groups E-G

Device with "non-sparking" type of protection for use in Zone 2 or Class I, Division 2, Groups A-D

Device with "flameproof enclosure" type of protection for use in Zone 1 or Class I, Division 1, Groups A-D
Stainless steel enclosure for extreme ambient conditions
The SIPART PS2 is available in a stainless steel enclosure (with no window in the cover) for use in particularly
aggressive environments (e.g. offshore operation, chlorine plants etc.). The device functions are the same as for the basic version.