SIEMENS Hot Sale SITRANS LR460 Process Instrumentation Level Measurement Continuous New & Original with very competitive price
New & Original
LR460 Series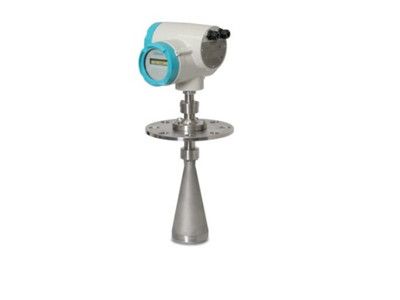 SIEMENS SITRANS LR460 Process Instrumentation
Level Measurement Continuous New & Original
Overview
The SITRANS LR460 is a 4-wire, 24 GHz FMCW radar level transmitter with extremely high signal-to-noise ratio and
advanced signal processing for continuous monitoring of solids up to 100 m (328 ft). It is ideal for measurement in extreme dust and high temperature.
Benefits
Process Intelligence for advanced signal processing and quick and easy adjustment

Self-guided quick start wizard for plug and play startup

24 GHz provides superior reflective properties on solids surfaces

100 m (328 ft) range for long-range and difficult applications

Easy Aimer optimizes signal quality on sloped surfaces

Programming using infrared Intrinsically Safe handheld programmer or with SIMATIC PDM or HART handheld device
Application
SITRANS LR460 provides excellent results even during conditions of extreme dust.
The integral Easy Aimer included on the SITRANS LR460 allows for easy positioning for optimum measurement on solids.
Process Intelligence onboard SITRANS LR460 means advanced signal processing is harnessed for reliable operation on both simple and difficult solids application.
SITRANS LR460 features a robust enclosure, flange and horn components. It is virtually unaffected by atmospheric or temperature conditions within the vessel.
An optional dust cap is available for sticky solids. Optional air purging is also available for extremely sticky applications.
Safe on-site local programming is simple using the Intrinsically Safe handheld programmer.
SIMATIC PDM can be used for easy remote programming using HART or PROFIBUS PA.
The characteristics of 24 GHz and high signal-to-noise ratio contribute to exceptional signal reflection, regardless of the dielectric value of the medium.
Key Applications: long-range dusty applications, cement powder, fly-ash, coal, flour, grain, plastics
Technical specifications
Mode of operation




Measuring principle

FMCW radar level measurement

Frequency

24.2 ... 25.2 GHz FMCW

Measuring range

0.35 ... 100 m (1.15 ... 328.08 ft)

Output




Analog output (HART)




Optically isolated

Max. 600 Ω

mA signal programmable as high, low or hold (LOE)

Communication

HART, optional PROFIBUS PA

Digital output

Relay, NC or NO function, max. 50 V DC, max. 200 mA,
rating 5 W

PROFIBUS PA protocol

Layer 1 and 2, Class A, Profile 3.01

Performance (Reference conditions according to IEC 60770-1)




Non-linearity

Greater of 25 mm (1 inch) or 0.25 % of span (including hysteresis and non-repeatability),

over the full ambient temperature range

Non-repeatability

≤ 10 mm (0.4 inch)

Rated operating conditions




Amb. temperature for enclosure

-40 ... +65 °C (-40 ... +149 °F)

Location

Indoor/outdoor

Installation category

II

Pollution degree

4

Medium conditions




Dielectric constant

εr > 1.4

Process temperature range

-40 ... +200 °C (-40 ... +392 °F)

Vessel pressure

0.5 bar g (7.25 psi g) maximum

Design




Weight

Approx. 6.1 kg (13.4 lb) with 3 inch universal flange

Materials




Die-cast aluminum, painted

IP67/Type 4X/NEMA 4X/Type 6/NEMA 6

2 x M20 x 1.5 or ½" NPT

Process connections




Universal flanges, 304 stainless steel, flat faced, with integral Easy Aimer

3 inch/80 mm, 4 inch/100 mm, 6 inch/150 mm (mates with flange EN 1092-1,

ASME B16.5, or JIS B2238 bolt pattern), 0.5 bar g (7.25 psi g) max. pressure

Programming




Intrinsically Safe Siemens handheld programmer
(ordered separately)

Infrared receiver

Approvals for handheld programmer

IS model:
ATEX II 1G EEx ia IIC T4, CSA/FM Class I, Div. 1, Groups A, B, C, D T6 at max.

ambient temperature of
40 °C (104 °F)

Handheld communicator

HART Communicator 375

PC

SIMATIC PDM

Display (local)

Alphanumeric LCD for readout and entry

Power supply

100 ... 230 V AC ± 15 % (50/60 Hz), 6 W (12 VA)

or

24 V DC +25/-20 %, 6 W (optional)

Certificates and approvals




General

CSAUS/C, CE, FM, RCM

Radio

European Radio (RED), Industry Canada, FCC, RCM

Hazardous Areas

CSA/FM Class II, Div. 1, Groups E, F, and G, Class III

ATEX II 1D, 1/2 D, 2D T85 °C

INMETRO ExtD A20 IP67 T85 °C

EAC Ex DIP A20 Ta 85 °C IP67

Optional equipment




Dust cap

PTFE

Air purge connection

1/8" NPT