SIEMENS Brand New MultiRanger 200 HMI Process Instrumentation Level Measurement Continuous Ultrasonic Special offers with very good rate
New & Original
200 HMI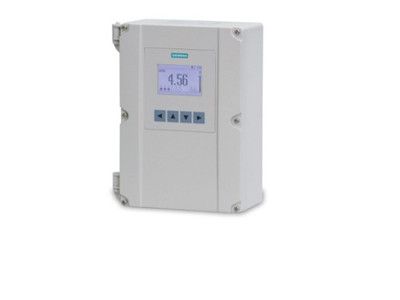 SIEMENS Brand New MultiRanger 200 HMI Process Instrumentation
Level Measurement Continuous Ultrasonic
Overview
MultiRanger 200 HMI is a versatile short to medium-range ultrasonic single and multi-vessel level monitor/controller for virtually any application in a wide range of industries.
Benefits
Easy to use HMI display with local four-button programming, menu-driven parameters, and Wizard support for key applications

English, German, French, Spanish, Chinese, Italian, Portuguese, and Russian texts on the HMI

Removable terminal blocks for ease of wiring

Digital input for back-up level override from point level device

Communication using built-in Modbus RTU via RS 485 and SIMATIC PDM configuration software

Compatible with SmartLinx system: PROFIBUS DP, PROFINET (cyclic access of process values only), DeviceNet, Modbus TCP/IP, and EtherNet/IP

Single or dual point level monitoring

Auto False-Echo Suppression for fixed obstruction avoidance

Differential amplifier transceiver for common mode noise reduction and improved signal-to-noise ratio

Level, volume, and flow measurements in open channels, differential control, extended pump control, and alarm functions

Wall and panel mounting options
Application
MultiRanger 200 HMI can be used with various materials, including, water, municipal waste, acids, woodchips, or on materials with high angles of repose.
MultiRanger 200 HMI offers true dual point monitoring, digital communications with built-in Modbus RTU via RS 485,
as well as compatibility with SIMATIC PDM, allowing PC configuration and set-up. MultiRanger 200 HMI features Sonic Intelligence advanced echo-processing software for increased reading reliability.
MultiRanger 200 HMI will monitor open channel flow and features more advanced relay alarming and pump control functions as well as volume conversion.
It is compatible with chemical-resistant EchoMax transducers that are approved for hostile environments.
Key Applications: wet wells, flumes/weirs, bar screen control, hoppers, chemical storage, liquid storage, crusher bins, dry solids storage
Design
The MultiRanger 200 HMI is available in wall or panel mounting options.
Technical specifications
Mode of Operation

Measuring principle

Ultrasonic level measurement

Measuring range

0.3 ... 15 m (1 ... 50 ft)

Measuring points

1 or 2

Input




Analog

0 ... 20 mA or 4 ... 20 mA, from alternate device, scalable

Discrete

10 ... 50 V DC switching level Logical 0 ≤ 0.5 V DC Logical 1 = 10 ... 50 V DC max. 3 mA

Output




EchoMax transducer

44 kHz

Ultrasonic transducer

Compatible transducers: ST-H and EchoMax series XPS-10, XPS-15/15F, and XRS-5

Relays

Rating 5 A at 250 V AC, non-inductive

mA output

0 ... 20 mA or 4 ... 20 mA

750 Ω, isolated

0.1 % of range

Accuracy




Error in measurement

0.25 % of range or 6 mm (0.24 inch), whichever is greater

Resolution

0.1 % of measuring range1)or 2 mm (0.08 inch), whichever is greater

Temperature compensation

-50 ... +150 °C (-58 ... +302 °F)

Integral temperature sensor

External TS-3 temperature sensor (optional)

Programmable fixed temperature values

Rated operating conditions




Installation conditions




Indoor/outdoor

II

4

Ambient conditions




Ambient temperature (housing)

-20 ... +50 °C (-4 ... +122 °F)

Design




Weight




1.22 kg (2.68 lb)

1.35 kg (2.97 lb)

Material (enclosure)

Polycarbonate

Degree of protection (enclosure)




IP65/Type 4X/NEMA 4X

IP54/Type 3/NEMA 3

Electrical connection




Transducer and mA output signal

2-core copper conductor, twisted, shielded, 0.5 ... 0.75 mm² (22 ... 18 AWG), Belden 8760 or equivalent is acceptable

Max. separation between transducer and transceiver

365 m (1 200 ft)

Displays and controls

60 x 40 mm (2.36 x 1.57 inch) LCD 240 x 160 pixels resolution

Power supply




AC version

100 ... 230 V AC ± 15 %, 50/60 Hz, 36 VA (17 W)

DC version

12 ... 30 V DC (20 W)

Certificates and approvals

CE, RCM, EAC, KCC2)

FM, CSAUS/C, UL

CSA Class I, Div. 2, Groups A, B, C, and D, Class II, Div. 2, Groups F and G,
Class III (wall mount only)

Communication

RS 232 with Modbus RTU or ASCII via RJ-11 connector

RS 485 with Modbus RTU or ASCII via terminal strips

Optional: SmartLinx cards for

PROFIBUS DP-V1, PROFINET (cyclic access of process values only)

DeviceNet, Modbus TCP/IP, EtherNet/IP


7ME6910-2CA10-1AA0
7ME6910-2CA30-1AA0
7ME6920-1AA10-0AA0
7ME6920-1AA10-1AA0
7ME6920-1AA10-1AD0
7ME6920-1AA30-0AA0
7ME6920-1AA30-1AA0
7ME6920-1AA30-1AD0
7ME6920-1AB10-1AA0
7ME6920-1AB30-1AA0
7ME6920-1QA10-1AA0
7ME6920-1QA30-1AA0
7ME6920-2CA10-1AA0
7ME6920-2CA30-1AA0
7ME6920-2CB10-1AA0
7ME6920-2CB30-1AA0
7ME6920-2EA10-1AA0
7ME6920-2EB10-1AA0
7ME6920-2EB30-1AA0
7ME6920-2MA11-1AA0
6ES7214-1BG40-0XB0
6AG1214-1BG31-2XB0
6AG1214-1BG31-5XB0
6AG1214-1BG40-2XB0
6AG1214-1BG40-4XB0
6AG1214-1BG40-5XB0
6ES7223-1PL32-0XB0
6AG1223-1PL32-2XB0
6AG1223-1PL32-4XB0
6ES7232-4HD32-0XB0
6AG1232-4HD32-2XB0
6AG1232-4HD32-4XB0
6AG2232-4HD32-1XB0
7ME3951-0TG20