SIEMENS Hot Sale SITRANS FS220 Process Instrumentation Flow Measurement Ultrasonic Clamp-on Brand New with Very Good discount
New & Original
FS220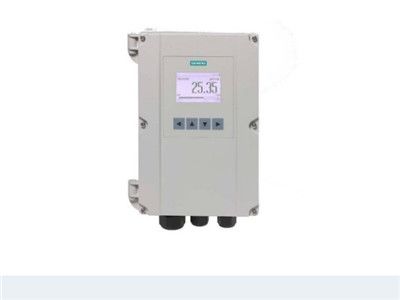 SIEMENS SITRANS FS220 Process Instrumentation
Flow Measurement Ultrasonic Clamp-on Brand New
The SITRANS FS220 digital clamp-on ultrasonic flowmeter provides the most essential flow measurement functionalities with superior accuracy,
cost efficiency and ease of use. It is the best-in-class solution for straightforward flow monitoring of liquid processes.
The SITRANS FS220 flow system consists of a SITRANS FST020 transmitter paired with SITRANS FSS200 clamp-on ultrasonic sensors,
which are available in three different versions: WideBeam® (High-Precision), Universal and High-Temperature.
The FSS200 sensors feature low maintenance and high precision – even for applications with high levels of aeration or suspended solids.
Overview
The SITRANS FS220 is a clamp-on ultrasonic flow system consisting of an FST020 transmitter and FSS200 clamp-on sensors.
The transmitter classification FST020 describes a basic clamp-on ultrasonic flowmeter for basic application requirements.
Based on the same digitalized platform as the FST030 this system provides the same accuracy and similar functions on a lower cost level.
This system is ideal for water measurement and any application not requiring temperature or viscosity compensation.
Benefits
Easy installation at any time; no production stop, no need to cut pipe or stop flow

Minimal maintenance; external sensors do not require periodic cleaning

No moving parts to foul or wear. No contact with media

No pressure drop or energy loss

Wide turn-down ratio, bidirectional and high stability at zero flow conditions

Anomaly compensation tool for correction of non-ideal straight pipe runs. Automatic compensation during backflow

Optional WideBeam technology ensures highest performance and accuracy

Compatible with all previously installed transit time sensors
Application
The SITRANS FS220 can be used for the following application conditions:
Pipe sizes from 10 mm to 10 m

Pipe materials: ideal for all metals, glass, FRP and most PVC variants; NOT for concrete pipes and special compound pipes

Pipe wall thickness from 1 to 35 mm; specials on request up to 65 mm

Media temperatures from -40 to 121 °C; universal high temperature sensors for up to 230 °C max.

Underground/submerged locations, non-ideal environments, strong pipe vibrations
SITRANS FS220 flowmeters are suitable for most clean liquid applications, including the following:
Water and wastewater industry

Potable water

Water and aqueous solutions

Wastewater, influent & effluent

Processed sewage, sludge

Chemical feed industry

Sodium hypochlorite

Sodium hydroxide

HVAC and power industries

Coolant flow

Fuel flow

Utility district heating, cooling

Refrigeration liquids

Process control

Chemicals

Pharmaceuticals

Food products

Very low flow sensitiity (< 0.1 m/s)

High temperature liquids > 120 °C (248 °F)
Design
Field clamp-on (non-intrusive)

Single channel

IP65 (NEMA 4X) wall mount constructed of polycarbonate

Available AC or DC power, 100 to 240 V AC, 11.5 to 28.5 V DC
Function
240x160 graphical display with 4 key navigation and backlight

6 user programmable views for individual process and diagnostic info

Communications include Modbus RTU

100 Hz update rate for all output on all primary process values

Independent low flow cut-off settings for volume and flow velocity

SensorFlash technology stores production specific system documentation and provides removable memory of all flow meter setups and functions

Calibration certificates (with ordered calibration)

Non-volatile memory backup of operational data

Transfer of user configuration to other flowmeters

4GB SD card for storage and data logging

Audit trail of all parameter changes

Alarm logging - coming and going

Data logging over years, depending on selected interval time. Easy transfer in table calculation programs

Fully compatible with Siemens PDM version 8.2 service pack 1 or higher

Bidirectional flow operation

Menu language actual in English, German
Technical specifications
Rangeability




Flow range

±12 m/s (±40 ft/s), depending on pipe size higher or lower

Flow direction

bi-diretional

Flow sensitivity

0.001 m/s (0.003 ft/s) flow rate independent

Digital inputs




Totalizer Hold

Optically isolated diode Activated On: Input voltage: 2 ... 10 V DC

Totalizer Reset

Optically isolated diode Activated On: Input voltage: 2 ... 10 V DC

Output Channel 1




Current

4 ... 20 mA (isolated)

Externally powered 10 ... 30 V DC

Relay

30 V DC, 3 V AC max.

Pulse: 41.6 ms ... 5 s pulse duration

Frequency: 0 ... 12.5 kHz (50 % duty cylce)

Pulse rate

Optically isolated transistor 10 mA, 30 V DC max.

Accuracy

For velocities above 0.3 m/s (1 ft/s), ±1.0 % of flow

Repeatability

± 0.25 % (according to ISO 11631)

Zero Drift

0.1 % of rate; < ±0.001 m/s (±0.003 ft/s)

Data refresh rate

100 Hz

Transmitter conditions




Operating temperature

-10 … +50 °C (14 … 122 °F)

Storage temperature

-20 … +60 °C (-4 … +140 °F)

Degree of protection

IP65, NEMA 4X

Design




Weight

1.4 kg (3.0 lb)

Dimensions (W x H x D)

176 x 240 x 87 mm (6.9 x 9.5 x 3.4 inch)

Enclosure material

Polycarbonate

Power supply

100 ... 240 V AC @ 20 VA or
11.5 ... 28.5 V DC @ 10 W

Certificates and approvals




Unclassified locations




UL, cUL, CE