SIEMENS SITRANS FC330 Coriolis flow measurement Coriolis flowmeter systems New & Original with very competitive price
New & Original
FC330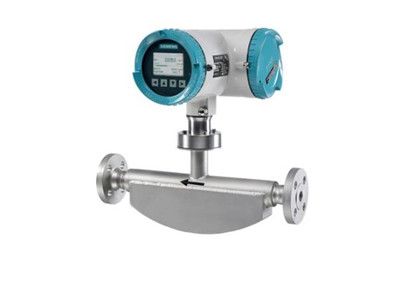 SIEMENS SITRANS FC330 Coriolis flow measurement
Coriolis flowmeter systems New & Original
The SITRANS FC330 digital Coriolis flow system enhances your productivity by increasing the efficiency of every liquid and gas process.
The result is a cutting-edge flowmeter at the top of its class in accuracy and reliability – yet space-saving and easy to work with.
Overview
The complete flowmeter system SITRANS FC330 can be ordered for standard, hygienic or NAMUR service.
The flowmeter is based on the latest developments within digital signal processing technology – engineered for high measuring performance:
Fast response to rapid changes in flow

Fast dosing applications

High immunity against process noise

High turndown ratio of flowrates

Suitable for liquid and gas service

Easy to install, commission and maintain
FC330 is available with current output HART 7.5, Modbus RS-485 RTU, PROFIBUS DP or PROFIBUS PA as standard on Channel 1.
Additional functions can be freely configured for analog, pulse, frequency, relay or status output or binary input.
The transmitter comes with a user-configurable graphical display and SensorFlash, a micro SD card for configuration backup, firmware update and data storage.
The SITRANS FC330 flowmeter system consists of a SITRANS FCS300 sensor and a SITRANS FCT030 transmitter.
Benefits
It is compact and light, fitting neatly into dense piping arrangements

Easy maintenance because modules can be exchanged rapidly

Effective separation of measurement from plant vibration

Highly secure operation in safety critical applications

Non-volatile memory of all setup and operation data

Reliable measurements due to high signal to noise ratio

Secure, digital transfer of measurement data from the sensor

Short overall length; easy drop-in replacement into most existing installations
Technical specifications
Flowmeter SITRANS FC330
Sizes




DN 15 (½")
DN 25 (1")
DN 50 (2")
DN 80 (3")
DN 100 (4")
DN 150 (6")

Accuracy




± 0.10 % or 0.20 % for liquids additional ±0.40 for gases

Repeatability




± 0.05 %

Flow range (liquids)

(water @ 1 bar pressure loss) (Qnom)








4 500 kg/h (163.3 lb/min)




20 500 kg/h (753.2 lb/min))




49 000 kg/h (1 800 lb/min)




122 000 kg/h (4 483 lb/min)




273 000 kg (10 031 lb/min)




459 200 kg/h (16 873 lb/min)

Architecture




Compact or remote configuration

Display




Full graphical display, 240 x 160 pixels with selection of 6 languages

Power supply




20 ... 27 V DC ± 10%; 100 ... 240 V AC ± 10 %, 47 ... 63 Hz ± 10%

Weight




4.6 ... 212 kg

Material












316L stainless steel or Nickel Alloy C4




304 stainless steel




Aluminum with corrosion-resistant coating

Enclosure rating




IP67

Pressure ratings












100 bar (1450 psi)




100 bar (1450 psi)




No pressure containment

Temperature ratings








-50 ... +205 °C (-58 ... +400 °F)




-40 ... +60 °C (-40 ... +140 °F)1)




-20 ... +60 °C (-4 ... +140 °F)