SIEMENS SITRANS FCS200 Coriolis flow measurement Coriolis sensors New & Original with very competitive price and Warranty
New & Original
FCS200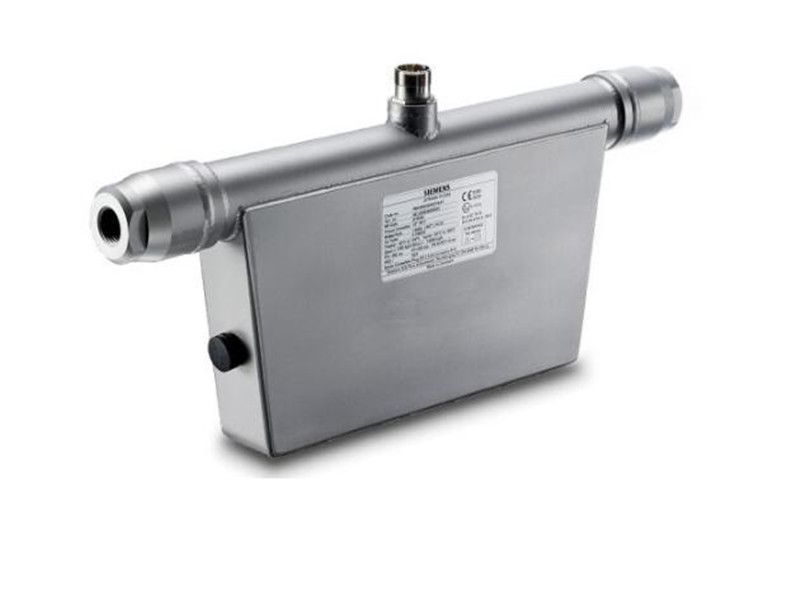 SIEMENS SITRANS FCS200 Coriolis flow measurement Coriolis sensors New & Original
The ultra-compact SITRANS FCS200 sensor fits in where space is crucial, providing extra flexibility
in any compressed natural gas (CNG) application for both new installations and replacements.
With unparalleled accuracy and capacity under high pressure and hazardous conditions,
the SITRANS FCS200 sensor sets a new standard for efficiency and safety in CNG. It is available
in three sizes and is easy to install, with a wide range of different connections available.
Overview
SITRANS FCS200 (DN 10, DN 15 and DN 25) is a Coriolis sensor specialized for accurate mass flow measurement of gases.
The sensor offers superior performance in terms of flow accuracy and turn down ratio.
The ultra compact sensor design makes installation, replacement and commissioning very straight forward and easy.
Benefits
High accuracy gas measurement

Approved for use in hazardous area

DN 10 and DN 15 is custody transfer approved, according to NTEP

(Compressed gaseous fuel measuring systems for vehicles). For custody transfer applications SIFLOW FC070 Ex CT must be used.

Self-draining in vertical orientation

Pt1000 temperature measurement for optimum accuracy

SENSORPROM enabling true "plug & play"

Rigid enclosure design reducing influence from pipeline vibration and thermal stress

High-pressure measurement up to 350 bar (5076 psi)

Ultra compact sensor design with space-saving split flow
Application
SITRANS FCS200 is designed for measurement of gases and is suitable for use in the oil and gas industry:
Filling of gas bottles

CNG dispensers

Metering of general gas applications
Design
SITRANS FCS200 is available in DN 10, DN 15 and DN 25.
The sensor consists of 2 parallel measuring pipes, welded directly onto a flow splitter at each end of the sensor
to eliminate a direct coupling to the process connectors and significantly reduce effects from external vibrations.
The flow-splitters are welded directly onto a rigid sensor housing which acts as a mechanical low pass filter.
The SITRANS FCS200 DN 10 & DN 15 wetted parts material is Hastelloy C22,
and the DN 25 wetted parts material is AISI 316L/1.4404. The enclosure is made of stainless steel AISI 304/1.4301 with a grade of encapsulation of IP67.
The two black rupture discs are designed to protect the enclosure from overpressure.
Function
The flow measuring principle is based on the Coriolis effect. See "System information SITRANS F C".
Technical specifications
Sensor size

DN 10

DN 15

DN 25

Mass Flow




Accuracy [% of rate]

± 0.5

Repeatability [% of rate]

± 0.25

Max. zero point error [kg/h (lb/h)

0.25 (0.55)

1.2 (2.65)

3.0 (6.6)

Measuring range
[kg/min (lb/min)]

0 … 42
(0 … 92.6)

0 … 200
(0 … 440.9)

0 … 500
(0 … 1102.3)

Process temperature

-40 … +125 °C (-40 … +257 °F)

Ambient temperature

-40 … +60 °C (-40 … +140 °F)

Temperature error

0.5 °C (0.9 °F)

Pressure [bar (psi)]

350 (5076)

350 (5076)

214 (3104)

Enclosure grade

IP66/IP67 (EN 60529)

Material




Measuring pipe

Hastelloy C22/2.4602

Hastelloy C22/2.4602

Stainless steel AISI 316L/1.4571

Splitter

Hastelloy C22/2.4602

Stainless steel AISI 316L/1.4571

Stainless steel AISI 316L/1.4571

Enclosure and connection (flanges)

Stainless steel

Connection thread

¼" NPT
½" NPT
½" VCO

½" NPT
¾" NPT
1" NPT
¾" VCO

1" NPT
1½" NPT
1" VCO

Weight approx.

2.8 kg
(6.2 lb)

6.0 kg
(13.2 lb)

11 kg
(24.2 lb)

Ex approvals




ATEX

II 1/2 G Ex ia IIC T5/T4 Ga/Gb

IECEx

Ex ia IIC T5/T4 Ga/Gb

EAC Ex

0Ex ia IIC T4/T5 Gb

FM

Class I, Div 1, Groups A, B, C and D

Custody transfer approvals




DN 10/DN 15

Compressed gaseous fuel measuring systems for vehicles

NTEP for USA and Canada, approval no: 97-111A3