SIEMENS SITRANS F M MAG 6000 I / 6000 I Ex de microprocessor-based transmitters Electromagnetic flow measurement New & Original
New & Original
MAG 6000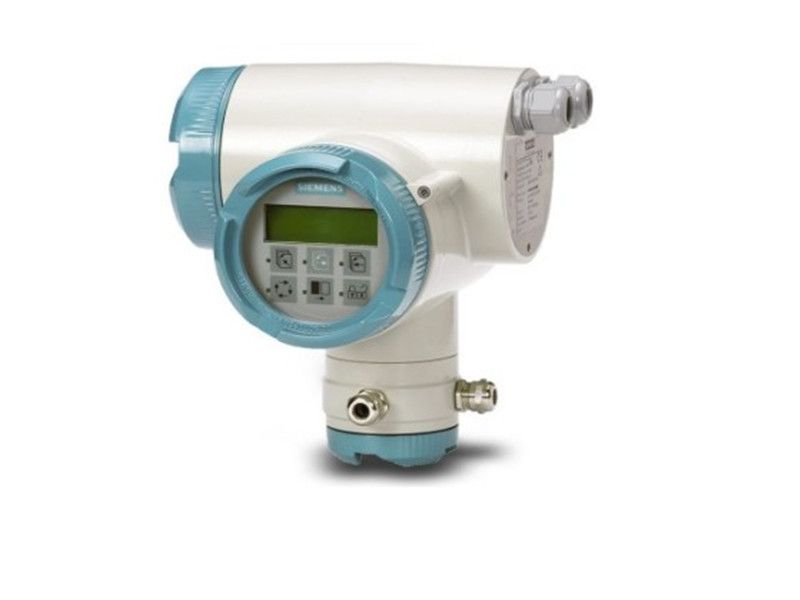 SIEMENS SITRANS F M MAG 6000 I / 6000 I Ex de
microprocessor-based transmitters Electromagnetic flow measurement New & Original
Overview
The SITRANS F M MAG 6000 I/MAG 6000 I Ex de transmitter is designed for the demands in the process industry.
The robust die cast aluminum housing provides superb protection, even in the most harsh industrial environments. Full input and output functionality is given even in the Ex version.
Benefits
Full range of Ex-rated flowmeters with intrinsically safe rated input and outputs

For compact or remote installation

HART, FOUNDATION Fieldbus H1, DeviceNet, PROFIBUS PA and DP, Modbus RTU/RS485 add-on communication modules available

Superior signal resolution for optimum turn down ratio

Digital signal processing with many possibilities

Automatic reading of SENSORPROM data for easy commissioning

User configurable operation menu with password protection


3 lines, 20 characters display in 11 languages

Flow rate in various units

Totalizer for forward, reverse and net flow as well as much more information available

Multiple functional outputs for process control, minimum configuration with analogue, pulse/frequency and relay output (status, flow direction, limits)

Comprehensive self-diagnostic for error indication and error logging

Batch control

MAG 6000 I NAMUR: compliant with NAMUR NE 21, NE 32, NE 43, NE 53 and NE 70
Design
The transmitter is designed for either compact or remote installation in non-hazardous or hazardous areas (compact mounted transmitter to be ordered together with the sensor).
Function
The following functions are available:
Flow rate

2 measuring ranges

2 totalizers

Low flow cut-off

Flow direction

Error system

Operating time

Uni-/bidirectional flow

Limit switches and pulse output

Batch control
The MAG 6000 I/6000 I Ex de is a microprocessor-based transmitter with a built-in alphanumeric display in several languages.
The transmitters evaluate the signals from the associated electromagnetic sensors and also fulfil the task of a power supply unit which provides the magnet coils with a constant current.
Further information on connection, mode of operation and installation can be found in the data sheets for the sensors.
Technical specifications
Mode of operation and design




Measuring principle

Electromagnetic with pulsed constant field

Empty pipe

Detection of empty pipe (special cable required in remote mounted installation)

Excitation frequency

Depend on sensor size

Electrode input impedance

> 1 x 1014 Ω

Input




Digital input

11 … 30 V DC, Ri = 4.4 kΩ

50 ms

I11 V DC = 2.5 mA, I30 V DC = 7 mA

Output




Current output




4 … 20 mA (active/passive)

< 560 Ω

0.1 … 30 s, adjustable

Digital output




0 … 10 kHz, 50 % duty cycle (uni-/bidirectional)

0.1 … 30 s, adjustable

3 … 30 V DC, max. 110 mA (30 mA Ex version), 200 Ω ≤ Ri ≤ 10 kΩ (powered from connected equipment)

0.1 … 30 s, adjustable

Relay output




Changeover relay, same as current output

42 V AC/2 A, 24 V DC/1 A

Low flow cut off

0 … 9.9 % of maximum flow

Galvanic isolation

All inputs and outputs are galvanic isolated.

Max. measuring error




MAG 6000 I/MAG 6000 I Ex (incl. sensor)

± 0.2 % ± 1 mm/s

Rated operation conditions




Ambient temperature






-20 … +60 °C (-4 … +140 °F)

-20 … +60 °C (14 … 140 °F)

-40 … +70 °C (-40 … +158 °F)

Mechanical load

18 … 1000 Hz random in x, y, z, directions for 2 hours according to EN 60068-2-36

Transmitter: 1.14 g RMS

Degree of protection

IP67/NEMA 4X to IEC 529 and DIN 40050 (1 mH2O 30 min.)

EMC performance

IEC/EN 61326-1 (all environments)
IEC/EN 61326-2-5
NAMUR NE 21

Display and keypad




Totalizer

Two eight-digit counters for forward, net or reverse flow

Display

Background illumination with alphanumeric text, 3 x 20 characters to indicate flow rate, totalized values, settings and faults; Reverse flow indicated by negative sign

Keypad

Capacitive touch keypad with LED light for feedback indication

Time constant

Time constant as current output time constant

Design




Enclosure material

Die cast aluminum, with corrosion resistant Basic Polyester powder coating (min. 60 µm)

Wall mounting bracket enclosed for remote version

Dimensions

See dimensional drawings

Weight

See dimensional drawings

Power supply

Standard transmitter: 18 … 90 V DC; 115 … 230 V AC; 50 … 60 Hz

Ex transmitter: 18 … 30 V DC

Ex transmitter: 115 … 230 V AC; 50 … 60 Hz

Ex transmitter NAMUR: 18 … 30 V DC; 115 … 230 V AC; 50 … 60 Hz

Power consumption

24 V DC: 9.6 W, IN = 0.4 A, IST = 1 A (3 ms)

Certificates and approvals




General purpose