SIEMENS Hot Sale SITRANS TO500 Process Instrumentation Temperature Measurement 100% New & Original with very competitive price
New & Original
TO500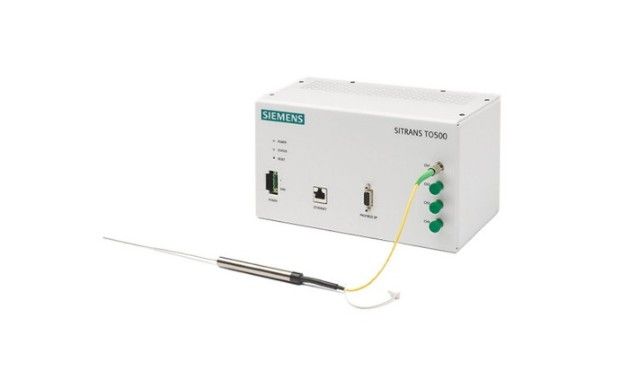 SIEMENS SITRANS TO500 Process Instrumentation Temperature Measurement
The SITRANS TO500 multipoint measuring system is used for evaluating a large number of temperature
measuring sensors arranged on a very narrow fiber-optic measuring lance. The system consists of the following components:
a read-out unit, the transmitter, and the measuring lance,. With up to four measuring probes,
192 measuring points can therefore be processed at the same time by a SITRANS TO500.
The system is particularly suitable for applications in constrained spaces with a low thermal mass, i.e.
in tube and tube bundle reactors or in capillary or microreactors.
Overview
SITRANS TO500 is a multipoint temperature transmitter for measuring temperatures and temperature
profiles with fiber-optic multipoint measuring lances.
Benefits
* Evaluation of a large number of sensors (Fiber Bragg Grating (FBG)) in one temperature transmitter
* Low space requirements of the multipoint measuring lance
* 4 multipoint measuring lance channels per temperature transmitter
* Easy to install
* PROFIBUS DP - Simple integration into control system
* Fast response to temperature changes
* Exact, no recalibration required due to internal reference
* Also suitable for high process temperatures
Application
SITRANS TO500 is used for evaluating a high number of sensors that are arranged on a fiber-optic multipoint measuring lance.
Up to 4 multipoint measuring lances, each with as many as 48 sensors (Fiber Bragg Grating (FBG)), can be
simultaneously processed by one SITRANS TO500.
Accurate and fast determination of temperature profiles enables process optimization in terms of service life, quality and output.
Locations of excessive temperature rise are quickly and accurately detected, thereby preventing damage
to the process, equipment and environment. Wherever temperature profiles must be determined and installation
space is limited, the SITRANS TO500 with fiber-optic temperature measurement is the right choice.
Design
The SITRANS TO500 multipoint temperature transmitter is located in the control cabinet in a compact
aluminum enclosure for mounting onto DIN rails. The connectors are easy to access on the front:
4 x connector for multipoint measuring lances

1 x connector for power supply

1 x connector PROFIBUS DP

1 x connector Ethernet
The status displays are also located on the front.
Function
The SITRANS TO500 has 4 channels which are evaluated simultaneously. The wavelength reflected at each sensor in the multipoint measuring
lance depends on the temperature, and this wavelength is output in the multipoint temperature transmitter.
All 4 channels are read at the same time and updated once per second.
The temperature can be determined and displayed accurately at up to 48 sensors per channel. The positions of the sensors can be specified by the customer.
This leads to a flexible and application-specific solution for the customer.
The measured temperatures are transferred to the control system by PROFIBUS DP.
The parameters of the SITRANS TO500 are set via the integrated Ethernet interface.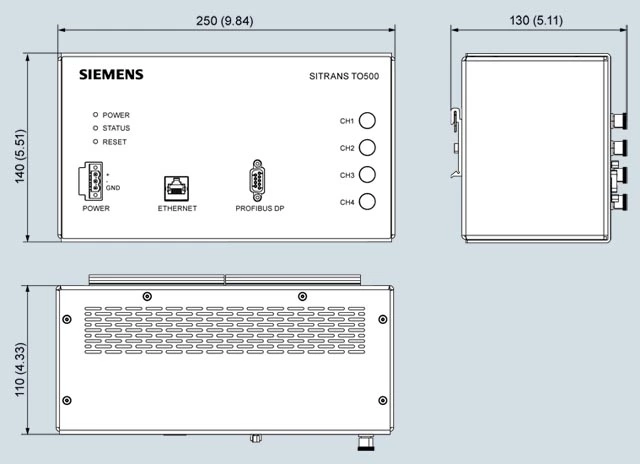 SITRANS P500
SITRANS P420
SITRANS P320
SITRANS P410
SITRANS P DS III
SITRANS P310
SITRANS P300
WirelessHART pressure transmitter SITRANS P280
SITRANS P200/P210/P220
SITRANS P Compact
SITRANS LH100
SITRANS LH300
SITRANS TH100
SITRANS TH200
SITRANS TH300
SITRANS TH400
SITRANS TH320/420
SITRANS TR200
SITRANS TR300
SITRANS TR320
SITRANS TR420
SITRANS TF
SITRANS TO500