SIEMENS Hot Sale SITRANS TF Process Instrumentation Temperature Measurement New & Original with very competitive price
New & Original
SITRANS TF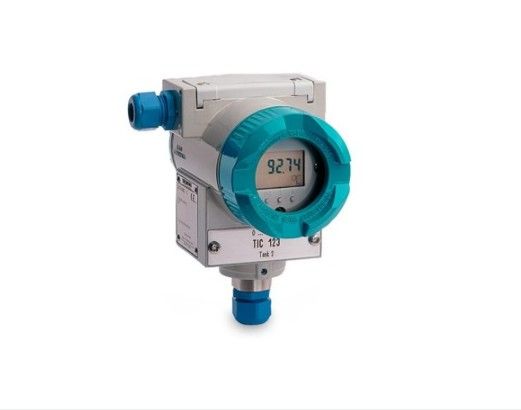 SIEMENS SITRANS TF Process Instrumentation Temperature Measurement
SITRANS TF is an IP67 field transmitter for heavy industrial use. It transforms resistance thermometers, thermocouples,
Ohm and mV signals into a load independent DC current corresponding to sensor characteristic or
a digital signal according Fieldbus standard Profibus PA or Foundation Fieldbus.
Overview
Our field devices for heavy industrial use
* FOUNDATION fieldbus
* PROFIBUS PA
The SITRANS TF temperature transmitter works where others can't cope.
Benefits
For universal use as a transmitter for resistance thermometers, thermocouple elements, Ω or mV signals

Rugged two-chamber enclosure in die-cast aluminium or stainless steel

IP66/67/68 degree of protection

Can be mounted elsewhere if the measuring point

is difficult to access

has high temperatures

experiences vibrations due to the process cell

is to avoid long neck tubes and protective tubes

Can be mounted directly on American-design sensors

Wide range of approvals for use in potentially explosive atmospheres. "Intrinsically safe, non-sparking

and flameproof" type of protection, for Europe and USA
Application
The SITRANS TF can be used everywhere where temperatures need to be measured under particularly harsh conditions.
Which is why users from all industries have opted for this field device. The rugged enclosure protects the electronics.
The stainless steel model is almost completely resistant to sea water and other aggressive elements.
The inner workings offer high measuring accuracy, universal input and a wide range of diagnostic options
Function
Features
General
Polarity-neutral bus connection

24-bit analog-digital converter for high resolution

Electrically isolated

Version for use in hazardous areas

Special characteristic

Sensor redundance
Transmitter with PROFIBUS PA communication
Function blocks: 2 x analog
Transmitter with FOUNDATION fieldbus communication
Function blocks: 2 x analog and 1 x PID

Functionality: Basic or LAS
Mode of operation
The following function diagram explains the mode of operation of the transmitter.
The only difference between the two versions of the SITRANS TF (7NG3137-... and 7NG3138-...) is the type of field
bus protocol used (PROFIBUS PA or FOUNDATION fieldbus).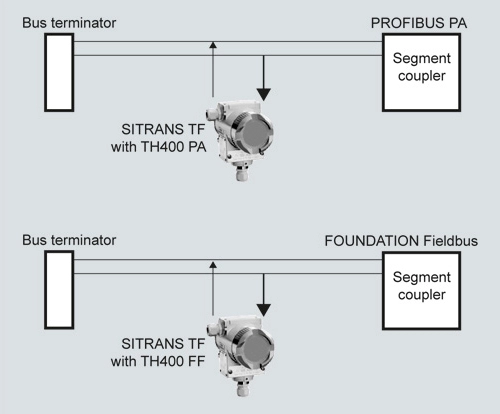 SITRANS P500
SITRANS P420
SITRANS P320
SITRANS P410
SITRANS P DS III
SITRANS P310
SITRANS P300
WirelessHART pressure transmitter SITRANS P280
SITRANS P200/P210/P220
SITRANS P Compact
SITRANS LH100
SITRANS LH300
SITRANS TH100
SITRANS TH200
SITRANS TH300
SITRANS TH400
SITRANS TH320/420
SITRANS TR200
SITRANS TR300
SITRANS TR320
SITRANS TR420
SITRANS TF