SIEMENS SITRANS TH320/420 Process Instrumentation Temperature Measurement 100% New & Original with very competitive price
New & Original
TH320/420 Series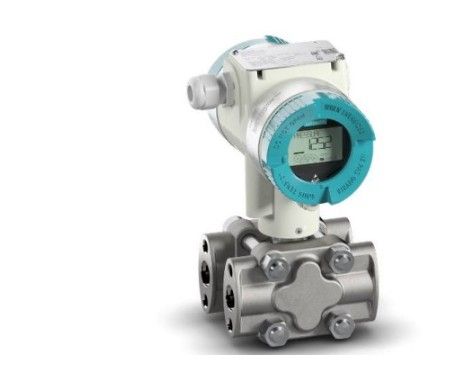 SIEMENS SITRANS TH320/420 Process Instrumentation Temperature Measurement
SITRANS TH320/420 is designed to support all common resistance thermometers and thermo
couples. It also evaluates resistance and millivolt signals.
Setup is quick and easy with the SIMATIC PDM or the Handheld Communicator.
Both temperature transmitters SITRANS TH320 and TH420 combine perfect measurement and intelligence for every temperature and condition.
The true reliability of the SITRANS TH420 is exemplified by the dual sensor input with 4-wire sensor connection and hot backup function.
In case of a sensor failure, the transmitter seamlessly switches to the second sensor, so that the data is recorded continuously and without any loss.
Overview
2 wire temperature transmitter with HART communication interface

Mounting in the connection head of the temperature sensor

Universal input for virtually any type of temperature sensor

HART 7
Benefits
Compact design

Flexible mounting and center hole allow you to select your preferred type of installation

Electrical isolation

Test terminals for ammeter

Diagnostics LED (green/red)

Input monitoring
Wire break and short-circuit

Self-monitoring

Configuration status stored in EEPROM

SIL2/3 (with order note C20)

Expanded diagnostic functions, such as slave pointer, operating hours counter, etc.

Special characteristic

Electromagnetic compatibility according to DIN EN 61326 and NE21
Application
SITRANS TH320 transmitters can be used in all sectors. Due to their compact size they can be installed
in the connection head type B (DIN 43729) or larger.
The following sensors/signal sources can be connected over their universal input module:
* Resistance thermometer (2-wire, 3-wire, 4-wire connection)
* Thermocouples
* Linear resistance, potentiometer and DC voltage sources
With HART communication interface:
The output signal is a load-independent direct current from 4 to 20 mA in accordance with the input characteristic,
superimposed by the digital HART signal.
Transmitters of the "intrinsically safe or Zone 2 increased safety" type of protection can be installed in hazardous areas.
The device meets the requirements of the EU Directive 2014/34/EU (ATEX), the FM and CSA regulations as well as other national approvals.
Function
With HART communication interface:
* The SITRANS TH320 is configured via HART. The configuration can be carried out using a handheld communicator or, more conveniently,
* with a HART modem and the SIMATIC PDM configuration software.
The configuration data is then permanently stored in the non-volatile memory (EEPROM).
After correct connection of input and supply voltage, the transmitter outputs a temperature-linear output signal and the diagnostics LED is green.
In case of external errors, e.g. sensor short circuit or interruption, the LED flashes red; an internal error is indicated by a permanent red light.
An ammeter can be connected at any time for checking and plausibility via the test terminals.
The output current can be read without any interruption, or even without opening the current loop.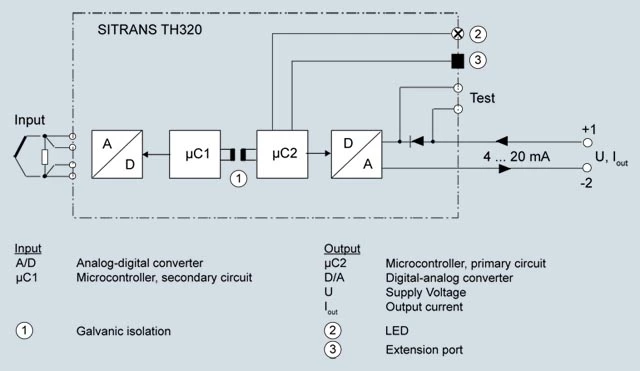 SITRANS P500
SITRANS P420
SITRANS P320
SITRANS P410
SITRANS P DS III
SITRANS P310
SITRANS P300
WirelessHART pressure transmitter SITRANS P280
SITRANS P200/P210/P220
SITRANS P Compact
SITRANS LH100
SITRANS LH300
SITRANS TH100
SITRANS TH200
SITRANS TH300
SITRANS TH400
SITRANS TH320/420