SIEMENS SITRANS TH200 Process Instrumentation Temperature 100% New & Original with very competitive price and One year Warranty
New & Original
TH200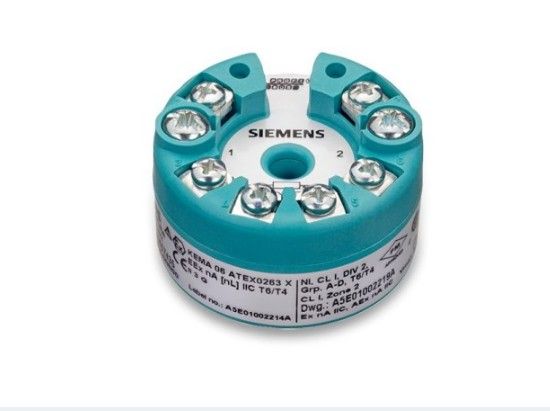 SIEMENS SITRANS TH200 Process Instrumentation Temperature Measurement
SITRANS TH200 is designed to support all common RTDs, thermocouples, resistance and millivolt sensors.
Setup is quick and easy with the transmitter modem and SIPROM T software. This configuration tool can be downloaded for free.
Unique user-friendly details are implemented, one of them being the direct readout of the output current with a
multimeter without having to open the 4 … 20 mA loop. A red/green LED indicates the device status at a glance.
Measures temperature with a linear output signal

High accuracy across entire ambient temperature range

Reduces plant noise

Alarm signal for sensor break or short-circuit according to NAMUR 43

Electro magnetic compatibility (EMC) according to DIN EN 61326 and NE21

Saves expensive compensation cables with its internal reference junction

Galvanic insulation for accuracy and safety in thermocouple applications

Single- or dual-point trim

Custom characteristic curve for application of non-standard sensors

Difference- and average- measurement

Explosion protected variants for US, Canada and Europe

Rugged design, fully potted electronics
Application
SITRANS TH200 transmitters can be used in all industrial sectors. Due to their compact size they can be
installed in the connection head type B (DIN 43729) or larger.
The following sensors/signal sources can be connected over their universal input module:
Resistance thermometers (2, 3 or 4-wire system)

Thermocouples

Resistance-based sensors and DC voltage sources
The output signal is a direct current from 4 to 20 mA in accordance with the sensor characteristic.
Transmitters of the "intrinsically safe" type of protection can be installed within potentially explosive atmospheres.
The devices meet the directive 2014/34/EU (ATEX) as well as the FM and CSA requirements.
Function
The SITRANS TH200 is configured over a PC. A USB or RS 232 modem is linked to the output terminals for this purpose.
The configuration data can now be edited using the SIPROM T software tool. The configuration data are then permanently
stored in the non-volatile memory (EEPROM).
Once the sensors and power supply have been correctly connected, the transmitter outputs a
temperature-linear output signal and the diagnostics LED displays a green light.
In the case of a sensor short-circuit, the LED flashes red, an internal device fault is indicated by a steady red light.
The test socket can be used to connect an ammeter at any time for monitoring purposes and plausibility checks.
The output current can be read without any interruption, or even without opening the current loop.
SITRANS P500
SITRANS P420
SITRANS P320
SITRANS P410
SITRANS P DS III
SITRANS P310
SITRANS P300
WirelessHART pressure transmitter SITRANS P280
SITRANS P200/P210/P220
SITRANS P Compact
SITRANS LH100
SITRANS LH300
SITRANS TH100
SITRANS TH200