SIEMENS SITRANS P Compact Process Instrumentation Pressure Measurement Brand New with Good discount & One Year Warranty
New & Original
SITRANS P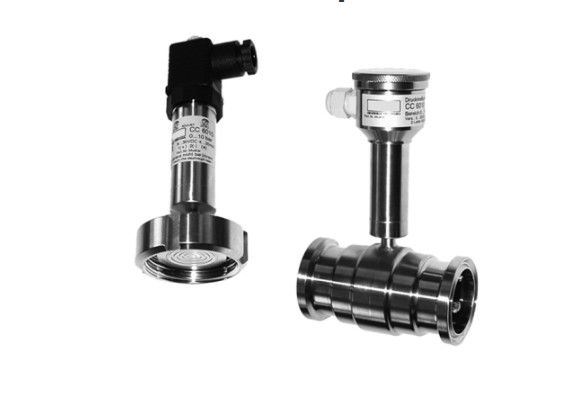 SIEMENS SITRANS P Compact
The SITRANS P Compact is an analog transmitter for measuring absolute and relative pressure which has been
developed specially for the requirements of the food/pharmaceutical and biotechnology industries.
Overview
The SITRANS P Compact pressure transmitter is designed for the specific requirements of the food, pharmaceuticals and biotechnology industries.
The use of high-quality materials guarantees adherence to hygiene provisions.
Particular importance was placed on high surface quality. In addition, the system can be electropolished.
A further important feature is the hygienic design of the process connection with different aseptic connections.
The fully welded stainless steel housing can be designed with degree of protection up to IP67.
By means of corresponding temperature decouplers, the SITRANS P Compact transmitter can be used for temperatures up to 200 °C (392 °F).
Benefits
Measuring ranges from 0 to 160 mbar (0 to 2.32 psi) to 0 to 40 bar (0 to 580 psi)

Linearity error incl. hysteresis < +0.2% of the end value

Piezo-resistive measurement system, vacuum-proof and overload-proof

Hygiene-based design according to EHEDG, FDA and GMP recommendations

Material and surface quality according to hygiene requirements

Wetted parts made of stainless steel; completely welded

Signal output 4 to 20 mA (0 to 20 mA as option)

Stainless steel housing with degree of protection IP65 (IP67 as option)

Process temperature up to 200 °C (392 °F)

Explosion protection II 2G EEx [ib] IIC T6 to ATEX

Easy and safe to clean
Function
Process pressure acts on a piezo-resistive semi-conductor measuring bridge via a remote seal diaphragm by means of a transfer fluid.
The pressure transmitter converts the measured pressure values into a load-independent current signal.
A compensation network achieves a large degree of independence of the output signal from the ambient temperature.
With a specially adapted remote seal connection with minimized system volume, the influence of the process temperature
on the output signal is reduced significantly as compared to a conventional screw connection.
The pressure transmitters can be supplied with an unregulated DC voltage of 10 to 30 V.
The output signals common in measuring technology are available.
Technical specifications
Pressure transmitters for food, pharmaceuticals and biotechnology

Mode of operation




Measuring principle

piezo-resistive

Input




Measured variable

Gauge or absolute pressure

Measuring range

0 ... 160 mbar (0 ... 2.32 psi)
...
0 ... 40 bar (0 ... 580 psi)

Output




Output signal




4 ... 20 mA

0 ... 20 mA

Measuring accuracy

According to IEC 60770-1

Measurement deviation at limit setting including hysteresis and reproducibility

≤ 0.2 % of full-scale value

Adjustment accuracy

≤ ±0.2 % of full-scale value

Step response time

< 20 ms

Effect of ambient temperature




On the enclosure




< 0.2 %/10 K of full-scale value

< 0.2 %/10 K of full-scale value

On the process connection (remote seals)

Zero error (depends on design)




4.8 mbar/10 K (0.069 psi/10 K)

2.3 mbar/10 K (0.033 psi/10 K)

1.6 mbar/10 K (0.023 psi/10 K)

0.6 mbar/10 K (0.009 psi/10 K)




9.5 mbar/10 K (0.138 psi/10 K)

4.1 mbar/10 K (0.060 psi/10 K)

3.9 mbar/10 K (0.057 psi/10 K)

3.9 mbar/10 K (0.057 psi/10 K)
SITRANS P500
SITRANS P420
SITRANS P320
SITRANS P410
SITRANS P DS III
SITRANS P310
SITRANS P300
WirelessHART pressure transmitter SITRANS P280
SITRANS P200/P210/P220
SITRANS P Compact