PEPPERL+FUCHS Hot Sell SMART Transmitter Power Supply KCD2-STC-Ex1.ES Intrinsic Safety Barriers Isolated Barriers K-System
New & Original
KCD2-STC-Ex1.ES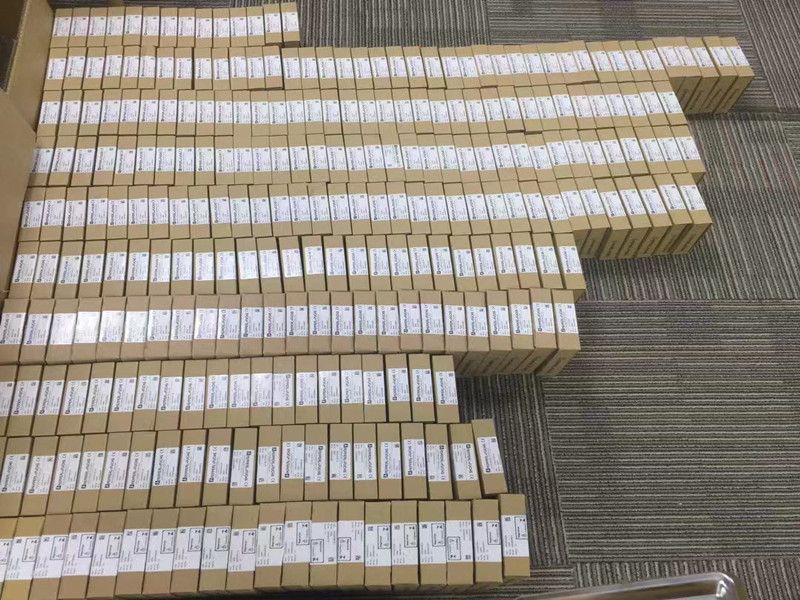 PEPPERL+FUCHS SMART Transmitter Power Supply KCD2-STC-Ex1.ES
Intrinsic Safety Barriers Isolated Barriers K-System .
SMART Transmitter Power Supply KCD2-STC-Ex1.ES
* 1-channel isolated barrier
* 24 V DC supply (Power Rail)
* Input for 2-wire SMART transmitters and current sources
* Output for 4 mA ... 20 mA or 1 V ... 5 V
* Sink or source mode
* Line fault detection (LFD)
* Housing width 12.5 mm
* Up to SIL 3 acc. to IEC 61508
Function :
This isolated barrier is used for intrinsic safety applications. The device supplies 2-wire transmitters in the hazardous area,
and can also be used with current sources. It transfers the analog input signal to the safe area as an isolated current value.
Bi-directional communication is supported for SMART transmitters that use current modulation to transmit data and
voltage modulation to receive data. The output is selected as a current source, current sink,
or voltage source via DIP switches. A fault is signalized by LEDs acc. to NAMUR NE44 and a separate collective error message output.
Test sockets for the connection of HART communicators are integrated into the terminals of the device.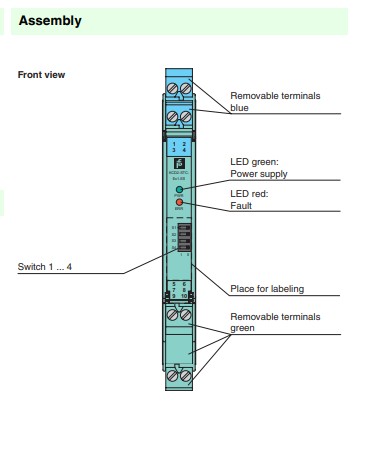 Selection models:
KCD2-STC-Ex1.ES
KFD2-CRG2-Ex1.D
KFD2-HLC-Ex1.D
KFD2-HLC-Ex1.D.2W
KFD2-STC5-Ex1
KFD2-STC5-Ex1.2O
KFD2-STC5-Ex1.2O.H
KFD2-STC5-Ex1.H
KFD2-STC5-Ex2
KFU8-CRG2-Ex1.D
KCD2-STC-Ex1
KFD2-STC4-Ex1.2O.H
KCD2-STC-Ex1.2O
KCD2-STC-Ex1.2O.ES
KCD2-STC-Ex1.ES.SP
KFD2-STC3-Ex1
KFD2-STC4-Ex1.2O-Y1
KFD2-STC4-Ex2-Y1
KFD2-STV4-Ex1-2
KFD2-STV4-Ex1.2O-1
KFD2-STV4-Ex2-1
KFD2-STV4-Ex2-2
KCD2-STC-Ex1-Y1
KCD2-STC-Ex1.2O.DE
KFD2-HLC-Ex1.D.4S
KFD2-STV5-Ex1-1
KCD2-STC-Ex1.SP
KFD2-STC4-Ex1
KFD2-STC4-Ex1-Y1
KFD2-STC4-Ex1.2O
KFD2-STC4-Ex1.ES
KFD2-STC4-Ex1.H
KFD2-STC4-Ex2
KFD2-STV4-Ex1-1
KFD2-STV4-Ex1.2O-2