Brand New Testo 625 - Thermohygrometer Order-Nr. 0563 6251 In Stock with very competitive price and One year Warranty
New & Original
625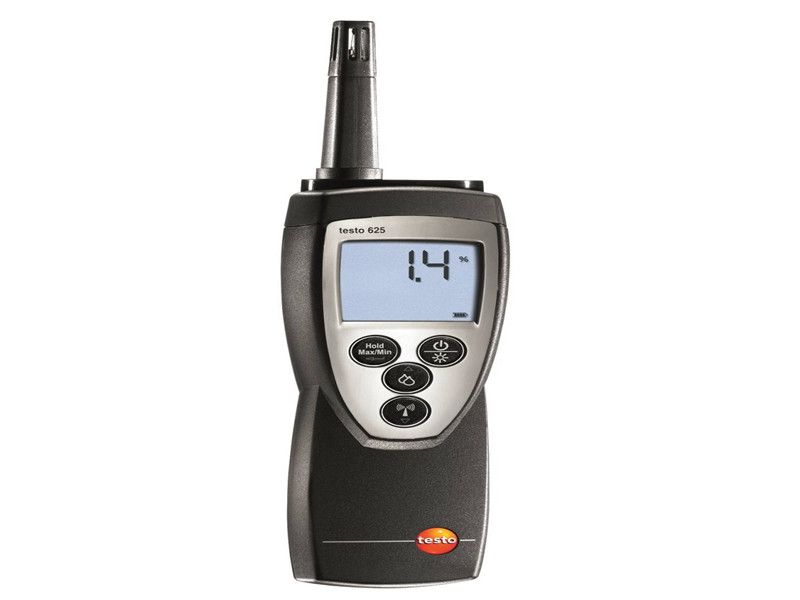 Testo 625 - Thermohygrometer
Order-Nr. 0563 6251
Measures air temperature and relative humidity

Calculates dew point and wet bulb temperature

Displays min and max values, hold function, power off mode

Integrated longlife moisture meter for long lasting quality
The testo 625 thermohygrometer comes into its own in all situations where the right indoor climate is crucial, for example in archives,

storerooms, greeenhouses and buildings. The testo 625 also calculates the dew point and wet bulb temperature quickly and accurately.
Product Description
The testo 625 compact thermohygrometer has a connectable humidity sensor which measures the air temperature and relative humidity.
It can also calculate the dew point and wet bulb temperature.
The meter is equipped with a large, easy-to-read, backlit display, a hold function which allows you to freeze the last reading
and min and max readings that can be displayed at the touch of a key.
In addition, the testo 625 has a battery-friendly power off mode and a longlife moisture sensor to ensure the best possible results for years to come.
Technical Data :
Temperature - NTC
Measuring range:-10 to +60 °C
Accuracy : ±0.5 °C
Resolution:0.1 °C
Temperature - TC Type K (NiCr-Ni)
Measuring range:-200 to +1370 °C
Accuracy:See probe data
Resolution:0.1 °C
General technical data
Dimensions :182 x 64 x 40 mm
Operating temperature :-20 to +50 °C
Housing :ABS
Battery type: 9V block battery, 6F22
Battery life :70 h (without radio operation)
Storage temperature:-40 to +70 °C
Weight:195 g