In Stock testo 735-1 - Temperature measuring instrument (3-channel) Order-Nr. 0560 7351 Brand New with Very Competitive Price
New & Original
735-1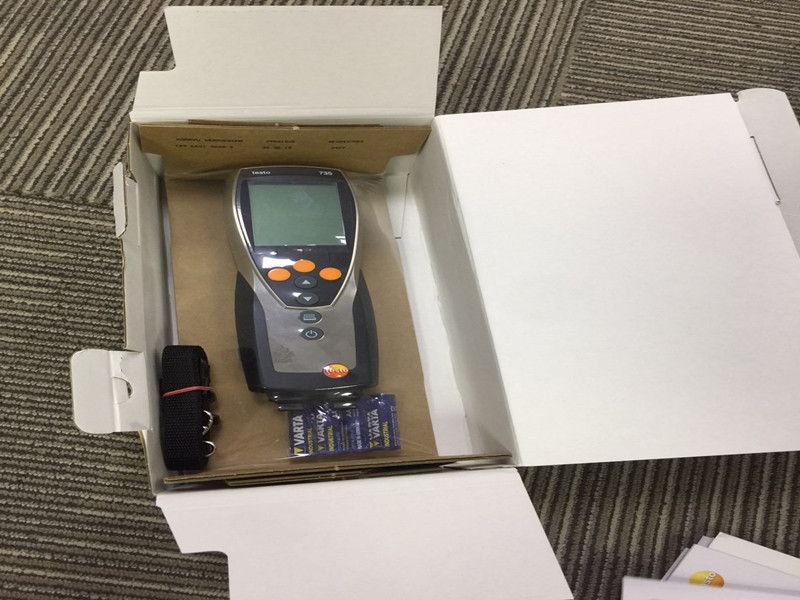 Testo 735-1 - Temperature measuring instrument (3-channel)
Order-Nr. 0560 7351
With optional probes that measure core temperature, surface temperature and air temperature

Up to three probes can be attached and three additional temperature probes can also be connected to the temperature measuring instrument by radio

Accurate measurement up to 0.05 °C with Pt100 temperature probe (optional)

Display of min., max. and mean values and calculation of the differential temperature (delta T)
If you need a measuring instrument for accurate temperature measurement or you would like to measure the temperature in
several locations simultaneously, the testo 735-1 is the ideal equipment for you. The wide selection of optional probes enables
flexible use of the temperature measuring instrument, for example to calibrate stationary temperature probes, in the electronics and food industries or in laboratories.
Product Description
The testo 735-1 temperature measuring instrument can deal with almost all measuring tasks.
That is because the comprehensive selection of optional probes enables reliable temperature measurement in a variety of areas.
This means you can for instance use the measuring instrument in chemical laboratories for temperature measurement in aggressive media,
for measuring temperature distribution in air conditioning cabinets and refrigerators, for calibrating stationary temperature probes or in the food industry for measuring core temperature.
The testo 735-1 temperature measuring instrument offers great features and standard-compliant work
The testo 735-1 does not just display the temperatures currently being measured. Min./max. and mean values are also shown on the instrument display.
When two temperature probes are attached, the temperature measuring instrument calculates the differential temperature and displays this as delta
T. In addition, an acoustic alarm sounds when limit values are undershot or exceeded. You are free to define the limit values.
The display illumination also enables easy reading of measuring values even in dark surroundings.
In addition, the testo 735-1 temperature measuring instrument is waterproof according to protection class IP 65,
has been tested in accordance with EN 13485, is HACCP-compliant and has international HACCP certification.
Temperature - Pt100

Measuring range

-200 to +800 °C

Accuracy

±0.2 °C (-100 to +199.9 °C)

±0.2 % of mv (Remaining Range)

Resolution

0.05 °C
Temperature - TC Type K (NiCr-Ni)

Measuring range

-200 to +1370 °C

Accuracy

±0.3 °C (-60 to +60 °C)

±(0.2 °C + 0.3 % of mv) (Remaining Range)

Resolution

0.1 °C
Temperature - TC Type T (Cu-CuNi)

Measuring range

-200 to +400 °C

Accuracy

±0.3 °C (-60 to +60 °C)

±(0.2 °C + 0.3 % of mv) (Remaining Range)

Resolution

0.1 °C
Temperature - TC Type J (Fe-CuNi)

Measuring range

-200 to +1000 °C

Accuracy

±0.3 °C (-60 to +60 °C)

±(0.2 °C + 0.3 % of mv) (Remaining Range)

Resolution

0.1 °C
Temperature - TC Type S (Pt10Rh-Pt)

Measuring range

0 to +1760 °C

Accuracy

±1 °C (0 to +1760 °C)

Resolution

1 °C
General technical data

Dimensions

220 x 74 x 46 mm

Operating temperature

-20 to +50 °C

Housing

ABS / TPE / Metal

Protection class

IP65

Standards

EN 13485

Battery type

Alkali manganese, mignon, type AA

Storage temperature

-30 to +70 °C

Weight

428 g