In Stock Testo 735-2 - Multichannel thermometer Order-Nr. 0563 7352 Brand New & very competitive price and One year Warranty
New & Original
735-2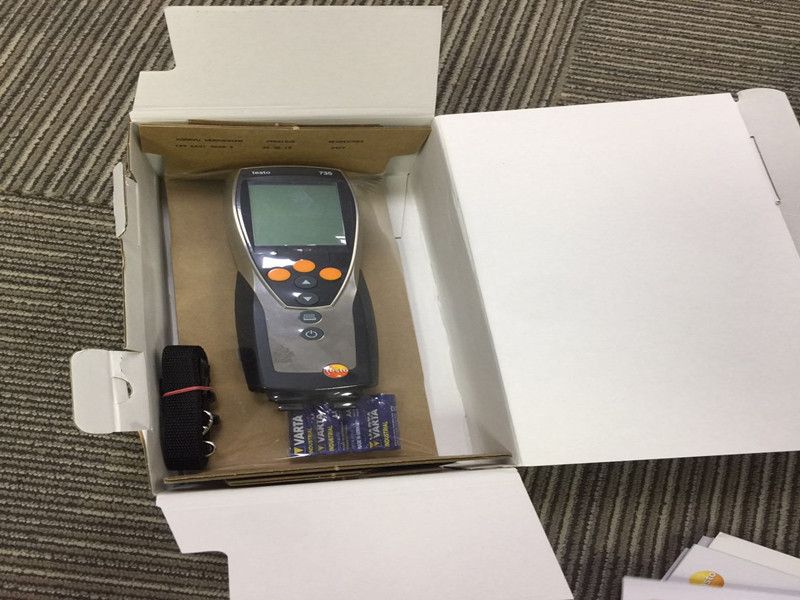 Testo 735-2 - Multichannel thermometer
Order-Nr. 0563 7352
Up to 3 connectable sensors and a further 3 temperature sensors which can be connected wirelessly to the meter

Super-size memory for up to 10 000 readings; PC software and USB cable included

Extremely accurate sensor (optional) for a system accuracy of up to 0.05 °C

Waterproof (IP65) and HACCP / EN 13485 compliant
Calibration of static temperature sensors, temperature measurements in the cosmetics industry, chemical laboratories,
the field of cooling and refrigeration technology, the food industry: the testo 735-2 multichannel thermometer can master virtually
any application thanks to a wide range of optionally available sensors, a super-size memory and wireless data transfer.
Product Description
The testo 735-2 digital multichannel thermometer is used in a wide variety of different fields. This hardly comes as a surprise really
considering it can measure the surface, air and core temperature of a whole range of media with an accuracy up to 0.05 °C using high-precision
Pt immersion/penetration sensors. And because it can be wirelessly connected to up to another three external temperature sensors,
whose readings are then transmitted to the display, what you end up getting is not a 3 but a 6-channel meter!
The testo 735-2 multichannel thermometer isn't just precise, it's practical too
The testo 735-2 can provide you with Delta T, minimum, maximum and mean values and present them on a backlit display which
makes them easier to read in dark environments and poor lighting conditions. Furthermore, it has an acoustic alarm that is triggered
when thresholds are exceeded and is not only waterproof and IP65 rated but also EN 13485 certified, HACCP compliant and HACCP International certified too.
Temperature - Pt100

Measuring range

-200 to +800 °C

Accuracy

±0.2 °C (-100 to +199.9 °C)

±0.2 % of mv (Remaining Range)

Resolution

0.05 °C
Temperature - TC Type K (NiCr-Ni)

Measuring range

-200 to +1370 °C

Accuracy

±0.3 °C (-60 to +60 °C)

±(0.2 °C + 0.3 % of mv) (Remaining Range)

Resolution

0.1 °C
Temperature - TC Type T (Cu-CuNi)

Measuring range

-200 to +400 °C

Accuracy

±0.3 °C (-60 to +60 °C)

±(0.2 °C + 0.3 % of mv) (Remaining Range)

Resolution

0.1 °C
Temperature - TC Type J (Fe-CuNi)

Measuring range

-200 to +1000 °C

Accuracy

±0.3 °C (-60 to +60 °C)

±(0.2 °C + 0.3 % of mv) (Remaining Range)

Resolution

0.1 °C
Temperature - TC Type S (Pt10Rh-Pt)

Measuring range

0 to +1760 °C

Accuracy

±1 °C (0 to +1760 °C)

Resolution

1 °C
General technical data

Dimensions

220 x 74 x 46 mm

Operating temperature

-20 to +50 °C

Product-/housing material

ABS / TPE / Metal

Protection class

IP65

Standards

EN 13485

Battery type

Alkali manganese, mignon, type AA

Storage temperature

-30 to +70 °C

Weight

428 g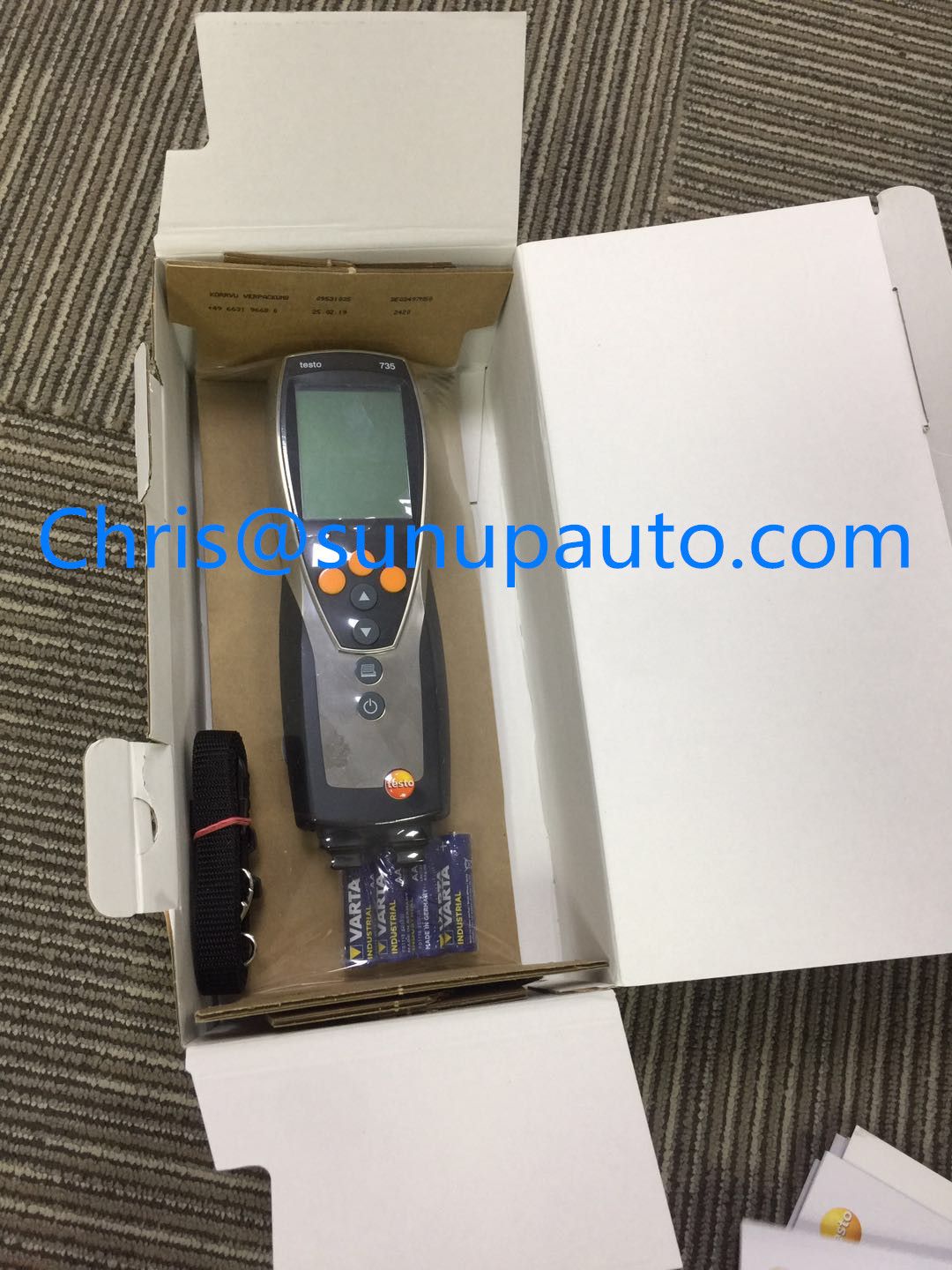 testo 830-T4 - Infrared thermometer

testo 805 i - infrared thermometer with smartphone operation
testo 826-T2 - Infrared thermometer
testo 831 - Infrared thermometer
testo 835-T1 - Infrared thermometer
testo 835-T2 - Infrared thermometer
testo 835-H1 - Infrared thermometer plus moisture measuring
testo 805 - Infrared thermometer with protective case
testo 805 - infrared thermometer
testo 830-T2 kit - Infrared thermometer
Set testo 830-T4 - Infrared thermometer
Set with testo 831 and testo 106 infrared thermometer
testo 926 - Temperature meter
Testo TopSafe protective case
testo 270 - Cooking oil tester
testo 104-IR - Food safety thermometer
testo 206-pH2 - pH meter
testo 810 - Infrared thermometer
testo Smart Probes AC & refrigeration test kit plus
testo 115i - Clamp thermometer operated via smartphone
testo 549i - High-pressure gauge operated via smartphone
testo 605i - Thermohygrometer operated via smartphone
testo 905-T2 - Surface thermometer with large measuring range
testo Mini surface thermometer
testo 925 - temperature measuring instrument
testo 110 - Temperature meter
testo 922 - Digital temperature meter
testo 735-2 - Multichannel thermometer
testo 720 - Temperature meter
testo 735-1 - Temperature measuring instrument (3-channel)
testo 112 highly accurate temperature measuring instrument - with PTB approval
testo 635-2 U-value promo set - thermohygrometer set
testo 922 Heating constructors' Promo set - Heating constructors' Promo set
testo 922 HVAC/R Set - temperature measuring instrument
Testo Pipe wrap probe with NTC temperature sensor - For measurements on pipes (? 5-65 mm)
Testo Fast-action surface probe (TC type K)
Testo Waterproof mini probe thermometer
Testo Mini penetration thermometer
testo 905-T1 - penetration thermometer (large measuring range)
testo 905 i - thermometer with smartphone operation
testo Smart Probes heating kit
Testo Mini alarm thermometer
Testo Mini penetration thermometer with extended probe shaft
testo 106 kit - Food thermometer
testo 104 - Waterproof food thermometer
testo 108 - Digital food thermometer
testo 105 - One-hand thermometer with standard measuring tip
testo 105 - One-hand thermometer with frozen goods measuring tip
testo 108-2 - Temperature measuring instrument with lockable probe
Testo Food inspection kit
testo 826-T4 - Penetration infrared thermometer
testo 103 - Penetration thermometer
Testo testoterm - Temperature strips (+71 … +110 °C)
Testo testoterm - Temperature strips (+37 °C to +65 °C)
Testo testoterm - Temperature strips (+161 … +204 °C)
testoterm - Temperature strips (+116 … +154 °C)
testoterm - Temperature strips (+204 … +260 °C)
testoterm - Measuring points (+82 °C)
testoterm - Measuring points (+71 °C)
testoterm - Measuring points (+121 °C)
testoterm - Measuring points (+65 °C)
testoterm - Measuring points (+110 °C)
testoterm - Measuring points (+77 °C)
testoterm - Mini indicators (+60 … +82 °C)
testoterm - Mini indicators (+88 … +110 °C)
testoterm - Mini indicators (+116 … +138 °C)
testoterm - Mini indicators (+143 … +166 °C)
testoterm - Mini indicators (+171 … +193 °C)
testoterm - Mini indicators (+199 … +224 °C)
testo 865 - thermal imager
testo 868 - thermal imager with App
testo 872 - thermal imager with App
testo 871 - thermal imager with App
testo 871 - smart mould kit
testo 872 - smart mould kit
testo 882 - Infrared camera
testo 875-1i - Infrared camera with SuperResolution
testo 885 - Thermal imager with one lens
testo 885 Kit - Thermal imager with two lenses
testo 875-2i - Infrared camera with SuperResolution
testo 875-2i - Thermography kit with SuperResolution
testo 885 Kit - Thermal imager with three lenses
testo 885 - Thermal imager with super-telephoto lens
testo 885 Set - Thermal imager with super-telephoto lens plus two lenses
testo 885 set - Thermal imager with super-telephoto lens and one lens
testo 885 building diagnosis kit
testo 875-2i - building diagnosis set
testo 890 - Thermal imager with one lens
testo 890 kit - Thermal imager with two lenses
testo 174 T - Mini temperature data logger
testo 175 T1 - Temperature data logger
testo 191-T1 - HACCP temperature data logger with short, rigid probe
testo 190-T1 - Temperature CFR data logger with short, rigid probe
testo 191-T2 - HACCP temperature data logger with long, rigid probe
testo 190-T2 - CFR temperature data logger with long, rigid probe
testo 191-T3 - HACCP temperature data logger with long, flexible probe
testo 190-T3 - CFR temperature data logger with long, flexible probe
testo 191-T4 - HACCP temperature data logger with two long, flexible probes
testo 190-T4 - CFR temperature data logger with two long, flexible probes
testo 184 T3 - Temperature data logger for transport monitoring
testo 174 T set - Mini data logger for temperature in a set
testo 175 T2 - Temperature data logger
testo 184 T1 - Temperature data logger for transport monitoring
testo 184 T2 - Temperature data logger for transport monitoring
testo 184 T4 - Temperature data logger for transport monitoring
testo 184 G1 - Vibration, humidity and temperature data logger for transport monitoring
testo 176 T1 - Temperature data logger
testo Saveris 2-T1 - WiFi data logger with display and integrated NTC temperature probe
testo 175 T3 - Temperature logger
testo 176 T4 - Temperature data logger
testo 176 T2 - Temperature logger
testo Saveris 2 - set for temperature monitoring in refrigerators
testo 176 T3 - Temperature data logger
testo Saveris 2-T2 - WiFi data logger with display and 2 connections for NTC temperature probes
testo Saveris 2-T3 - WiFi data logger with display and 2 connections for TC temperature probes