Brand New testo Saveris 2-T2 - WiFi data logger with display and 2 connections for NTC temperature probes Order-Nr. 0572 2032
New & Original
Saveris 2-T2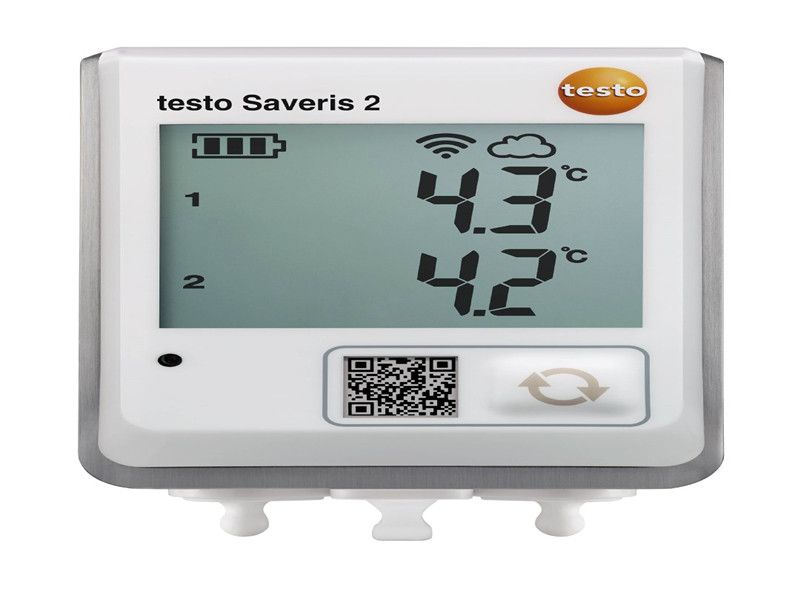 Testo Saveris 2-T2 - WiFi data logger with display and 2 connections
Order-Nr. 0572 2032
Automated door contact and temperature monitoring with connectable probes (optional).

WiFI data logger system with easy installation and operation

Call up measurement data at any time via Smartphone, tablet or PC

Limit value violation alarms by e-mail or (optionally) SMS
The WiFi data logger testo Saveris 2-T2 allows you to monitor the temperatures and door contacts in refrigerated and work- or storerooms.
The temperature values and door contacts measured with the connectable probes are reliably recorded over long periods,
and transmitted directly to the Testo Cloud (online data store) via your WiFi. You can access these readings at any time, anywhere, using your internet-enabled smartphone, tablet or PC.
Product Description
The testo Saveris 2 WiFi data logger system is the easy, versatile and reliable solution for the measurement and monitoring
of temperature and door contact values in your storage, refrigerated and work rooms. Installing the system is child's play and
can be carried out either via a browser or with the testo Saveris 2 App.


Temperature monitoring with testo Saveris 2

The temperature monitoring system consists of at least one WiFi data logger and a Cloud access (online data store).
As a component of this data logger system, the testo Saveris 2-T2 data logger with up to 2 connectable NTC temperature probes or
door contacts stores all measured temperature values and door contacts and transmits them directly by wireless LAN to the Testo Cloud.
You can use the alarm function to receive immediate warnings by e-mail or SMS (optional) when limit values are violated.
WiFi data logger: advantages and functions

Current measuring values, limit value violations and the remaining battery life can be seen in the data logger's display.
The standard batteries (AA) have a lifetime of 12 months and can be replaced at any time by users themselves.
The internal data memory of the WiFi data logger is 2 x 10,000 readings and the housing has IP65 protection. The testo Saveris 2-T2 is tested by TÜV Süd according to EN 12830.



Temperature - NTC

Measuring range

-50 to +150 °C

Accuracy

±0.3 °C

Resolution

0.1 °C
General technical data

Dimensions

95 x 75 x 30.5 mm

Operating temperature

-30 to +50 °C

Protection class

IP65

Door contact

yes

Communication rate

Dependent on Cloud licence; Basic: 15 min … 24 h / Advanced: 1 min … 24 h

WLAN Connectivity

Signal transmission: wireless; frequency band: 2.4 GHz; supported wireless LAN standards: IEEE 802.11 b/g/n and IEEE 802.1X; Possible encryption methods: without encryption, WEP, WPA, WPA2, WPA2 Enterprise - The data loggers communicate via the standard protocol MQTT and are SNTP time synchronization-capable.

Measuring rate

Dependent on Cloud licence; Basic: 15 min … 24 h / Advanced: 1 min … 24 h

Standards

DIN EN 12830

Connection external

External temperature probes

Power supply

4 x AA AlMn batteries; mains unit optional; for temperatures below -10 °C please use Energizer batteries 0515 0572

Memory

10,000 measurement values / channel

Battery life

12 months (typical value, depending on the wireless LAN infrastructure) at +25 °C, 15-minute measuring cycle and standard communication cycle at -30 °C, 15-minute measuring cycle and standard communication cycle with Energizer batteries 0515 0572

Storage temperature

-40 to +70 °C (without batteries)

Weight

240 g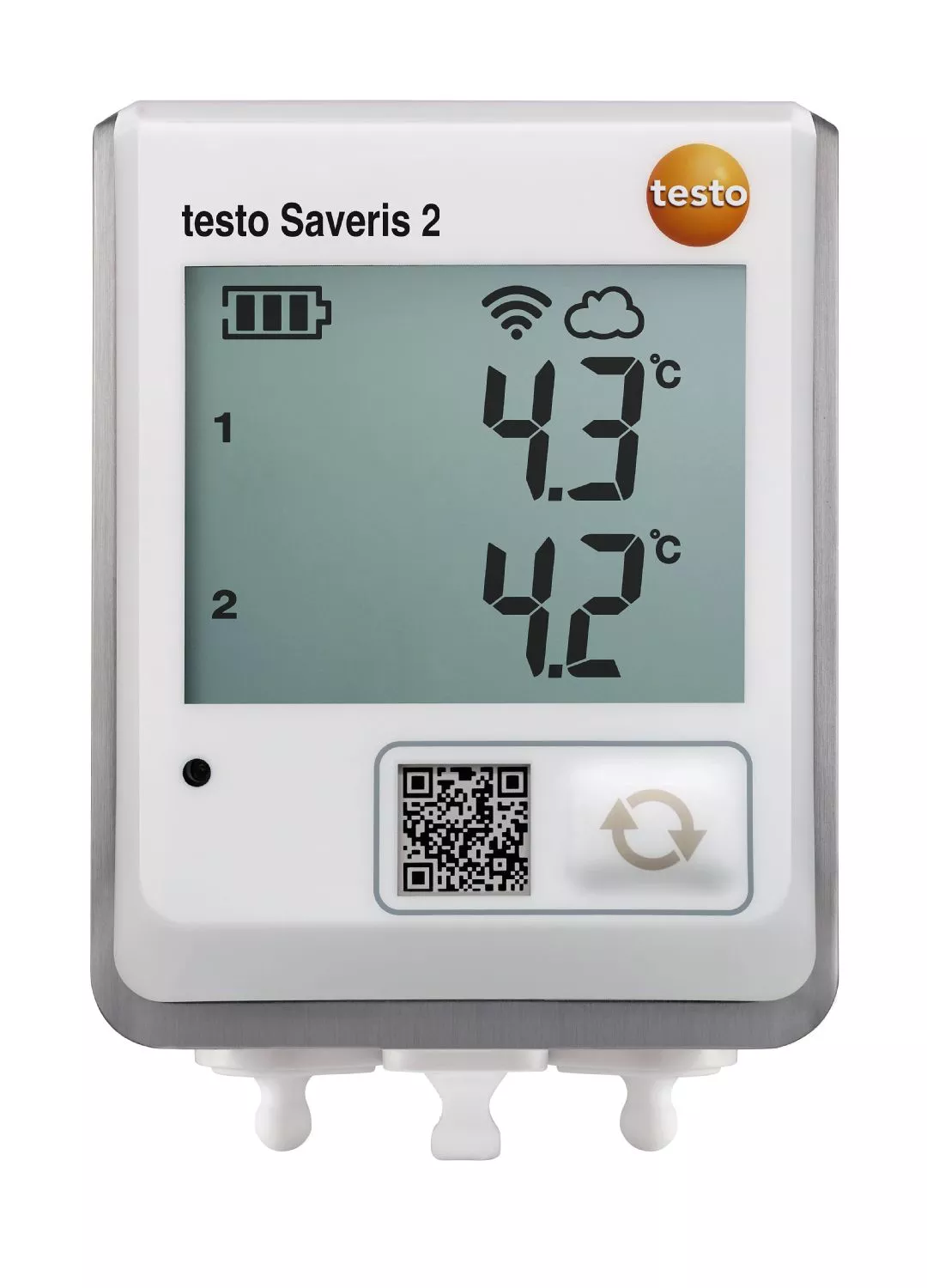 testo 830-T4 - Infrared thermometer
testo 805 i - infrared thermometer with smartphone operation
testo 826-T2 - Infrared thermometer
testo 831 - Infrared thermometer
testo 835-T1 - Infrared thermometer
testo 835-T2 - Infrared thermometer
testo 835-H1 - Infrared thermometer plus moisture measuring
testo 805 - Infrared thermometer with protective case
testo 805 - infrared thermometer
testo 830-T2 kit - Infrared thermometer
Set testo 830-T4 - Infrared thermometer
Set with testo 831 and testo 106 infrared thermometer
testo 926 - Temperature meter
Testo TopSafe protective case
testo 270 - Cooking oil tester
testo 104-IR - Food safety thermometer
testo 206-pH2 - pH meter
testo 810 - Infrared thermometer
testo Smart Probes AC & refrigeration test kit plus
testo 115i - Clamp thermometer operated via smartphone
testo 549i - High-pressure gauge operated via smartphone
testo 605i - Thermohygrometer operated via smartphone
testo 905-T2 - Surface thermometer with large measuring range
testo Mini surface thermometer
testo 925 - temperature measuring instrument
testo 110 - Temperature meter
testo 922 - Digital temperature meter
testo 735-2 - Multichannel thermometer
testo 720 - Temperature meter
testo 735-1 - Temperature measuring instrument (3-channel)
testo 112 highly accurate temperature measuring instrument - with PTB approval
testo 635-2 U-value promo set - thermohygrometer set
testo 922 Heating constructors' Promo set - Heating constructors' Promo set
testo 922 HVAC/R Set - temperature measuring instrument
Testo Pipe wrap probe with NTC temperature sensor - For measurements on pipes (? 5-65 mm)
Testo Fast-action surface probe (TC type K)
Testo Waterproof mini probe thermometer
Testo Mini penetration thermometer
testo 905-T1 - penetration thermometer (large measuring range)
testo 905 i - thermometer with smartphone operation
testo Smart Probes heating kit
Testo Mini alarm thermometer
Testo Mini penetration thermometer with extended probe shaft
testo 106 kit - Food thermometer
testo 104 - Waterproof food thermometer
testo 108 - Digital food thermometer
testo 105 - One-hand thermometer with standard measuring tip
testo 105 - One-hand thermometer with frozen goods measuring tip
testo 108-2 - Temperature measuring instrument with lockable probe
Testo Food inspection kit
testo 826-T4 - Penetration infrared thermometer
testo 103 - Penetration thermometer
Testo testoterm - Temperature strips (+71 … +110 °C)
Testo testoterm - Temperature strips (+37 °C to +65 °C)
Testo testoterm - Temperature strips (+161 … +204 °C)
testoterm - Temperature strips (+116 … +154 °C)
testoterm - Temperature strips (+204 … +260 °C)
testoterm - Measuring points (+82 °C)
testoterm - Measuring points (+71 °C)
testoterm - Measuring points (+121 °C)
testoterm - Measuring points (+65 °C)
testoterm - Measuring points (+110 °C)
testoterm - Measuring points (+77 °C)
testoterm - Mini indicators (+60 … +82 °C)
testoterm - Mini indicators (+88 … +110 °C)
testoterm - Mini indicators (+116 … +138 °C)
testoterm - Mini indicators (+143 … +166 °C)
testoterm - Mini indicators (+171 … +193 °C)
testoterm - Mini indicators (+199 … +224 °C)
testo 865 - thermal imager
testo 868 - thermal imager with App
testo 872 - thermal imager with App
testo 871 - thermal imager with App
testo 871 - smart mould kit
testo 872 - smart mould kit
testo 882 - Infrared camera
testo 875-1i - Infrared camera with SuperResolution
testo 885 - Thermal imager with one lens
testo 885 Kit - Thermal imager with two lenses
testo 875-2i - Infrared camera with SuperResolution
testo 875-2i - Thermography kit with SuperResolution
testo 885 Kit - Thermal imager with three lenses
testo 885 - Thermal imager with super-telephoto lens
testo 885 Set - Thermal imager with super-telephoto lens plus two lenses
testo 885 set - Thermal imager with super-telephoto lens and one lens
testo 885 building diagnosis kit
testo 875-2i - building diagnosis set
testo 890 - Thermal imager with one lens
testo 890 kit - Thermal imager with two lenses
testo 174 T - Mini temperature data logger
testo 175 T1 - Temperature data logger
testo 191-T1 - HACCP temperature data logger with short, rigid probe
testo 190-T1 - Temperature CFR data logger with short, rigid probe
testo 191-T2 - HACCP temperature data logger with long, rigid probe
testo 190-T2 - CFR temperature data logger with long, rigid probe
testo 191-T3 - HACCP temperature data logger with long, flexible probe
testo 190-T3 - CFR temperature data logger with long, flexible probe
testo 191-T4 - HACCP temperature data logger with two long, flexible probes
testo 190-T4 - CFR temperature data logger with two long, flexible probes
testo 184 T3 - Temperature data logger for transport monitoring
testo 174 T set - Mini data logger for temperature in a set
testo 175 T2 - Temperature data logger
testo 184 T1 - Temperature data logger for transport monitoring
testo 184 T2 - Temperature data logger for transport monitoring
testo 184 T4 - Temperature data logger for transport monitoring
testo 184 G1 - Vibration, humidity and temperature data logger for transport monitoring
testo 176 T1 - Temperature data logger
testo Saveris 2-T1 - WiFi data logger with display and integrated NTC temperature probe
testo 175 T3 - Temperature logger
testo 176 T4 - Temperature data logger
testo 176 T2 - Temperature logger
testo Saveris 2 - set for temperature monitoring in refrigerators
testo 176 T3 - Temperature data logger
testo Saveris 2-T2 - WiFi data logger with display and 2 connections for NTC temperature probes