Brand New testo 176 T3 - Temperature data logger Order-Nr. 0572 1763 Temperature measurement very competitive price
New & Original
176 T3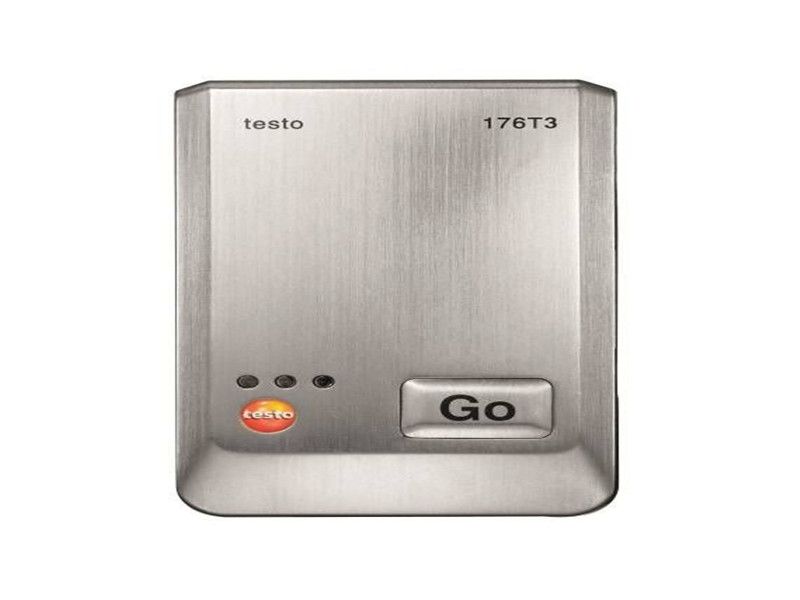 Testo 176 T3 - Temperature data logger
Order-Nr. 0572 1763
Ideal for long-term measurements: memory for up to 2 million readings, up to 8 years' battery life

Industrial standard thanks to robust metal housing and protection class IP 65

4 inputs for optional thermocouple probes (temperature probes TC Type K, Type T, Type J)

Three software versions are available for data analysis on the PC, basic software is free to download
The testo 176 T3 temperature data logger is ideal for monitoring temperature values in production processes. Its robust metal housing makes
it ideal for use in the industrial sector. With inputs for four thermocouple probes, it can measure at up to four points in parallel.
Product Description
The robust metal housing of the testo 176 T3 temperature data logger makes it suitable for use in the industrial and trade sector, e.g. for process monitoring.
You can measure the temperature at up to four points simultaneously – e.g. to measure the flow and return temperatures on radiators.
Up to four thermocouple probes can be connected to the data logger (temperature probes TC Type K, Type T or Type J).
You can select the thermocouple probes from our large probes range and order them when purchasing the data logger.
The advantage of thermocouple probes is that they react very quickly and cover a large measuring range.
For example, you can record particularly low temperatures (as low as -195 °C) using a temperature probe TC Type K – depending
on the model selected – or you can even carry out high temperature measurements (up to +1,000 °C).
This enables you to both take measurements in super freezers and also monitor high-temperature industrial processes.
The memory of the temperature data logger records up to 2 million readings and can therefore be used for long-term measurements,
eliminating the need for the data logger to be read out overly frequently.
The data logger has a battery life of up to 8 years, which also makes it a practical instrument for long-term measurements.
Temperature - TC Type K (NiCr-Ni)

Measuring range

-195 to +1000 °C

Accuracy

±1 % of mv (-195 to -100.1 °C) ±1 Digit

±0.3 °C (-100 to +70 °C) ±1 Digit

±0.5 % of mv (+70.1 to +1000 °C) ±1 Digit

Resolution

0.1 °C
Temperature - TC Type T (Cu-CuNi)

Measuring range

-200 to +400 °C

Accuracy

±1 % of mv (-200 to -100.1 °C) ±1 Digit

±0.3 °C (-100 to +70 °C) ±1 Digit

±0.5 % of mv (+70.1 to +400 °C) ±1 Digit

Resolution

0.1 °C
Temperature - TC Type J (Fe-CuNi)

Measuring range

-100 to +750 °C

Accuracy

±0.3 °C (-100 to +70 °C) ±1 Digit

±0.5 % of mv (+70.1 to +750 °C) ±1 Digit

Resolution

0.1 °C
General technical data

Weight

430 g

Dimensions

103 x 63 x 33 mm

Operating temperature

-20 to +70 °C

Product-/housing material

Plastic

Protection class

IP65

Channels

4 external

Product colour

silver

Connectable probes

4 x thermocouple (type T, K and J)

Standards

EU-guideline 2014/30/EU; 2011/65/EU

Measuring rate

1 s to 24 h; 2 s to 24 h (online measurement)

Battery type

1 x Lithium (TL-5903)

Battery life

8 years at 15 min. meas. rate, +25 °C

Interface

mini usb, SD card slot

Memory

2,000,000 measuring values

Storage temperature

-40 to +85 °C
testo 830-T4 - Infrared thermometer
testo 805 i - infrared thermometer with smartphone operation
testo 826-T2 - Infrared thermometer
testo 831 - Infrared thermometer
testo 835-T1 - Infrared thermometer
testo 835-T2 - Infrared thermometer
testo 835-H1 - Infrared thermometer plus moisture measuring
testo 805 - Infrared thermometer with protective case
testo 805 - infrared thermometer
testo 830-T2 kit - Infrared thermometer
Set testo 830-T4 - Infrared thermometer
Set with testo 831 and testo 106 infrared thermometer
testo 926 - Temperature meter
Testo TopSafe protective case
testo 270 - Cooking oil tester
testo 104-IR - Food safety thermometer
testo 206-pH2 - pH meter
testo 810 - Infrared thermometer
testo Smart Probes AC & refrigeration test kit plus
testo 115i - Clamp thermometer operated via smartphone
testo 549i - High-pressure gauge operated via smartphone
testo 605i - Thermohygrometer operated via smartphone
testo 905-T2 - Surface thermometer with large measuring range
testo Mini surface thermometer
testo 925 - temperature measuring instrument
testo 110 - Temperature meter
testo 922 - Digital temperature meter
testo 735-2 - Multichannel thermometer
testo 720 - Temperature meter
testo 735-1 - Temperature measuring instrument (3-channel)
testo 112 highly accurate temperature measuring instrument - with PTB approval
testo 635-2 U-value promo set - thermohygrometer set
testo 922 Heating constructors' Promo set - Heating constructors' Promo set
testo 922 HVAC/R Set - temperature measuring instrument
Testo Pipe wrap probe with NTC temperature sensor - For measurements on pipes (? 5-65 mm)
Testo Fast-action surface probe (TC type K)
Testo Waterproof mini probe thermometer
Testo Mini penetration thermometer
testo 905-T1 - penetration thermometer (large measuring range)
testo 905 i - thermometer with smartphone operation
testo Smart Probes heating kit
Testo Mini alarm thermometer
Testo Mini penetration thermometer with extended probe shaft
testo 106 kit - Food thermometer
testo 104 - Waterproof food thermometer
testo 108 - Digital food thermometer
testo 105 - One-hand thermometer with standard measuring tip
testo 105 - One-hand thermometer with frozen goods measuring tip
testo 108-2 - Temperature measuring instrument with lockable probe
Testo Food inspection kit
testo 826-T4 - Penetration infrared thermometer
testo 103 - Penetration thermometer
Testo testoterm - Temperature strips (+71 … +110 °C)
Testo testoterm - Temperature strips (+37 °C to +65 °C)
Testo testoterm - Temperature strips (+161 … +204 °C)
testoterm - Temperature strips (+116 … +154 °C)
testoterm - Temperature strips (+204 … +260 °C)
testoterm - Measuring points (+82 °C)
testoterm - Measuring points (+71 °C)
testoterm - Measuring points (+121 °C)
testoterm - Measuring points (+65 °C)
testoterm - Measuring points (+110 °C)
testoterm - Measuring points (+77 °C)
testoterm - Mini indicators (+60 … +82 °C)
testoterm - Mini indicators (+88 … +110 °C)
testoterm - Mini indicators (+116 … +138 °C)
testoterm - Mini indicators (+143 … +166 °C)
testoterm - Mini indicators (+171 … +193 °C)
testoterm - Mini indicators (+199 … +224 °C)
testo 865 - thermal imager
testo 868 - thermal imager with App
testo 872 - thermal imager with App
testo 871 - thermal imager with App
testo 871 - smart mould kit
testo 872 - smart mould kit
testo 882 - Infrared camera
testo 875-1i - Infrared camera with SuperResolution
testo 885 - Thermal imager with one lens
testo 885 Kit - Thermal imager with two lenses
testo 875-2i - Infrared camera with SuperResolution
testo 875-2i - Thermography kit with SuperResolution
testo 885 Kit - Thermal imager with three lenses
testo 885 - Thermal imager with super-telephoto lens
testo 885 Set - Thermal imager with super-telephoto lens plus two lenses
testo 885 set - Thermal imager with super-telephoto lens and one lens
testo 885 building diagnosis kit
testo 875-2i - building diagnosis set
testo 890 - Thermal imager with one lens
testo 890 kit - Thermal imager with two lenses
testo 174 T - Mini temperature data logger
testo 175 T1 - Temperature data logger
testo 191-T1 - HACCP temperature data logger with short, rigid probe
testo 190-T1 - Temperature CFR data logger with short, rigid probe
testo 191-T2 - HACCP temperature data logger with long, rigid probe
testo 190-T2 - CFR temperature data logger with long, rigid probe
testo 191-T3 - HACCP temperature data logger with long, flexible probe
testo 190-T3 - CFR temperature data logger with long, flexible probe
testo 191-T4 - HACCP temperature data logger with two long, flexible probes
testo 190-T4 - CFR temperature data logger with two long, flexible probes
testo 184 T3 - Temperature data logger for transport monitoring
testo 174 T set - Mini data logger for temperature in a set
testo 175 T2 - Temperature data logger
testo 184 T1 - Temperature data logger for transport monitoring
testo 184 T2 - Temperature data logger for transport monitoring
testo 184 T4 - Temperature data logger for transport monitoring
testo 184 G1 - Vibration, humidity and temperature data logger for transport monitoring
testo 176 T1 - Temperature data logger
testo Saveris 2-T1 - WiFi data logger with display and integrated NTC temperature probe
testo 175 T3 - Temperature logger
testo 176 T4 - Temperature data logger
testo 176 T2 - Temperature logger
testo Saveris 2 - set for temperature monitoring in refrigerators
testo 176 T3 - Temperature data logger