Brand New testo 176 T2 - Temperature logger Order-Nr. 0572 1762 very competitive price and One year Warranty
New & Original
176 T2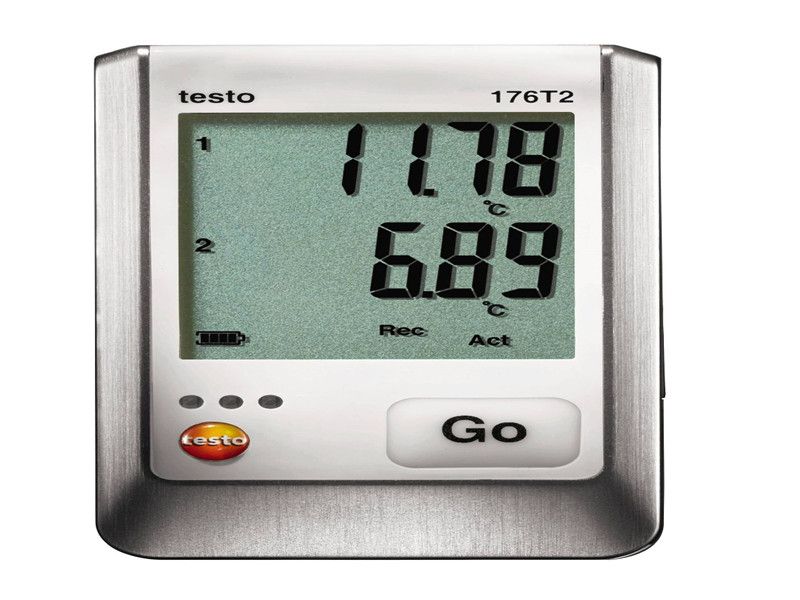 Testo 176 T2 - Temperature logger
Order-Nr. 0572 1762
Ideal for long-term measurements: memory for up to 2 million readings, up to 8 years' battery life

High-precision measurements with Pt100 probes: connections available for 2 external probes

Certified according to EN 12830, HACCP-compliant and waterproof in compliance with IP 65

Three software versions available for data management on the PC, basic software available as a free download
With its two inputs for external Pt100 probes, the testo 176 T2 temperature logger can record the temperature at two measuring points simultaneously.
This makes it possible to monitor temperature at different locations in parallel. The data logger features a large display for optimum presentation of the readings.
Product Description
The testo 176 T2 temperature logger is particularly suitable for reliable temperature monitoring on two channels.
The data logger can accommodate two Pt100 probes of your choice, which you can order from our probes range.
It is therefore possible to safely store temperature values from different measuring locations and, if required, compare them on site on the logger display.
You can carry out temperature monitoring over a longer period of time (eliminating the need for the data logger to be read out overly frequently).
The testo 176 T2 temperature logger can store up to 2 million readings. Its battery life of up to 8 years also makes it practical for long-term temperature monitoring.
Technical features and practical benefits
The logger display offers you an overview of the current readings, limit values set and limit value violations,
minimum and maximum values and also the remaining battery life. Thus, there is no need to read the data logger separately on your PC in order to quickly check it.
Data security is our top priority: you can rest assured that the measurement data stored in the temperature logger will not be lost.
Data is not lost, even when the logger's battery is spent or while you are changing it.
The temperature logger is suitable for use in the food industry: it is certified to EN 12830 (tested by the ATP test station at TÜV Süd)
and is HACCP-compliant. In compliance with protection class IP 65, the data logger is protected against water
jets and can remain at the measuring location while cleaning is carried out there.
Possible areas of application for the temperature logger
Temperature monitoring and documentation in storage facilities

Temperature monitoring and documentation in deep-freeze storage areas, for example for foodstuffs

Temperature monitoring and documentation in cold storage areas or in refrigerators, for example in pharmaceutical refrigerators

Temperature logger as a reference for calibrating another temperature logger
Programming and analysis of the data logger
Programming and reading the data logger, as well as the analysis of measurement data, requires the use of a software package. Three different software versions are available:
ComSoft Basic software – available as a free download – is ideal for fast programming of the temperature logger and easy data analysis

ComSoft Professional software – also available – offers various options for carrying out detailed analysis of the temperature values

ComSoft CFR 21 Part 11 software – also available – designed for applications in the pharmaceutical industry with its special requirements according to CFR 21 Part 11
A USB cable is required to program the data logger, and this is not included in the delivery. Measurement data can
also be transferred to the PC via the USB cable, or optionally also via an SD card. Both are available as optional accessories
Temperature - Pt100

Measuring range

-100 to +400 °C

Accuracy

±0.2 °C (-100 to +200 °C) ±1 Digit

±0.3 °C (+200.1 to +400 °C) ±1 Digit

Resolution

0.01 °C
General technical data

Weight

220 g

Dimensions

103 x 63 x 33 mm

Operating temperature

-35 to +70 °C

Product-/housing material

Plastic

Protection class

IP65

Channels

2 external

Product colour

white

Connectable probes

2 x Pt100 temperature probe

Standards

EU-guideline 2014/30/EU; 2011/65/EU; DIN EN 12830

Measuring rate

1 s to 24 h; 2 s to 24 h (online measurement)

Battery type

1 x Lithium (TL-5903)

Battery life

8 years (15 min. meas. rate, +25 °C)

Interface

mini usb, SD card slot

Memory

2,000,000 measuring values

Storage temperature

-40 to +85 °C
testo 805 i - infrared thermometer with smartphone operation
testo 826-T2 - Infrared thermometer
testo 831 - Infrared thermometer
testo 835-T1 - Infrared thermometer
testo 835-T2 - Infrared thermometer
testo 835-H1 - Infrared thermometer plus moisture measuring
testo 805 - Infrared thermometer with protective case
testo 805 - infrared thermometer
testo 830-T2 kit - Infrared thermometer
Set testo 830-T4 - Infrared thermometer
Set with testo 831 and testo 106 infrared thermometer
testo 926 - Temperature meter
Testo TopSafe protective case
testo 270 - Cooking oil tester
testo 104-IR - Food safety thermometer
testo 206-pH2 - pH meter
testo 810 - Infrared thermometer
testo Smart Probes AC & refrigeration test kit plus
testo 115i - Clamp thermometer operated via smartphone
testo 549i - High-pressure gauge operated via smartphone
testo 605i - Thermohygrometer operated via smartphone
testo 905-T2 - Surface thermometer with large measuring range
testo Mini surface thermometer
testo 925 - temperature measuring instrument
testo 110 - Temperature meter
testo 922 - Digital temperature meter
testo 735-2 - Multichannel thermometer
testo 720 - Temperature meter
testo 735-1 - Temperature measuring instrument (3-channel)
testo 112 highly accurate temperature measuring instrument - with PTB approval
testo 635-2 U-value promo set - thermohygrometer set
testo 922 Heating constructors' Promo set - Heating constructors' Promo set
testo 922 HVAC/R Set - temperature measuring instrument
Testo Pipe wrap probe with NTC temperature sensor - For measurements on pipes (? 5-65 mm)
Testo Fast-action surface probe (TC type K)
Testo Waterproof mini probe thermometer
Testo Mini penetration thermometer
testo 905-T1 - penetration thermometer (large measuring range)
testo 905 i - thermometer with smartphone operation
testo Smart Probes heating kit
Testo Mini alarm thermometer
Testo Mini penetration thermometer with extended probe shaft
testo 106 kit - Food thermometer
testo 104 - Waterproof food thermometer
testo 108 - Digital food thermometer
testo 105 - One-hand thermometer with standard measuring tip
testo 105 - One-hand thermometer with frozen goods measuring tip
testo 108-2 - Temperature measuring instrument with lockable probe
Testo Food inspection kit
testo 826-T4 - Penetration infrared thermometer
testo 103 - Penetration thermometer
Testo testoterm - Temperature strips (+71 … +110 °C)
Testo testoterm - Temperature strips (+37 °C to +65 °C)
Testo testoterm - Temperature strips (+161 … +204 °C)
testoterm - Temperature strips (+116 … +154 °C)
testoterm - Temperature strips (+204 … +260 °C)
testoterm - Measuring points (+82 °C)
testoterm - Measuring points (+71 °C)
testoterm - Measuring points (+121 °C)
testoterm - Measuring points (+65 °C)
testoterm - Measuring points (+110 °C)
testoterm - Measuring points (+77 °C)
testoterm - Mini indicators (+60 … +82 °C)
testoterm - Mini indicators (+88 … +110 °C)
testoterm - Mini indicators (+116 … +138 °C)
testoterm - Mini indicators (+143 … +166 °C)
testoterm - Mini indicators (+171 … +193 °C)
testoterm - Mini indicators (+199 … +224 °C)
testo 865 - thermal imager
testo 868 - thermal imager with App
testo 872 - thermal imager with App
testo 871 - thermal imager with App
testo 871 - smart mould kit
testo 872 - smart mould kit
testo 882 - Infrared camera
testo 875-1i - Infrared camera with SuperResolution
testo 885 - Thermal imager with one lens
testo 885 Kit - Thermal imager with two lenses
testo 875-2i - Infrared camera with SuperResolution
testo 875-2i - Thermography kit with SuperResolution
testo 885 Kit - Thermal imager with three lenses
testo 885 - Thermal imager with super-telephoto lens
testo 885 Set - Thermal imager with super-telephoto lens plus two lenses
testo 885 set - Thermal imager with super-telephoto lens and one lens
testo 885 building diagnosis kit
testo 875-2i - building diagnosis set
testo 890 - Thermal imager with one lens
testo 890 kit - Thermal imager with two lenses
testo 174 T - Mini temperature data logger
testo 175 T1 - Temperature data logger
testo 191-T1 - HACCP temperature data logger with short, rigid probe
testo 190-T1 - Temperature CFR data logger with short, rigid probe
testo 191-T2 - HACCP temperature data logger with long, rigid probe
testo 190-T2 - CFR temperature data logger with long, rigid probe
testo 191-T3 - HACCP temperature data logger with long, flexible probe
testo 190-T3 - CFR temperature data logger with long, flexible probe
testo 191-T4 - HACCP temperature data logger with two long, flexible probes
testo 190-T4 - CFR temperature data logger with two long, flexible probes
testo 184 T3 - Temperature data logger for transport monitoring
testo 174 T set - Mini data logger for temperature in a set
testo 175 T2 - Temperature data logger
testo 184 T1 - Temperature data logger for transport monitoring
testo 184 T2 - Temperature data logger for transport monitoring
testo 184 T4 - Temperature data logger for transport monitoring
testo 184 G1 - Vibration, humidity and temperature data logger for transport monitoring
testo 176 T1 - Temperature data logger
testo Saveris 2-T1 - WiFi data logger with display and integrated NTC temperature probe
testo 175 T3 - Temperature logger
testo 176 T4 - Temperature data logger
testo 176 T2 - Temperature logger