Brand New Testo 184 T4 - Temperature data logger for transport monitoring Order-Nr. 0572 1844 very competitive price
New & Original
184 T4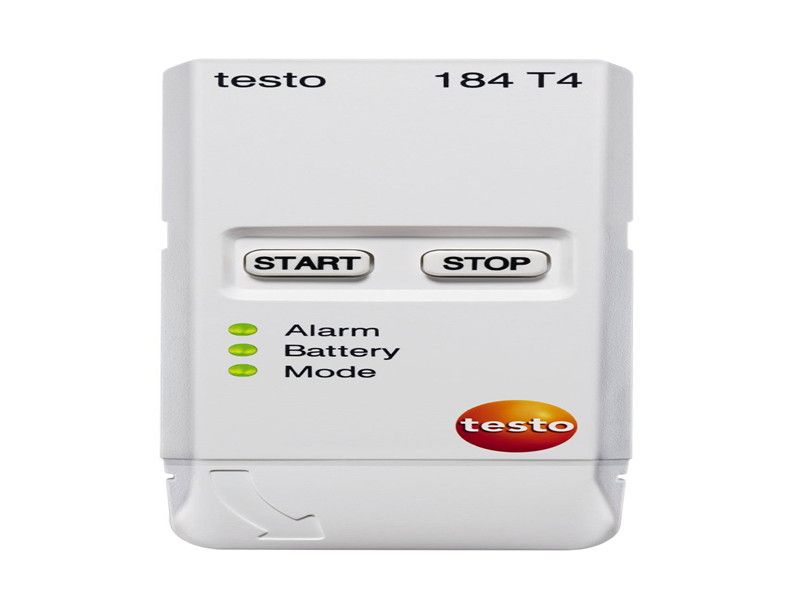 Testo 184 T4 - Temperature data logger for transport monitoring
Order-Nr. 0572 1844
Unlimited operating time

Application up to -80 °C for transport with dry ice

All in one temperature data logger: PDF measurement data, configuration file, acceptance test certificate 3.1 according to DIN ISO 10204 and instruction manual


Transport monitoring with documentation: Immediate creation of a PDF report directly after connection to a computer
With the testo 184 T4 temperature data logger, you can now monitor the transport of pharmaceuticals with dry ice both safely and conveniently.
A start and stop button means the temperature data logger guarantees really easy operation for data recording.
At the destination, a glance at the LEDs tells you whether the configured limit values have been adhered to during transport.
Product Description
Under normal conditions, the sublimation of dry ice takes place at -78.48 °C. With the temperature data loggers testo 184 t4,
you can monitor the transport of pharmaceuticals with dry ice over an unlimited period of time and up to -80 °C. More info on applications (link to tab Applications)

At their destination, a glance at the LEDs tells you whether the configured limit values have been adhered to.
In order to obtain detailed information, it is sufficient to connect the logger to a PC – a PDF report is immediately generated with
all relevant data. In order for you to be able to work even more efficiently and conveniently with the data loggers,
all required files and information are stored directly and securely in the testo 184 T4: Configuration file,
acceptance test certificate 3.1 according to DIN ISO 10204, instruction manual and PDF report of your recorded data.

The measurement value store of the temperature data logger testo 184 T4 has a capacity of 40000 measurement values.
The measurement rate is freely selectable from 1 min to 24 h. The battery has a life of 100 days (at -80 °C and 15 mins measurement rate).
The temperature data logger testo 184 T4 is supplied by a standard battery which can be exchanged by the user.

testo 184 T4 is compliant with GxP, 21 CFR Part 11, HACCP and EN 12830. Testo is an ISO 9001-certified company,
and ensures the adherence to the norms through internal audits as well as accredited external audits.


All advantages at a glance:
1. Clear alarm indication
A glance at the the LEDs is enough to know whether limit values have been violated during transport.
2. Easiest operationtesto 184 T4 is intuitively operated, and can be used without special training or previous knowledge: The "Start" button begins data recording. "Stop" ends it.
3. Easiest configuration
In each testo 184 T4, a configuration file is stored, with which the configuration of the testo 184 T4 is childsplay – no download, no installation, no user interface and no additional costs.
4. Convenient readoutA PDF report with the transport data is created immediately on connection of the
testo 184 T4 data logger to the USB interface of a computer. This is suitable for long-term archiving according to PDF/A standard.
5. Mobile readout/printout on site
All testo 184 T4 data loggers can be read out on site with an NFC-capable Android smartphone.
Data transfer from the data logger to a compatible Testo fast printer (option) also functions wirelessly via NFC.
6. IT-safe
The testo 184 T4 data loggers work securely without software installation or download, so that IT problems are triggered neither by the firewall nor the virus scanner.
Temperature - Pt1000

Measuring range

-80 to +70 °C

Accuracy

±0.8 °C (-80 to -35.1 °C)

±0.5 °C (-35 to +70 °C)

Resolution

0.1 °C

Reaction time

= 30 min

Measuring rate

1 min to 24 h
General technical data

Weight

44 g

Dimensions

97 x 12 x 40 mm (LxWxH)

Operating temperature

-80 to +70 °C

Product-/housing material

ABS

Protection class

IP67

System requirements

Adobe® Acrobat Reader

Product colour

white

Standards

EN 12830; CE 2014/30/EU; DIN EN 50581:2013; DIN EN 61326-1:2013; CFR 21 Part 11 (in use with testo ComSoft CFR-Software)

Certificate type

Certified by HACCP International

Channels

1 internal

Operating time

unlimited

Authorizations

CE; RTCA/DO-160G

Alarm function

via LED

Battery type

Lithium battery TLH-2450, 3V, exchangeable

Battery life

100 days (at 15 mins measurement rate)

Interface

USB; NFC

Memory

40,000 measuring values

Storage temperature

-80 to +70 °C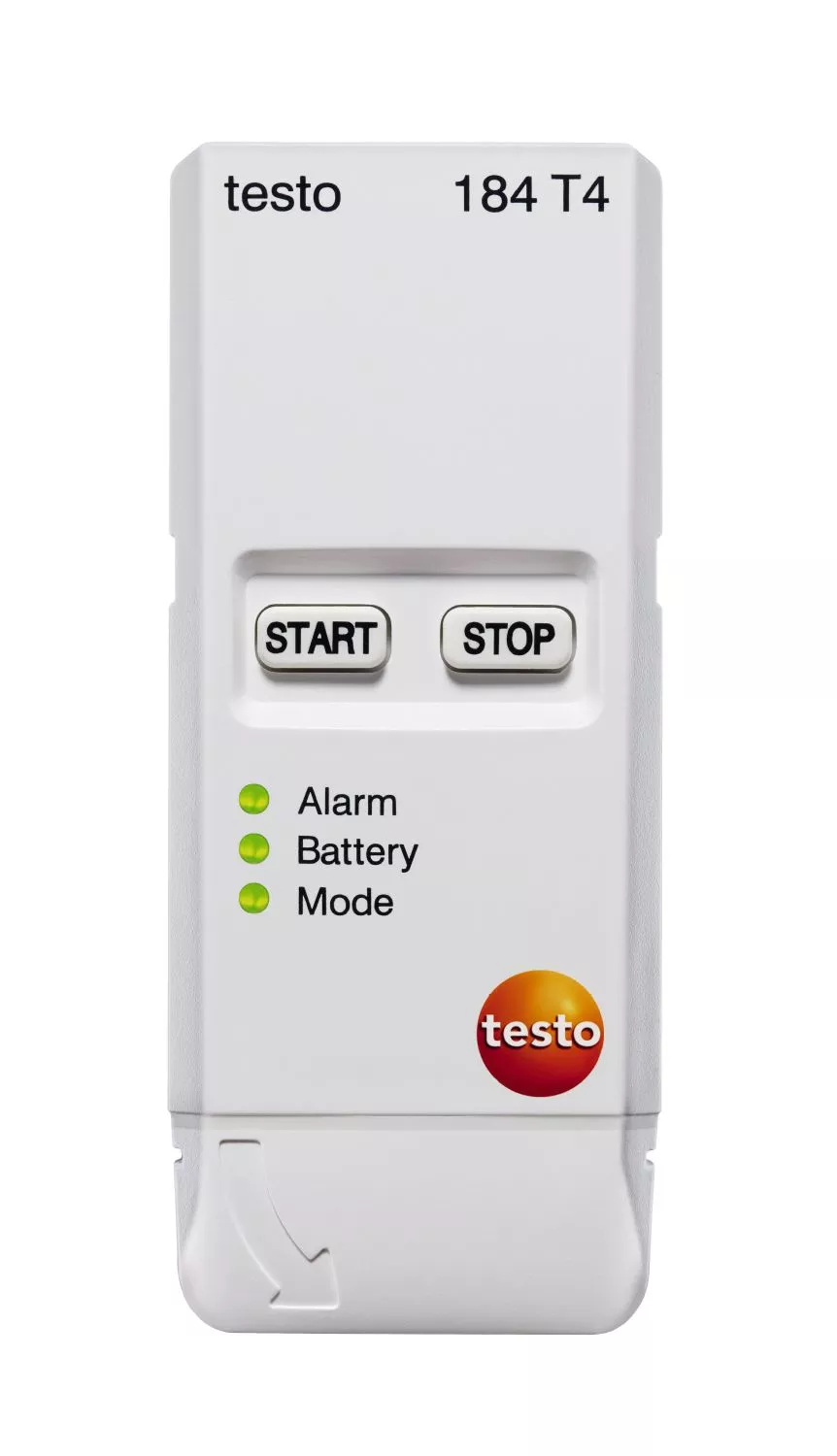 testo 830-T4 - Infrared thermometer
testo 805 i - infrared thermometer with smartphone operation
testo 826-T2 - Infrared thermometer
testo 831 - Infrared thermometer
testo 835-T1 - Infrared thermometer
testo 835-T2 - Infrared thermometer
testo 835-H1 - Infrared thermometer plus moisture measuring
testo 805 - Infrared thermometer with protective case
testo 805 - infrared thermometer
testo 830-T2 kit - Infrared thermometer
Set testo 830-T4 - Infrared thermometer
Set with testo 831 and testo 106 infrared thermometer
testo 926 - Temperature meter
Testo TopSafe protective case
testo 270 - Cooking oil tester
testo 104-IR - Food safety thermometer
testo 206-pH2 - pH meter
testo 810 - Infrared thermometer
testo Smart Probes AC & refrigeration test kit plus
testo 115i - Clamp thermometer operated via smartphone
testo 549i - High-pressure gauge operated via smartphone
testo 605i - Thermohygrometer operated via smartphone
testo 905-T2 - Surface thermometer with large measuring range
testo Mini surface thermometer
testo 925 - temperature measuring instrument
testo 110 - Temperature meter
testo 922 - Digital temperature meter
testo 735-2 - Multichannel thermometer
testo 720 - Temperature meter
testo 735-1 - Temperature measuring instrument (3-channel)
testo 112 highly accurate temperature measuring instrument - with PTB approval
testo 635-2 U-value promo set - thermohygrometer set
testo 922 Heating constructors' Promo set - Heating constructors' Promo set
testo 922 HVAC/R Set - temperature measuring instrument
Testo Pipe wrap probe with NTC temperature sensor - For measurements on pipes (? 5-65 mm)
Testo Fast-action surface probe (TC type K)
Testo Waterproof mini probe thermometer
Testo Mini penetration thermometer
testo 905-T1 - penetration thermometer (large measuring range)
testo 905 i - thermometer with smartphone operation
testo Smart Probes heating kit
Testo Mini alarm thermometer
Testo Mini penetration thermometer with extended probe shaft
testo 106 kit - Food thermometer
testo 104 - Waterproof food thermometer
testo 108 - Digital food thermometer
testo 105 - One-hand thermometer with standard measuring tip
testo 105 - One-hand thermometer with frozen goods measuring tip
testo 108-2 - Temperature measuring instrument with lockable probe
Testo Food inspection kit
testo 826-T4 - Penetration infrared thermometer
testo 103 - Penetration thermometer
Testo testoterm - Temperature strips (+71 … +110 °C)
Testo testoterm - Temperature strips (+37 °C to +65 °C)
Testo testoterm - Temperature strips (+161 … +204 °C)
testoterm - Temperature strips (+116 … +154 °C)
testoterm - Temperature strips (+204 … +260 °C)
testoterm - Measuring points (+82 °C)
testoterm - Measuring points (+71 °C)
testoterm - Measuring points (+121 °C)
testoterm - Measuring points (+65 °C)
testoterm - Measuring points (+110 °C)
testoterm - Measuring points (+77 °C)
testoterm - Mini indicators (+60 … +82 °C)
testoterm - Mini indicators (+88 … +110 °C)
testoterm - Mini indicators (+116 … +138 °C)
testoterm - Mini indicators (+143 … +166 °C)
testoterm - Mini indicators (+171 … +193 °C)
testoterm - Mini indicators (+199 … +224 °C)
testo 865 - thermal imager
testo 868 - thermal imager with App
testo 872 - thermal imager with App
testo 871 - thermal imager with App
testo 871 - smart mould kit
testo 872 - smart mould kit
testo 882 - Infrared camera
testo 875-1i - Infrared camera with SuperResolution
testo 885 - Thermal imager with one lens
testo 885 Kit - Thermal imager with two lenses
testo 875-2i - Infrared camera with SuperResolution
testo 875-2i - Thermography kit with SuperResolution
testo 885 Kit - Thermal imager with three lenses
testo 885 - Thermal imager with super-telephoto lens
testo 885 Set - Thermal imager with super-telephoto lens plus two lenses
testo 885 set - Thermal imager with super-telephoto lens and one lens
testo 885 building diagnosis kit
testo 875-2i - building diagnosis set
testo 890 - Thermal imager with one lens
testo 890 kit - Thermal imager with two lenses
testo 174 T - Mini temperature data logger
testo 175 T1 - Temperature data logger
testo 191-T1 - HACCP temperature data logger with short, rigid probe
testo 190-T1 - Temperature CFR data logger with short, rigid probe
testo 191-T2 - HACCP temperature data logger with long, rigid probe
testo 190-T2 - CFR temperature data logger with long, rigid probe
testo 191-T3 - HACCP temperature data logger with long, flexible probe
testo 190-T3 - CFR temperature data logger with long, flexible probe
testo 191-T4 - HACCP temperature data logger with two long, flexible probes
testo 190-T4 - CFR temperature data logger with two long, flexible probes
testo 184 T3 - Temperature data logger for transport monitoring
testo 174 T set - Mini data logger for temperature in a set
testo 175 T2 - Temperature data logger
testo 184 T1 - Temperature data logger for transport monitoring
testo 184 T2 - Temperature data logger for transport monitoring
testo 184 T4 - Temperature data logger for transport monitoring