Brand New testo 175 T2 - Temperature data logger Order-Nr. 0572 1752 Temperature measurement very competitive price
New & Original
175 T2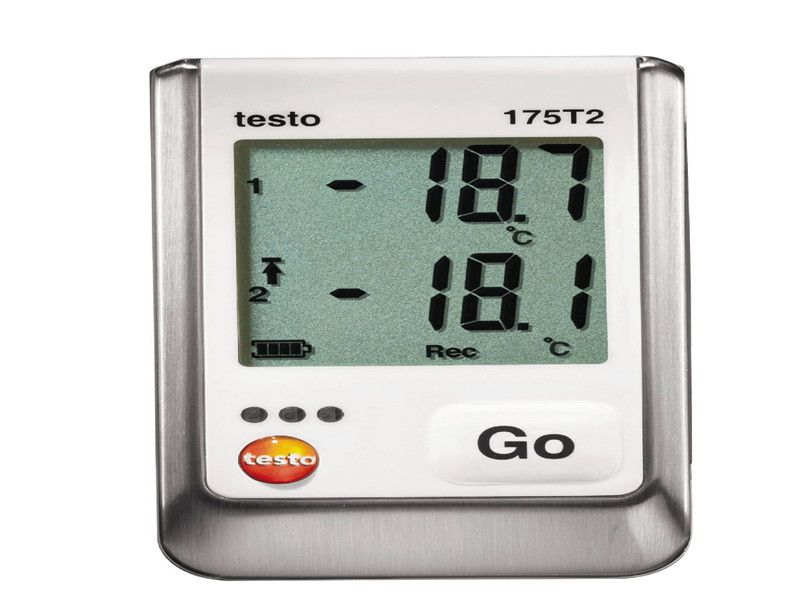 Testo 175 T2 - Temperature data logger
Order-Nr. 0572 1752
Ideal for long-term measurements: 1 million readings can be stored, battery life of up to 3 years

Including wall bracket

HACCP-compliant, EN 12830 certified, protection class IP 65

Data analysis: three different software versions available, basic software free of charge
The testo 175 T2 temperature data logger is ideally suited if you want to use one instrument to monitor air temperature
and to record additional temperature values (e.g. core temperature) on a second channel at the same time. In particular,
it is the perfect solution for parallel temperature control of the ambient conditions and the goods themselves when storing food.
Product Description
The testo 175 T2 temperature data logger has an internal sensor and a connection for an external temperature probe.
This means it is ideally suited for use when you do not just want to record the indoor air temperature,
but also want to carry out another temperature check (e.g. a core temperature spot check).
This is practical when storing and processing food, amongst other things: measure the ambient conditions of your goods
in storage areas and cold stores and at the same time check the temperature level of the goods themselves –
for example with a penetration probe (optional). Temperature control in the gaps in the packages is also possible.
The measurement results from both channels are securely stored in your temperature data logger.
State-of-the-art measuring technology, high level of data security
The temperature probe, which is securely fitted into the data logger, is an NTC sensor with a high level of measuring accuracy (±0.5 °C).
The internal temperature probe's measuring range goes from -35 °C to +55 °C.
This means the temperature data logger can also easily be used in cold stores or deep-freeze rooms.
The accuracy and measuring range of the NTC probe, which is an optional attachment, depend on the probe model selected.
For example, measurements in higher temperature ranges (up to +120 °C) are also possible with the appropriate temperature probe.
You can read the current measuring values, min./max. values, set limit values, violations of limit values and
remaining battery life on the temperature data logger's clear display. This means you can check the most important data at any time,
without having to read out the temperature data logger on the PC. Less frequent read-out of the data logger is also required for shorter measuring cycles.
This is due to its large memory for up to 1 million readings and the battery life of up to 3 years.
Users can replace the standard batteries (AAA) themselves at any time.
You can rely on a high level of data security when using the testo 175 T2 temperature data logger.
Saved measurement data will not be lost even when the battery is empty or being replaced.
Programming and analysis with the temperature data logger
You need software for programming and reading your temperature data logger and analyzing measurement data on the PC. We offer three different software versions for you to choose from:
ComSoft Basic software – available as a free download – enables fast programming of the data logger and easy measurement data analysis

ComSoft Professional software – available as an option – offers a variety of possibilities for detailed analysis of measurement results

ComSoft CFR 21 Part 11 software – available as an option – can be used for special requirements according to CFR 21 Part 11 in the pharmaceutical sector
Tested and certified for use in the food sector
Tested according to EN 12830 (testing by the TÜV Süd [German Technical Safety Standards Authority] ATP test station)

HACCP-compliant and international HACCP certification

Water spray and jet protection according to protection class IP 65: this means the temperature data logger can stay in the measuring location, even when the warehouses, cold stores, etc. are being cleaned
Technical Data :
Temperature - NTC

Measuring range

-35 to +55 °C internal

-40 to +120 °C external

Accuracy

internal: ±0.5 °C (-35 to +55 °C) ±1 Digit

external: ±0.3 °C (-40 to +120 °C) ±1 Digit

Resolution

0.1 °C
General technical data

Weight

160 g

Dimensions

89 x 53 x 27 mm

Operating temperature

-35 to +55 °C

Product-/housing material

Plastic

Protection class

IP65

Channels

1 internal; 1 external

Product colour

white

Standards

EU-guideline 2014/30/EU; 2011/65/EU; DIN EN 12830

Measuring rate

10 s - 24 h

Battery type

3 x AIMn type AAA or Energizer

Battery life

3 years (15 min. meas. rate, +25 °C)

Interface

mini usb, SD card slot

Memory

1,000,000 measuring values

Storage temperature

-35 to +55 °C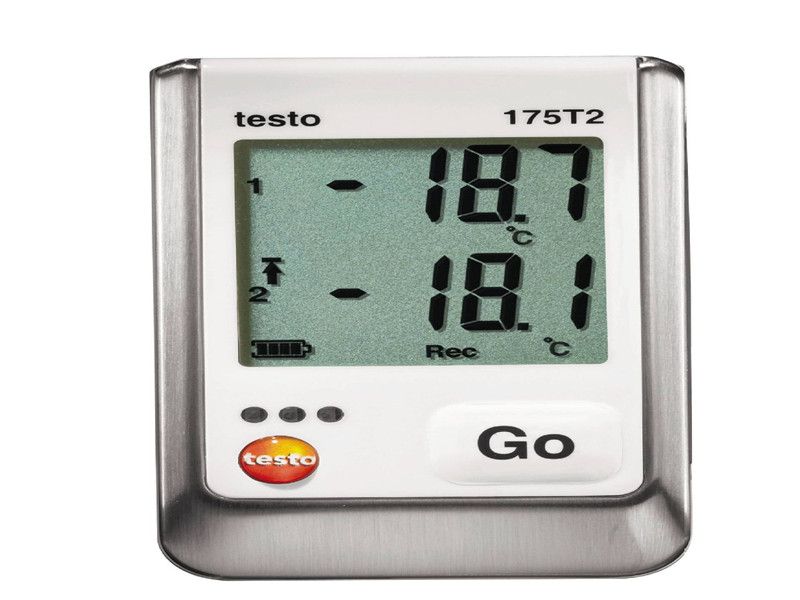 testo 830-T4 - Infrared thermometer
testo 805 i - infrared thermometer with smartphone operation
testo 826-T2 - Infrared thermometer
testo 831 - Infrared thermometer
testo 835-T1 - Infrared thermometer
testo 835-T2 - Infrared thermometer
testo 835-H1 - Infrared thermometer plus moisture measuring
testo 805 - Infrared thermometer with protective case
testo 805 - infrared thermometer
testo 830-T2 kit - Infrared thermometer
Set testo 830-T4 - Infrared thermometer
Set with testo 831 and testo 106 infrared thermometer
testo 926 - Temperature meter
Testo TopSafe protective case
testo 270 - Cooking oil tester
testo 104-IR - Food safety thermometer
testo 206-pH2 - pH meter
testo 810 - Infrared thermometer
testo Smart Probes AC & refrigeration test kit plus
testo 115i - Clamp thermometer operated via smartphone
testo 549i - High-pressure gauge operated via smartphone
testo 605i - Thermohygrometer operated via smartphone
testo 905-T2 - Surface thermometer with large measuring range
testo Mini surface thermometer
testo 925 - temperature measuring instrument
testo 110 - Temperature meter
testo 922 - Digital temperature meter
testo 735-2 - Multichannel thermometer
testo 720 - Temperature meter
testo 735-1 - Temperature measuring instrument (3-channel)
testo 112 highly accurate temperature measuring instrument - with PTB approval
testo 635-2 U-value promo set - thermohygrometer set
testo 922 Heating constructors' Promo set - Heating constructors' Promo set
testo 922 HVAC/R Set - temperature measuring instrument
Testo Pipe wrap probe with NTC temperature sensor - For measurements on pipes (? 5-65 mm)
Testo Fast-action surface probe (TC type K)
Testo Waterproof mini probe thermometer
Testo Mini penetration thermometer
testo 905-T1 - penetration thermometer (large measuring range)
testo 905 i - thermometer with smartphone operation
testo Smart Probes heating kit
Testo Mini alarm thermometer
Testo Mini penetration thermometer with extended probe shaft
testo 106 kit - Food thermometer
testo 104 - Waterproof food thermometer
testo 108 - Digital food thermometer
testo 105 - One-hand thermometer with standard measuring tip
testo 105 - One-hand thermometer with frozen goods measuring tip
testo 108-2 - Temperature measuring instrument with lockable probe
Testo Food inspection kit
testo 826-T4 - Penetration infrared thermometer
testo 103 - Penetration thermometer
Testo testoterm - Temperature strips (+71 … +110 °C)
Testo testoterm - Temperature strips (+37 °C to +65 °C)
Testo testoterm - Temperature strips (+161 … +204 °C)
testoterm - Temperature strips (+116 … +154 °C)
testoterm - Temperature strips (+204 … +260 °C)
testoterm - Measuring points (+82 °C)
testoterm - Measuring points (+71 °C)
testoterm - Measuring points (+121 °C)
testoterm - Measuring points (+65 °C)
testoterm - Measuring points (+110 °C)
testoterm - Measuring points (+77 °C)
testoterm - Mini indicators (+60 … +82 °C)
testoterm - Mini indicators (+88 … +110 °C)
testoterm - Mini indicators (+116 … +138 °C)
testoterm - Mini indicators (+143 … +166 °C)
testoterm - Mini indicators (+171 … +193 °C)
testoterm - Mini indicators (+199 … +224 °C)
testo 865 - thermal imager
testo 868 - thermal imager with App
testo 872 - thermal imager with App
testo 871 - thermal imager with App
testo 871 - smart mould kit
testo 872 - smart mould kit
testo 882 - Infrared camera
testo 875-1i - Infrared camera with SuperResolution
testo 885 - Thermal imager with one lens
testo 885 Kit - Thermal imager with two lenses
testo 875-2i - Infrared camera with SuperResolution
testo 875-2i - Thermography kit with SuperResolution
testo 885 Kit - Thermal imager with three lenses
testo 885 - Thermal imager with super-telephoto lens
testo 885 Set - Thermal imager with super-telephoto lens plus two lenses
testo 885 set - Thermal imager with super-telephoto lens and one lens
testo 885 building diagnosis kit
testo 875-2i - building diagnosis set
testo 890 - Thermal imager with one lens
testo 890 kit - Thermal imager with two lenses
testo 174 T - Mini temperature data logger
testo 175 T1 - Temperature data logger
testo 191-T1 - HACCP temperature data logger with short, rigid probe
testo 190-T1 - Temperature CFR data logger with short, rigid probe
testo 191-T2 - HACCP temperature data logger with long, rigid probe
testo 190-T2 - CFR temperature data logger with long, rigid probe
testo 191-T3 - HACCP temperature data logger with long, flexible probe
testo 190-T3 - CFR temperature data logger with long, flexible probe
testo 191-T4 - HACCP temperature data logger with two long, flexible probes
testo 190-T4 - CFR temperature data logger with two long, flexible probes
testo 184 T3 - Temperature data logger for transport monitoring
testo 174 T set - Mini data logger for temperature in a set
testo 175 T2 - Temperature data logger