In Stock Testo 875-2i - Thermography kit with SuperResolution Order-Nr. 0563 0875 V3 Brand New with Very Competitive Price
New & Original
875-2i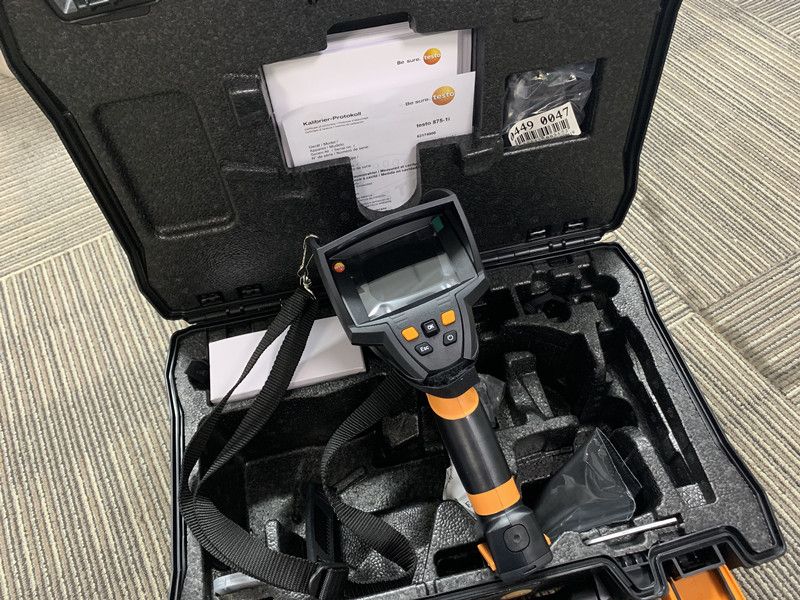 Testo 875-2i - Thermography kit with SuperResolution
Order-Nr. 0563 0875 V3
testo 875-2i professional thermal imaging camera: thermal sensitivity < 50 mK, built-in digital camera with power LEDs,

optional moisture measurements possible

9° x 7° telelens for the precise tracking of objects included in set

Extensive range of accessories included: rugged case, additional battery, quick charger, SD card, shoulder strap, lens cloth and much, much more

All the accessories you need just an arm's length away
Get your testo 875-2i professional thermal imaging camera and telelens set now and the accessories you need are only an arm's length away!
Product Description
Get your practical testo 875-2i thermography set including a 9° x 7° telelens and a wide range of accessories
now to make sure that you always have your professional equipment with you when and where you need it!

The testo 875-2i thermal imaging camera is a trusty partner for a wide range of thermography applications.
It can be used in industry to carry out non-destructive checks on different materials and components in order to
expose any weak points which could
otherwise cause major problems or breakdowns, or constitute a fire hazard. The testo 875-2i can also be used in building
thermography to locate leaks in the roof or walls and windows.
This helps your customers to save energy and save on fuel bills and also helps them to decide what
type of renovation work they may need to carry out.
testo 875-2i thermography kit – technical features
testo 875-2i thermal imaging camera:
Resolution and image quality: detector size 160 x 120 pixels = 19 200 temperature measuring points,

SuperResolution technology enhances image quality to 320 x 240 pixels

Thermal sensitivity: < 50 mK

Built-in digital camera with power LEDs: real time recording parallel to each thermal image – built-in power

LEDs guarantee optimal illumination in dark areas

Automatic hot and cold spot tracking

Solar mode: enter and save sunlight value for each thermal image

Special measuring mode to determine where the risk of mold is especially high by entering the

surrounding temperature and relative humidity,

which you have previously measured using your testo 625 thermohygrometer for example.

The testo 875-2i measures the surface temperature, calculates the moisture value and presents the results as a moisture image on the display

Optional: moisture measurements with additional wireless moisture sensors possible

Optional: Measuring range can be extended for high temperatures up to 550°C

Interchangeable lens

Voice annotations via headset

Intuitive, easy operation
9° x 7° telelens:
Telelens part of testo 875-2i set (in addition to standard lens)

Allows you to measure distant objects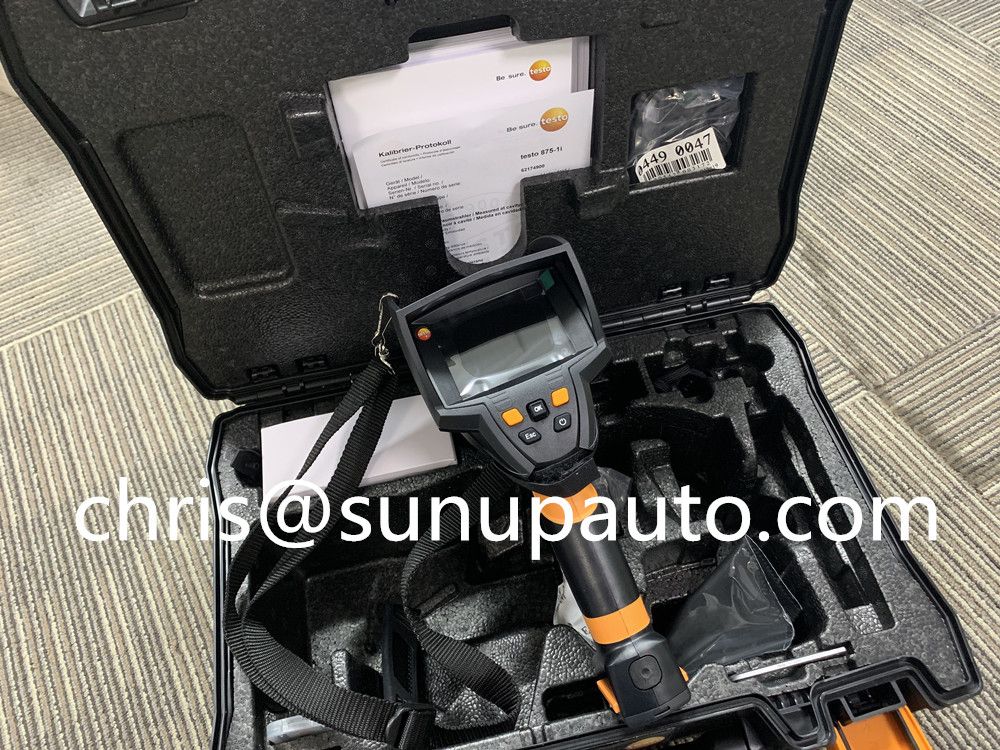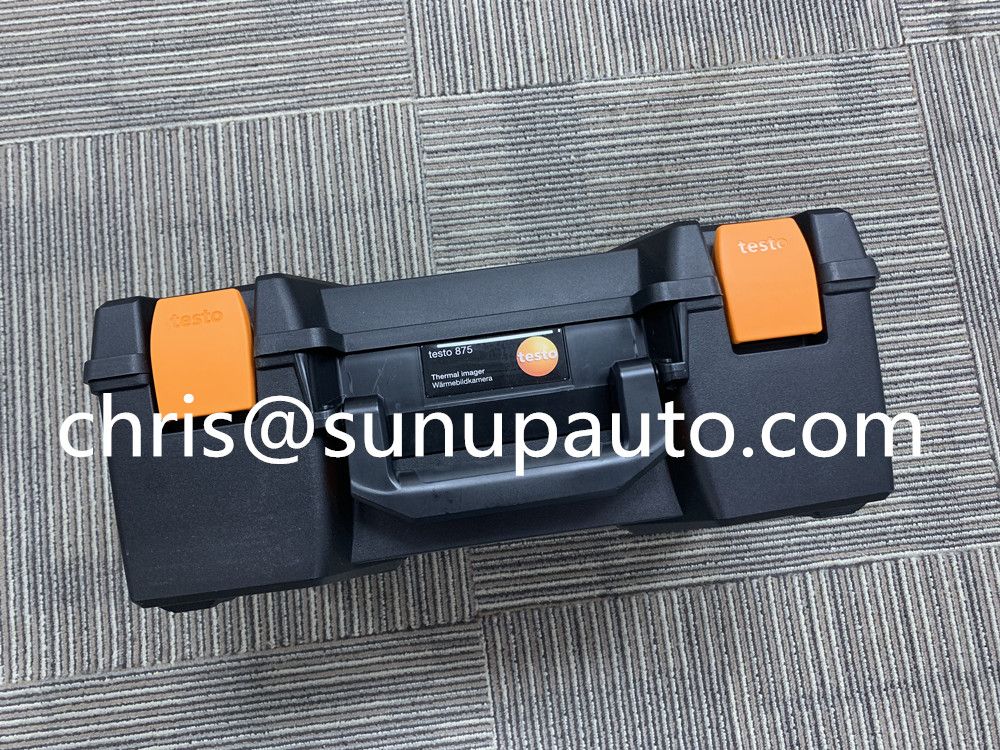 testo 830-T4 - Infrared thermometer
testo 805 i - infrared thermometer with smartphone operation
testo 826-T2 - Infrared thermometer
testo 831 - Infrared thermometer
testo 835-T1 - Infrared thermometer
testo 835-T2 - Infrared thermometer
testo 835-H1 - Infrared thermometer plus moisture measuring
testo 805 - Infrared thermometer with protective case
testo 805 - infrared thermometer
testo 830-T2 kit - Infrared thermometer
Set testo 830-T4 - Infrared thermometer
Set with testo 831 and testo 106 infrared thermometer
testo 926 - Temperature meter
Testo TopSafe protective case
testo 270 - Cooking oil tester
testo 104-IR - Food safety thermometer
testo 206-pH2 - pH meter
testo 810 - Infrared thermometer
testo Smart Probes AC & refrigeration test kit plus
testo 115i - Clamp thermometer operated via smartphone
testo 549i - High-pressure gauge operated via smartphone
testo 605i - Thermohygrometer operated via smartphone
testo 905-T2 - Surface thermometer with large measuring range
testo Mini surface thermometer
testo 925 - temperature measuring instrument
testo 110 - Temperature meter
testo 922 - Digital temperature meter
testo 735-2 - Multichannel thermometer
testo 720 - Temperature meter
testo 735-1 - Temperature measuring instrument (3-channel)
testo 112 highly accurate temperature measuring instrument - with PTB approval
testo 635-2 U-value promo set - thermohygrometer set
testo 922 Heating constructors' Promo set - Heating constructors' Promo set
testo 922 HVAC/R Set - temperature measuring instrument
Testo Pipe wrap probe with NTC temperature sensor - For measurements on pipes (? 5-65 mm)
Testo Fast-action surface probe (TC type K)
Testo Waterproof mini probe thermometer
Testo Mini penetration thermometer
testo 905-T1 - penetration thermometer (large measuring range)
testo 905 i - thermometer with smartphone operation
testo Smart Probes heating kit
Testo Mini alarm thermometer
Testo Mini penetration thermometer with extended probe shaft
testo 106 kit - Food thermometer
testo 104 - Waterproof food thermometer
testo 108 - Digital food thermometer
testo 105 - One-hand thermometer with standard measuring tip
testo 105 - One-hand thermometer with frozen goods measuring tip
testo 108-2 - Temperature measuring instrument with lockable probe
Testo Food inspection kit
testo 826-T4 - Penetration infrared thermometer
testo 103 - Penetration thermometer
Testo testoterm - Temperature strips (+71 … +110 °C)
Testo testoterm - Temperature strips (+37 °C to +65 °C)
Testo testoterm - Temperature strips (+161 … +204 °C)
testoterm - Temperature strips (+116 … +154 °C)
testoterm - Temperature strips (+204 … +260 °C)
testoterm - Measuring points (+82 °C)
testoterm - Measuring points (+71 °C)
testoterm - Measuring points (+121 °C)
testoterm - Measuring points (+65 °C)
testoterm - Measuring points (+110 °C)
testoterm - Measuring points (+77 °C)
testoterm - Mini indicators (+60 … +82 °C)
testoterm - Mini indicators (+88 … +110 °C)
testoterm - Mini indicators (+116 … +138 °C)
testoterm - Mini indicators (+143 … +166 °C)
testoterm - Mini indicators (+171 … +193 °C)
testoterm - Mini indicators (+199 … +224 °C)
testo 865 - thermal imager
testo 868 - thermal imager with App
testo 872 - thermal imager with App
testo 871 - thermal imager with App
testo 871 - smart mould kit
testo 872 - smart mould kit
testo 882 - Infrared camera
testo 875-1i - Infrared camera with SuperResolution
testo 885 - Thermal imager with one lens
testo 885 Kit - Thermal imager with two lenses
testo 875-2i - Infrared camera with SuperResolution
testo 875-2i - Thermography kit with SuperResolution