Brand New Testo 882 - Infrared camera Order-Nr. 0560 0882 Temperature measurement Good Price with One Year Warranty
New & Original
882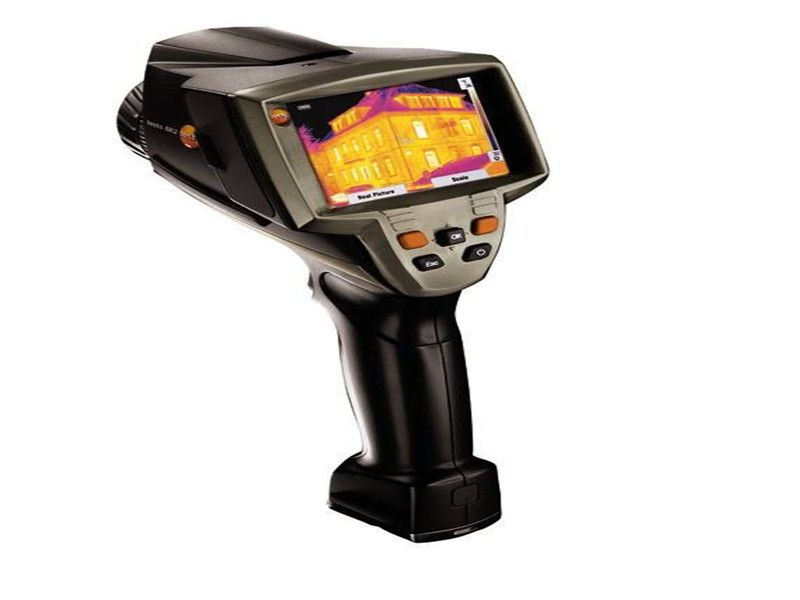 Testo 882 - Infrared camera
Order-Nr. 0560 0882
Easy, one-handed operation for quick 'n easy thermal imaging
Premium image quality: thermal image resolution 320 x 240 pixels, with optional SuperResolution Technology
can be enhanced to 640 x 480 pixels
Precise measurements: thermal sensitivity < 50 mK, 32° lens, automatic hot/cold spot recognition
Built-in digital camera with power LEDs for real images with every thermal image
The testo 882 infrared camera is the most precise one-hand thermal imaging camera with pistol grip design from Testo.
Special measuring modes including moisture image or high temperature option make it ideal for a wide variety of different applications.
Product Description
Crisp, clear thermal images taken from a wide angle; parallel digital real images of the same measuring object with manual or motor-driven focusing.
The testo 882 thermal imaging camera gives you this and much, much more. In fact, it gives you everything you need to take,
document, and analyse the thermal images of the object you have measured.
Areas of use for the testo 882 infrared camera
Quality control in the building sector and water damage restoration, maintenance of mechanical and electrical installations, precise high-temperature measurements,
prevention of mold, energy advice. The testo 882 infrared camera has all the features you need to carry out a wide range of different thermal imaging tasks.
The impressive details of the testo 882 thermal imaging camera
76 800 temperature measuring points for precise thermal imaging and crisp, clear images: Infrared resolution 320 x 240 pixels,

thermal image quality enhanced to 640 x 480 pixels thanks to SuperResolution technology

Thermal sensitivity < 50 mK for measuring even the smallest temperature differences

32° lens for quick 'n easy coverage of larger image sections, can be focused manually or with motor

Automatic hot/cold spot recognition for instant critical temperature depiction

Built-in digital camera with power LEDs for parallel real and thermal images

Free IRSoft PC software for professional analysis of thermal images. TwinPix technology for overlapping images on your PC monitor.

Ideal for allocating thermal images, documenting results and for planning further measures

Voice annotations via headset

Intuitive, one-handed operation for quick 'n easy thermal imaging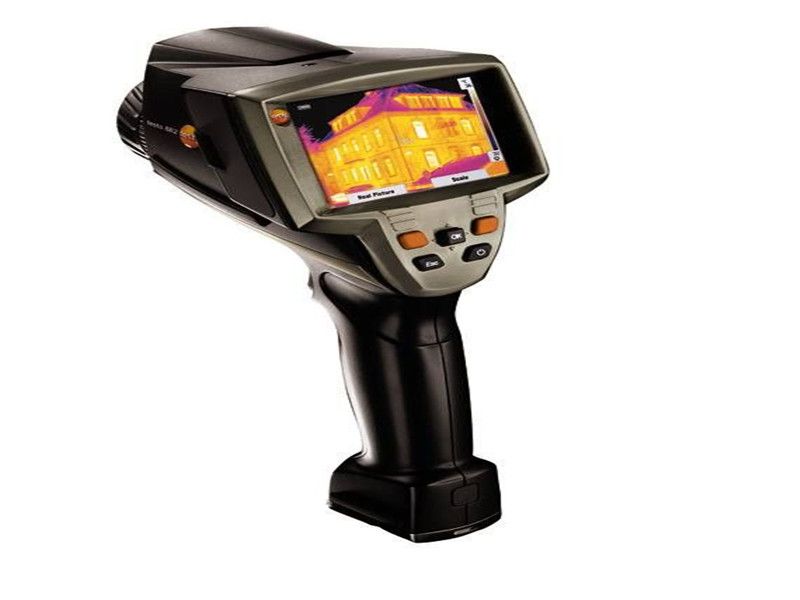 testo 830-T4 - Infrared thermometer
testo 805 i - infrared thermometer with smartphone operation
testo 826-T2 - Infrared thermometer
testo 831 - Infrared thermometer
testo 835-T1 - Infrared thermometer
testo 835-T2 - Infrared thermometer
testo 835-H1 - Infrared thermometer plus moisture measuring
testo 805 - Infrared thermometer with protective case
testo 805 - infrared thermometer
testo 830-T2 kit - Infrared thermometer
Set testo 830-T4 - Infrared thermometer
Set with testo 831 and testo 106 infrared thermometer
testo 926 - Temperature meter
Testo TopSafe protective case
testo 270 - Cooking oil tester
testo 104-IR - Food safety thermometer
testo 206-pH2 - pH meter
testo 810 - Infrared thermometer
testo Smart Probes AC & refrigeration test kit plus
testo 115i - Clamp thermometer operated via smartphone
testo 549i - High-pressure gauge operated via smartphone
testo 605i - Thermohygrometer operated via smartphone
testo 905-T2 - Surface thermometer with large measuring range
testo Mini surface thermometer
testo 925 - temperature measuring instrument
testo 110 - Temperature meter
testo 922 - Digital temperature meter
testo 735-2 - Multichannel thermometer
testo 720 - Temperature meter
testo 735-1 - Temperature measuring instrument (3-channel)
testo 112 highly accurate temperature measuring instrument - with PTB approval
testo 635-2 U-value promo set - thermohygrometer set
testo 922 Heating constructors' Promo set - Heating constructors' Promo set
testo 922 HVAC/R Set - temperature measuring instrument
Testo Pipe wrap probe with NTC temperature sensor - For measurements on pipes (? 5-65 mm)
Testo Fast-action surface probe (TC type K)
Testo Waterproof mini probe thermometer
Testo Mini penetration thermometer
testo 905-T1 - penetration thermometer (large measuring range)
testo 905 i - thermometer with smartphone operation
testo Smart Probes heating kit
Testo Mini alarm thermometer
Testo Mini penetration thermometer with extended probe shaft
testo 106 kit - Food thermometer
testo 104 - Waterproof food thermometer
testo 108 - Digital food thermometer
testo 105 - One-hand thermometer with standard measuring tip
testo 105 - One-hand thermometer with frozen goods measuring tip
testo 108-2 - Temperature measuring instrument with lockable probe
Testo Food inspection kit
testo 826-T4 - Penetration infrared thermometer
testo 103 - Penetration thermometer
Testo testoterm - Temperature strips (+71 … +110 °C)
Testo testoterm - Temperature strips (+37 °C to +65 °C)
Testo testoterm - Temperature strips (+161 … +204 °C)
testoterm - Temperature strips (+116 … +154 °C)
testoterm - Temperature strips (+204 … +260 °C)
testoterm - Measuring points (+82 °C)
testoterm - Measuring points (+71 °C)
testoterm - Measuring points (+121 °C)
testoterm - Measuring points (+65 °C)
testoterm - Measuring points (+110 °C)
testoterm - Measuring points (+77 °C)
testoterm - Mini indicators (+60 … +82 °C)
testoterm - Mini indicators (+88 … +110 °C)
testoterm - Mini indicators (+116 … +138 °C)
testoterm - Mini indicators (+143 … +166 °C)
testoterm - Mini indicators (+171 … +193 °C)
testoterm - Mini indicators (+199 … +224 °C)
testo 865 - thermal imager
testo 868 - thermal imager with App
testo 872 - thermal imager with App
testo 871 - thermal imager with App
testo 871 - smart mould kit
testo 872 - smart mould kit
testo 882 - Infrared camera