Brand New Testo 871 - smart mould kit Order-Nr. 0560 8715 Temperature measurement very competitive price and One year Warranty
New & Original
871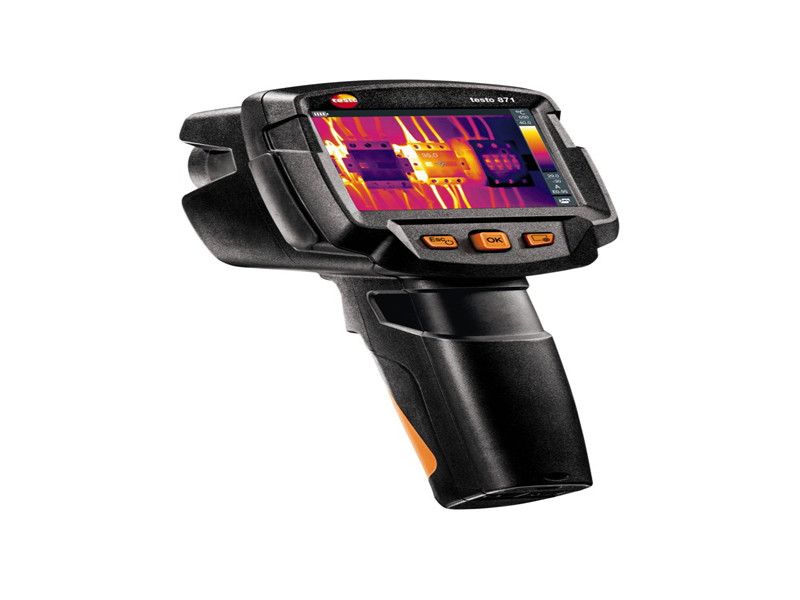 Testo 871 - smart mould kit
Order-Nr. 0560 8715
Impressive image quality: IR resolution up to 480 x 360 pixels through testo SuperResolution Technology and thermal sensitivity of 0.09°C for the display of small temperature differences

Including the testo 605i thermohygrometer: real time transmission of the ambient temperature and relative humidity readings to the thermal imager

Visualization of mould-risk areas with traffic light colours

Smart: the free testo Thermography App enables you to write and send reports on site, as well as saving them online, and lots more
Use the smart testo 871 mould kit to detect mould-risk areas in buildings quickly and easily. The testo 605i thermohygrometer included in the kit transmits
the room parameters via Bluetooth® to the testo 871 thermal imager. Mould-risk areas are shown in amber or red on the camera display (according to the traffic light principle).
The thermal imager impresses with a thermal sensitivity of 0.09°C and its ease of use, in addition to its professional measuring cable with excellent image quality.
The equipment can be transported safely and conveniently in the robust case.
Product Description
Incorrect ventilation behaviour or structural defects, such as thermal bridges, are some of the most frequent causes of mould formation in apartments, houses, old buildings and new builds.
The testo 871 thermal imager and the testo 605i Smart Probe enable professional, simple and absolutely reliable detection of mould-risk areas before mould develops.

The professional thermal imager provides you with ideal support in your day-to-day work: you can generate error-free and objectively comparable infrared images using its handy functions.
The IFOV warner, testo Assist and testo ScaleAssist mean you can avoid measurement errors and not only effortlessly achieve optimum
setting of emissivity and reflected temperature (RTC) for building thermography, but also of colour scale.
The testo 871 thermal imager – smart and networked
The testo 871 thermal imager guarantees wireless communication with mobile terminal devices via WLAN. The testo Thermography App for iOS and
Android offers you the possibility of writing and sending reports on site, as well as saving them online, and of using your smartphone or tablet as a second display or for remote control.



Infrared image output

Focus

Fixed focus

Infrared resolution

240 x 180 pixels

Image refresh rate

9 Hz

SuperResolution (IFOV)

1.6 mrad

SuperResolution (Pixel)

480 x 360 pixels

Geometric resolution (IFOV)

2.6 mrad

Field of view

35° x 26

Thermal sensitivity

90 mK

Spectral range

7.5 to 14 µm
Image output visual

Minimum focus distance

0.5 m

Image size

at least 3.1 MP
Image presentation

Display option

IR image / real image

Colours

4 (iron, rainbow, cold-hot, grey)

Display type

8.9 cm (3.5") TFT, QVGA (320 x 240 pixels)
Measurement

Reflected temperature

manual

testo ε-Assist

Included

Accuracy

±2 °C, ±2 % of mv

Emissivity

0.01 to 1
testo 830-T4 - Infrared thermometer
testo 805 i - infrared thermometer with smartphone operation
testo 826-T2 - Infrared thermometer
testo 831 - Infrared thermometer
testo 835-T1 - Infrared thermometer
testo 835-T2 - Infrared thermometer
testo 835-H1 - Infrared thermometer plus moisture measuring
testo 805 - Infrared thermometer with protective case
testo 805 - infrared thermometer
testo 830-T2 kit - Infrared thermometer
Set testo 830-T4 - Infrared thermometer
Set with testo 831 and testo 106 infrared thermometer
testo 926 - Temperature meter
Testo TopSafe protective case
testo 270 - Cooking oil tester
testo 104-IR - Food safety thermometer
testo 206-pH2 - pH meter
testo 810 - Infrared thermometer
testo Smart Probes AC & refrigeration test kit plus
testo 115i - Clamp thermometer operated via smartphone
testo 549i - High-pressure gauge operated via smartphone
testo 605i - Thermohygrometer operated via smartphone
testo 905-T2 - Surface thermometer with large measuring range
testo Mini surface thermometer
testo 925 - temperature measuring instrument
testo 110 - Temperature meter
testo 922 - Digital temperature meter
testo 735-2 - Multichannel thermometer
testo 720 - Temperature meter
testo 735-1 - Temperature measuring instrument (3-channel)
testo 112 highly accurate temperature measuring instrument - with PTB approval
testo 635-2 U-value promo set - thermohygrometer set
testo 922 Heating constructors' Promo set - Heating constructors' Promo set
testo 922 HVAC/R Set - temperature measuring instrument
Testo Pipe wrap probe with NTC temperature sensor - For measurements on pipes (? 5-65 mm)
Testo Fast-action surface probe (TC type K)
Testo Waterproof mini probe thermometer
Testo Mini penetration thermometer
testo 905-T1 - penetration thermometer (large measuring range)
testo 905 i - thermometer with smartphone operation
testo Smart Probes heating kit
Testo Mini alarm thermometer
Testo Mini penetration thermometer with extended probe shaft
testo 106 kit - Food thermometer
testo 104 - Waterproof food thermometer
testo 108 - Digital food thermometer
testo 105 - One-hand thermometer with standard measuring tip
testo 105 - One-hand thermometer with frozen goods measuring tip
testo 108-2 - Temperature measuring instrument with lockable probe
Testo Food inspection kit
testo 826-T4 - Penetration infrared thermometer
testo 103 - Penetration thermometer
Testo testoterm - Temperature strips (+71 … +110 °C)
Testo testoterm - Temperature strips (+37 °C to +65 °C)
Testo testoterm - Temperature strips (+161 … +204 °C)
testoterm - Temperature strips (+116 … +154 °C)
testoterm - Temperature strips (+204 … +260 °C)
testoterm - Measuring points (+82 °C)
testoterm - Measuring points (+71 °C)
testoterm - Measuring points (+121 °C)
testoterm - Measuring points (+65 °C)
testoterm - Measuring points (+110 °C)
testoterm - Measuring points (+77 °C)
testoterm - Mini indicators (+60 … +82 °C)
testoterm - Mini indicators (+88 … +110 °C)
testoterm - Mini indicators (+116 … +138 °C)
testoterm - Mini indicators (+143 … +166 °C)
testoterm - Mini indicators (+171 … +193 °C)
testoterm - Mini indicators (+199 … +224 °C)
testo 865 - thermal imager
testo 868 - thermal imager with App
testo 872 - thermal imager with App
testo 871 - thermal imager with App
testo 871 - smart mould kit